It is not every time you have to visit a blow dry bar to blow your hair. Apart from time constraints, it could drain your purse if you do that often. Therefore, do it yourself alternative is always advocated for those with the right resources.
Using the right hair styling instrument, achieving the same type of result you achieve at hairstylist bars right in your home.
All you need to do is to master the technique and assemble the correct styling tools. Then, all those beauty queens you admire can do the hairstyling right in their homes.
You do not need to go to the bar to achieve the same hair blowout like Kate Middleton, Jenifer Lopez, or any other model you can think of.
Here you would learn the right steps and tips that can help you achieve that perfect hair blowout in your home.
Tools You Require to Get Started
The most important thing you need is the right tool. This is the secret behind achieving a perfect result. You require a high-quality hairdryer. It should emit at least 1800 watts but that depends on your hair thickness.
For those with thick hair, anything higher would be preferable. For such people, they can look for a dryer of up to 2000 watts.
Furthermore, when you are looking to style with a hairdryer, consider those with heat control and speed control feature. You can achieve better results with that. Such is better because you can regulate it, and it is easier to prevent hair damage.
Another important tool you need is a brush. While choosing the brush, you bear the hairstyle you want to make in mind. There are different kinds of brushes. If you get all the models, it is good because you can make a hairstyle when you want.
These are the most important tools; the others are those products you apply to your hair, such as shower products.
How to Blow Out Your Hair at Home
Choose the correct shower product
You need to get the right shower products you would apply to their hair before blowing it. Hair preparation is very important, and it is recommended that you research the styling product you want to use to apply the best.
If your hair is thick, or you have hard hair, they can determine the type of materials to use. Ensure that you do not use anything that prevents you from achieving maximum volume for your hair.
Apply towel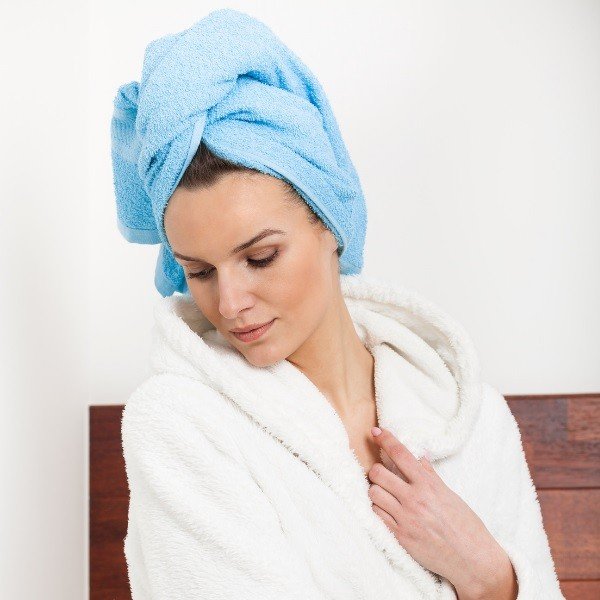 Before you apply heat to the hair, you must ensure that the hair mixtures are in the correct proportion. To remove the excess moisture, you have to use a soft towel, and you have to apply that gently. When you are cleaning it, it is not necessary to toss or twist your hair using the towel, use the correct comb also.
Apply spray
Furthermore, before you use a brush on the hair, you can apply prep spray. This should also come before you begin to dry the hair. Before you dry the hair to sixty to seventy-five percent. The importance of this is that it would make frizz impossible.
If your hair is nice, and you want a better volume, you must apply this technique. There are different kinds of sprays to choose from, but you must always choose according to your needs.
The essence of the spray is to offer heat protection to the hair. Furthermore, it should maximize the hair volume just as it is useful in detangling and hydrating the hair.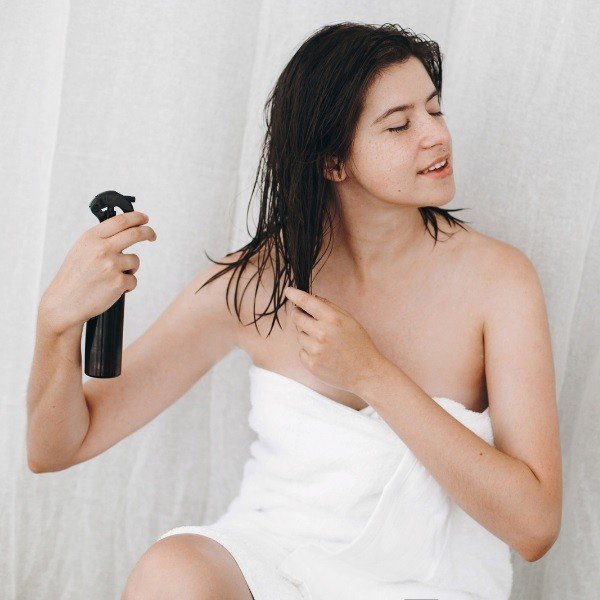 Before you go on with the blow drying, it is necessary to run your fingers through your hairs to ensure that all the moisture in the hairs is completely removed.
While you blow-dry, you must use your brush in the process. The thickness of the hair should also determine the kind of hair prep products to apply to the hairs. You must ensure that the hair is not wet before you begin to blow dry it. This is because achieving a frizz-out hair would be impossible.
Comb the wet hair
As stated before, the hairs must be completely detangled before you begin to blow it out. The best way to detangle the hair is to use a large paddle brush. This should have spaced bristles. This type of brush is recommended because it works for all kinds of hair.
If it is done very well, you discover that the effect can be there for a long time. There are various designs and models of such brushes on the market; you have to research and make the correct choice.
Thermal brushes are not the best
Something was said about the brush, one kind of brush you should avoid as much as possible is the thermal brushes. There is a misconception about such brushes, as some of them are marketed as blow-dry brushes. This is misleading.
One of the reasons you should not use this product is that apart from the fact that it would not achieve the expected results, it could eventually damage your hair.
Drying your hairs
It is recommended that you dry three ways and this can assist you in achieving a pin-straight hair type. Again the type of brush you use here can make a great difference. The round brush should be at this stage.
These are better and you would also achieve a better result. Apart from the brush you use, the technique is another thing that matters here.
When you want to brush, it is recommended that you brush forward first towards your front, and you follow it using a blow dryer. Shortly after that, you have to brush towards your back. Then you have to dry the hair downwards.
Heat protectant
While doing the blowing, you also need to protect the hair by applying a heat protectant. If you do not, it can cause severe damages to the end and shafts of the hair. So look for a great heat protectant to protect your hairs.
What about your back
When the front is great and looking fantastic, ensure that the front section of the hair is on a side and towards the nose. With the brush on the hair, you can roll it to the hair section. Furthermore, heat the section below and ensure that it is dry and brush it out of the face.
Use concentrator
Before you use the blow dryer, ensure that you attach a concentrator. This is great because it ensures that you achieve the type of blowout you want. Even if you go to a hair bar, hair stylists still make use of this great tool. So it would look as if professionals do it.
When applying the heat, ensure that you separate the hairs into different sections and apply the heat in different sections. You can achieve a better result when you do the heating differently and in smaller sections.
However, it depends on the thickness and length of the hair; you can always hold the various sections with clips. Some people can hold it using hair ties.
When it comes to hair separation, some people can do it into six sections. There would be three sections up and the remaining sections down. This step is crucial and does not miss it because it can affect the volume and quality of the hairstyling.
When you have separated it into different sections, it is now the right time to apply the brush. This time around, you can apply the round brush. It can assist you in achieving the required results.
A round ceramic brush is ideal here and you can just run it through those sections of the hair you want to style. For any good blowout, you need good quality round brush. It is much better than other kinds of brushes.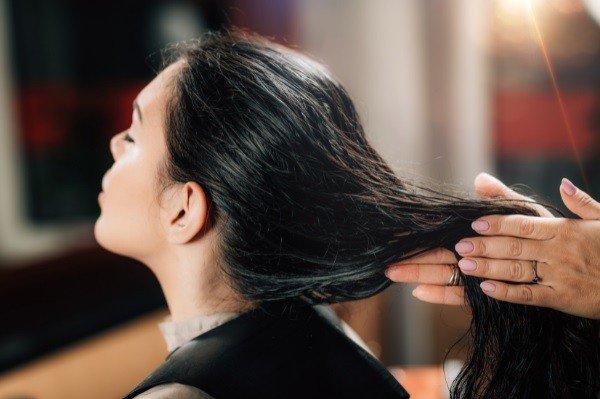 Apply control oil
There are different kinds of oil that you can apply here. The best type of oil to apply is the frizz control oil, and you can run it through the locks. This ensures that you achieve the correct volume. Look for the oil designed with the greatest raw materials.
There are different kinds of oils that you can use. The best of such oil includes the apricot oil and the argan oil. This will keep the hair tamed.
Remember that the kind of product you use for this is very important. If you use a superior product, you can achieve a better result. The same thing is applicable if you choose an inferior product. The secret of success is that you must do your research before you choose.
Finally, the kind of hair spray you use matters a lot. It is recommended that you use a strong hair spray because this can make a difference. The fact is that you can achieve bow dry hair without visiting any bar.
About Author (Kelly V. Lampkin)
Kelly V. Lampkin is a hair care blogger who writes about various topics related to hair care, including hair styles, hair products, and hair health. She is passionate about helping people achieve healthy, beautiful hair and shares her knowledge and experience through her blog. Whether you're looking for tips on how to style your hair or advice on how to care for damaged locks, TheApexBeauty's blog is a great resource for anyone interested in hair care.