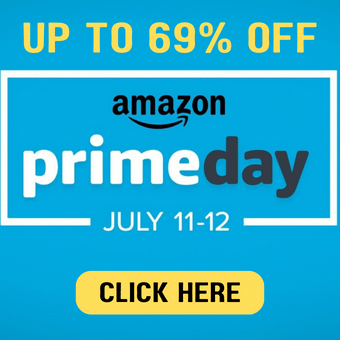 Do you incorporate toners into your daily skincare routine? If you don't, this is the one step you will regret skipping. Western toners get a bad blow in the beauty industry. This is because they are made using drying ingredients like alcohol and witch hazel associated with oil and acne-prone skin and may contain irritation-triggering ingredients. These toners focus on minimizing pores and clearing dirt, and residue from your skin.
On the other hand, Korean toners are different. They are made using natural ingredients that soothe rather than agitate your skin. Korean toners are all about restoring your skin PH balance, ensuring effective cleansing, and hydrating your skin.
The product helps to clarify and rebalance your skin with its hydrating and skin-soothing ingredients. By hydrating and maintaining a healthy moisture barrier, your skin is less prone to irritation, breakouts, fine lines, and wrinkles. Here are the best Korean toners you should be looking for to cleanse your skin.
Our Picks
10 Best Korean Toners In 2023
If you want to keep your skin firm, smooth, hydrated and softer, Missha time revolution clear toner is all you need. It is one of the best Korean toners that help to purify and soothe your skin.
It is made using alpha hydroxy acid (AHA) that removes the dead skin cells, Beta hydroxy acid (BHA) that helps to clear pores, soften and renew skin, and fermented yeast extract that helps to clear and brighten your skin. This toner gives you a gentle and refreshing exfoliating care.
Key Features
Suitable for all skin types
Removes dead skin cells
Hydrates and brightens skin
Has no mineral oils
Read More – Which is the best BB cream for acne-prone skin?
Formulated using AHA, BHA and other purifying botanical ingredients, COSRX AHA/BHA clarifying treatment toner have a wide range of benefits to your skin. The AHA and BHA exfoliate dead skin cells and evens out your skin tone and texture. The result is a bright and clear complexion.
The formula contains essential minerals, vitamins, and amino acids that are highly effective to brighten your skin tone, make it glow, and improve its elasticity—continued usage results in a new healthier skin with a brighter complexion and smooth texture.
Key Features
Enriched with mineral water and vitamins to rejuvenate your skin
Daily exfoliating effects
Lightweight non-sticky formula
Moisturizing
This is a hydrating moisture-rich toner that offers a special moisture solution to your skin. It is formulated with ceramides and French seawater that work to replenish your skin, keep it healthy and hydrated in the long-term.
It has a triple blend of hyaluronic acid to quench your thirsty skin and provide optimal hydration. Well-hydrated skin is less prone to acne, breakouts, and fine lines, and wrinkles.
This lightweight refreshing formula locks on to your skin to form a tight moisture seal. This leaves your skin radiant, soft, plump, and well-prepped for the next skincare routine.
Key Features
Contains three types of hyaluronic acid
Offers optimal hydration
Lightweight formula
Refines skin texture
Whamisa natural fermentation flowers essence toner prides itself in using Korean ingredients that are natural and organic. This means that the toner is alcohol-free and does not cause irritation. The tone is formulated using aloe vera leaf extract that provides deep hydration to your skin.
The toner is lightweight and it gets absorbed easily and deeply to all layers of your skin without clogging your pores. The time has powerful ferments and natural proteins that boost its antioxidant properties to your skin. This toner is infused with quality essential oils that make it have luxurious scents.
Key Features
Best Korean toner for dry skin
Uses natural and organic ingredients
Extremely hydrating
Keep deeper wrinkles and large pores at bay
This is a moisturizing and nourishing toner rich with green tea extracts derived from Jeju fresh green tea and green tea seeds. The green tea extract is rich with minerals and amino acids that help to keep your skin moisturized and restore its PH.
It has a natural moisturizing agent known as betaine that is derived from the amino acids that provide intense moisture and restores the skin natural balance. Its texture is water-like and it gets absorbed quickly without leaving a sticky feeling.
Key Features
Absorbs quickly in the skin without clogging your pores
A balancing toner for any kind of skin
Deep moisturizing formula
No mineral oils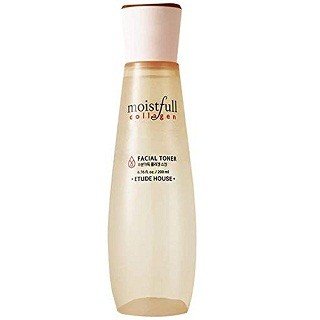 Moistfull collagen toner by Etude House is a mild facial toner with hydrolyzed collagen to moisturize your skin. It removes facial residuals gently from your skin while supplying collagen and moisture that improves your complexion.
The toner will get rid of any pore build-up and improve skin elasticity and makes your skin feel bouncy. The toner is infused with concentrated Baobab tree extract that hydrates and firms your skin thereby getting rid of fine lines and wrinkles. It gives your skin an extract boost by improving its dermal structure and moisture retention.
Key Features
Hydrolyzed collagen provides optimal moisture
Easily absorbs into your skin
Radiant skin
Suitable for sensitive and dry skin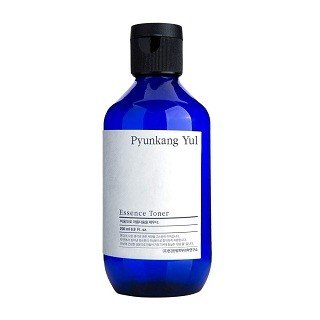 This is a calming and moisturizing facial toner that is suitable for all skin types. Its essential ingredients help in revitalizing dry skin while deeply nourishing it. The toner provides remarkable soothing and moisturizing properties, hydrates your skin, reduces acne, and balances your skin PH.
The toner has no harmful substances as it is a carefully formulated hypoallergenic formula that does not cause breakouts and irritation or clog your pores.
Its viscous texture absorbs quickly into your skin leaving a dewy, smooth, and clean finish. It has stronger skin barrier and anti-inflammatory effects for acne-prone skin.
Key Features
Calming and moisturizing facial toner
Suitable for all skin types
Hypoallergenic formula
Quickly absorbs into skin
This is a facial tone especially designed for the sensitive skin. It is made with natural and fermented ingredients that give your skin a new tone. This toner contains galactomeyes ferment filtrate that helps to refine your skin tone and texture.
The toner is also infused with hyaluronic acid that provides intense hydration to your skin and locks in moisture to prevent skin dryness. It helps to balance your skin PH balance and protects its natural barrier. This firms your skin and improves its elasticity getting rid of fine lines and wrinkles.
Key Features
Mineral oil-free
Alcohol-free formula
Deep hydration
Refines your skin tone
Wonder pore freshener from Etude House removes excess sebum and old dead skin cells to keep your pores fresh, clean, and tight. This refreshing toner will wipe away fine dust that settles in your pores, and any other impurities that clog your pores and cause acne.
The toner is formulated using peppermint vinegar and Ginko leaf extract that helps with sebum balance care, protects the skin from fine dust, and enhances pore area from impurities. The toner also has a cooling and hydrating effect that gives your skin a smooth texture.
Key Features
Dermatologically tested
Hydrating effect
Clears excess sebum and old dead skin cells
Takes care of your pores concerns
This is a transparent and watery formulation that is lightweight and gets absorbed instantly into your skin without drying it or feeling sticky. The toner offers deep hydration that restores skin balance and its vitality. With its special ingredients,
it cleans inside and outside of your pores leaving them clean and fresh. This toner contains snail mucin extracts that improve your skin balance by regenerating skin.
It repairs damaged skin cells, hydrates, and brightens up your skin to resemble that of a baby. By keeping your skin hydrated and radiant, it reduces aging signs like fine lines and wrinkles.
Key Features
Improves skin elasticity
Enhances skin regeneration
Provides intensive pore care
Gentle formula for sensitive skin
How To Choose The Best Korean Toner?
When it comes to your skincare products, your skin type largely affects the products you choose. If you are purchasing toners, here are the things to consider for your skin type;
Dry Skin
If your skin is dry, look for toners with ingredients with a high moisturizing effect. Toners with hyaluronic acid and aloe vera have high amounts of water meaning they will enhance deep hydration to your skin.
Acne-Prone Skin
Skin prone to acne is probably oily. To prevent acne scars and clogged pores, look for alcohol-free toners. Alcohol makes your skin dry which irritates and leads to higher production of oil causing acne and breakouts.
Look for toners with salicylic acid, AHA, and BHA acids. They help in the treatment of acne and removing dead skin cells and reduce the appearance of blemishes. The result is flawless radiant skin.
Normal Skin
Normal skins are designed to produce oil naturally and you don't have to worry much about skin dryness or overly oily skin. Therefore, you need a toner that will address the oil released without stripping essential moisture and oils from your skin. A toner that will maintain your skin PH balance and cleanse your skin will do you good.
Frequently Asked Questions
Are toners really necessary?
Yes. Using a toner is what determines if your other skincare procedures are effective. The best toner completes the cleansing process, balances your skin PH level, works as an exfoliate, and allows better penetration of product ingredients for absorption into your skin.
Why should I use Korean toners?
Unlike other toners, Korean toners do not have alcohol. They are made of natural ingredients to restore your skin PH balance and hydrate your skin.
Can I use a toner every day?
Yes. You can use your toner every day. However, using it one time at night is enough.
Conclusion
If you want to increase the effectiveness of your other skincare products, do not skip using a toner. It helps to restore your skin normal PH balance after cleansing it. Due to high alcohol content, toners had a bad reputation in the beauty industry because they caused skin dryness.
This has changed since Koreans introduced their toners in the market. They are different and do not have any astringent ingredients. They prepare your skin to absorb beneficial ingredients from your skincare routine better.
From our review of the best Korean toners, our top is the MISSHA time revolution clear toner. It is suitable for all skin types, hydrates, and brightens your skin and removes all dead skin cells leaving you with a radiant flawless skin.
Recommended Articles:
About Author (Susan R. Orrell)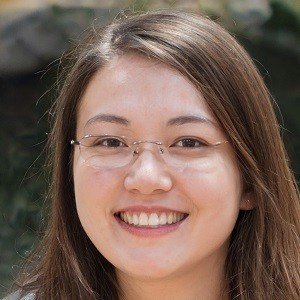 Susan R. Orrell is a well-respected skin care expert and blogger. She has extensive knowledge of skin care products and routines and is dedicated to helping others achieve healthy, radiant skin. Her blog, "The Apex Beauty," is a go-to resource for skincare information, and readers around the world trust her advice. Whether you're looking for tips on how to treat acne, reduce the appearance of fine lines and wrinkles, or maintain healthy skin, the blog has something for everyone.