Last Updated on September 6, 2022
Did you know that shampoos with explosive fragrances can damage your scalp and hair? The fragrance in shampoo is the number one factor of whether it finds its way on your shower.
However, if you have a sensitive and dry scalp, using shampoo with added fragrance can be dangerous. Chemicals used to add fragrances in shampoos can lead to skin irritation, hair loss, dry and itchy scalp, or hair color fading.
Switching to the best fragrance-free shampoo today can save your tresses and scalp. Finding a fragrance-free shampoo is not hard. We have compiled a list of the best fragrance-free shampoos leading in the market. Read on.
Our Picks
Top 10 Fragrance-Free Shampoos
Jason Fragrance-Free Shampoo is the best product to use if you want to cleanse your hair with unscented shampoo. This formula is safe for color-treated hair and it cleanses your hair gently without stripping off all the essential moisture.
It is formulated with aloe vera and vitamin B5 that helps to nourish the scalp, soothe, hydrate and add shine to your hair. This shampoo balances the PH level of your hair and leaves it looking soft, silky, and healthy. It is very suitable for people with a sensitive scalp.
Key Features
Best for color-treated hair
Enriched with aloe vera and vitamin B5
Soothes and adds shine to hair
Moisturizes hair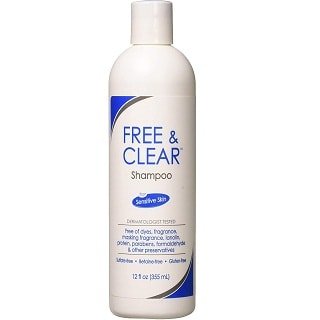 Free & Clear Hair Shampoo is a fragrance-free shampoo best for sensitive skin and scalp. Besides cleansing your hair thoroughly, it helps remove any build ups from hair products like conditioners and sprays. It also helps in removing flaking and scaling leaving your hair clean and manageable.
This formula is ideal for daily use and helps in controlling an oily scalp. This is because it is free from dyes, fragrance, protein, and parabens. Use this shampoo if you want to avoid any chemical irritants.
Key features
Dermatologist tested
Ideal for daily usage
Controls an oily scalp
Removes flaking and scaling
Removes buildup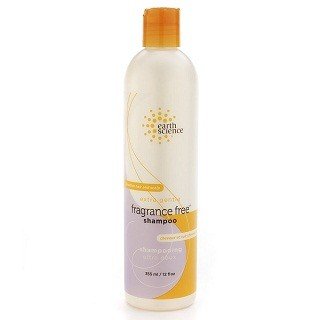 If your hair is dry, Earth Science Fragrance-Free Shampoo is your best fragrance-free formula. This gentle shampoo will not cause irritation to your scalp if your hair and scalp are sensitive.
It is formulated with coconut-based cleansers and rich emollients that protect your skin's natural oil and promote healthy hair and scalp. This formulation contains extracts from wheat germ, chamomile, and jojoba which help to revitalize and rejuvenate your hair to make it soft and smooth.
Key features
Fragrance-free
Free of harsh chemicals
Infused with natural emollients to protect natural oil
Suitable for sensitive scalp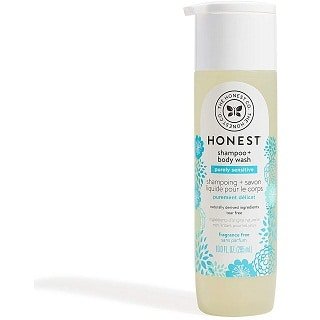 If you are looking for value for your money on shampoo products, get this 2-in-1 shampoo and body wash designed to cleanse your body from head to toe. This fragrance-free shampoo is ideal for the whole family and it leaves your skin clean and moisturized and your hair soft.
This lightweight formula nourishes your hair and adds a lustrous shine. The shampoo is free from harsh chemicals and it is mild enough for everyday use and for baby usage.
Its ingredients are naturally derived and produce a thick creamy lather that cleanses your hair thoroughly and nourishes your skin.
Key features
Dermatologist tested
Free of synthetic fragrances
2-in-1 formula
Easy to rinse off
Formulated with 13 certified organic and natural ingredients this Moisturizing Shampoo by Nurture My Body gives your hair all the care it needs. This shampoo will revitalize your hair strands and keep split ends at bay.
A little of this shampoo goes a long way and it lathers less because it contains fewer chemicals. This botanical rich cleanser is suitable for all hair types from dry to oily, dyed, normal, or color-treated because it has no harsh ingredients.
It eliminates any buildup, impurities, and dirt without ripping off your hair's natural oils. This leaves your hair shiny and healthy and maintaining the color you always wanted formula is rich with amino acids that help repair damaged hair.
Key features
Leaves hair healthy and shiny
Safe for all hair types
Hydrates and softens dry hair
Rich with amino acids
Stonybrook Shampoo-Oil & Fragrance-Free is specifically formulated for people with sensitive skin and you who want to avoid fragrance. This totally unscented shampoo is also oil-free and it is a blend of pure herbal extracts that cleanses, adds volume, and shines to your hair.
The formula is gentle enough for everyday use and contains biotin that helps to maintain your hair strength. These ingredients include chamomile extracts, red clover, comfrey, and Canadian balsam; these ingredients impart proteins that promote healthy hair growth and conditions and maintain hair shine.
Key Features
Totally fragrance-free
Cleanses scalp well
A little goes a long way
Best for people with sensitive skin
This is a gentle formula designed for people with sensitive skin and scalp. The shampoo has ingredients like chamomile that offers a calming effect to your hair and aloe vera that soothes the hair.
This ultra-gentle shampoo does not have any harsh chemicals meaning that you will not experience any irritation once you have used it.
It is clinically and dermatologist tested mild formula that serves the purpose of shampooing and conditioning your hair. This leaves your hair clean and looking healthy.
Key Features
Hypoallergenic formula
Suitable for people with sensitive skin
Mild shampoo for regular use
Free of harsh ingredients and fragrance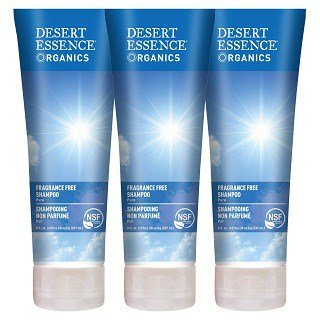 Desert Essence Fragrance-Free Shampoo is a scalp soothing shampoo that is unscented meaning that it only leaves its natural fragrance on your hair. This nourishing shampoo contains organic extracts and oils that offer minerals and vitamins to strengthen your hair and provide moisture.
With ingredients such as jojoba oil and coconut oil extracts, the shampoo gets easily absorbed in the hair and it revitalizes and softens your hair. Its formula is infused with green tea extract rich in antioxidants and polyphenols that gives your hair a fine gloss by adding shine.
Key Features
No harmful chemicals
Strengthens hair
Fragrance-free
Retain hair gloss and shine
Ultra-Gentle Shampoo for Very Sensitive Skin is the best for damaged hair. Specially formulated for people with sensitive skin, you can now forget skin irritation and an itchy scalp by using this shampoo.
The shampoo is formulated with organic calming botanicals like aloe vera, chamomile, and argan oil that calms and soothes your hair.
The shampoo also has soapberry that helps balance the PH of your hair, scalp, and soothing dandruff and sensitive skin. This shampoo is suitable for all hair types, even for a person with extra sensitive skin.
Key Features
Unscented and fragrance-free
Infused with organic healthy botanicals
Dermatologist tested
Suitable for all hair types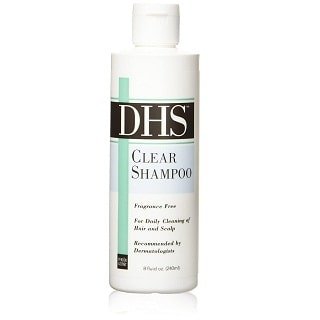 DHS Clear Shampoo for Daily Cleansing of Hair is a mixture of unique special cleansing and conditioning agents. It offers a luxurious lather that gently cleanses your hair and scalp leaving it feeling soft, silky, and healthy.
It is suitable for all hair types and daily use since it has no harmful chemicals that can irritate your scalp. This dermatologist-recommended shampoo has coconut-based extracts that remove impurities and buildup without stripping away the natural oils from your hair.
Key Features
Designed for everyday use
Unscented and color-free formula
Maintain skin natural PH balance
Prevents dandruff and itchy scalp
What Is A Fragrance-Free Shampoo?
A fragrance-free shampoo is formulated using organic and natural ingredients that do not have artificial fragrances or chemicals, dyes, or perfume. It is advisable to look at the ingredients listing so that you can tell whether the shampoo has a scent.
If you see the word fragrance or perfume indicated, that means that the shampoo has an undisclosed mixture and amounts of various scent chemicals and ingredients.
As much as you would like to smell that sweet scent once you flip your hair, perfumed shampoo can be bad for your scalp especially if you have sensitive skin.
How To Choose The Best Fragrance-Free Shampoo?
Less Damage To Your Hair Scalp
The greatest advantage of using fragrance-free shampoo is that you will have less damage to your hair and scalp. The reason is that fragrance-free shampoo does not have harsh chemicals that can irritate your skin and damage it.
Maintaining The Color Of Your Hair
The good thing about fragrance-free shampoo is that it does not make the color of your hair fade. It is good for color-treated hair and your hair color maintains its color as you wish. It has no chemicals that will make your hair color any point to fade.
Reduces Hair Breakage And Dandruff
If dandruff and hair breakage is a bother, using fragrance-free shampoo is the solution. These formulas have botanical ingredients that help keep dandruff at bay because they reduce an itchy scalp that causes dandruff. The ingredients also strengthen your hair roots, which prevent hair breakage.
Minimizes Scalp Issues
According to experts, the fragrance is the underlying source of a range of scalp issues. It causes irritation that results in an itchy scalp that can even lead to hair loss. By switching to fragrance-free shampoo, you will minimize issues with your scalp.
Frequently Asked Questions
Is fragrance shampoo bad for your hair?
Shampoo with fragrance is usually okay for most people. However, if you have a sensitive scalp, using fragrance shampoo may cause irritation and itchy scalp. This is because it contains chemicals that may be harsh to your scalp. If your scalp is sensitive, switch to fragrance-free shampoo.
Is fragrance-free shampoo better?
The fact that shampoo has added fragrance does not impact on its ability to clean the hair. It is only better if you have a dry and sensitive scalp and your hair is colored.
Is fragrance-free the same as unscented?
No. fragrance-free means that no fragrance materials or masking scents are used in the shampoo. Unscented means that the shampoo may contain chemicals used to neutralize the odors of ingredients used to make the product.
Conclusion
You can maintain a healthier scalp by switching to a fragrance-free shampoo. This is especially for someone with super sensitive skin on the scalp and has a dry flaky scalp.
Shampoos with overpowering scents can cause skin and scalp irritation, causing dandruff and hair breakage and making the color of your hair fade quickly. To avoid this, start using fragrance-free shampoo and enjoy all the benefits that come with it.
With many products available in the market, we recommend the Free & Clear Hair Shampoo for sensitive skin. We like it because a little goes a long way, and it's free from chemical irritants. It's simply the best fragrance-free shampoo in the market now.
Recommended Articles