Did you know that wearing shorts under your dress or skirt can tone your physique and make you look better? When you wear a short under your dress or skirt, it gives you comfort and security. If you are tired of holding your dress or skirt down because it has been lifted by the summer breeze or wind, wearing shorts underneath is your solution. Having a pair of lightweight shorts underneath gives you comfort. It also prevents your thighs from rubbing together, which causes discomfort. Worry no more as you can now walk downtown or run errands peacefully and comfortably without caring if the breeze will reveal what's underneath. Here is a list of the best shorts to wear under dresses. Read on.
Our Top Picks
10 Best Shorts For Under Dresses In 2023
BESTENA Women's Comfortable Smooth Slip Shorts is a lightweight short made with a soft nylon material and spandex for extra stretch. This shapewear slip shorts for under dresses can also be worn with skirts, jeans, and tunics.
They are quite breathable and allow your skin to breathe, preventing a sweaty thigh and keeps you cool and dry. This seamless slip shorts is smooth and will avoid any underwear lines under slim fitted pants or skirts.
This versatile short can also serve as a bike short, yoga short, workout short, and short for underdressing daily wear. It is mid-length offering full rise and coverage for all-day comfort since there is no thigh chafing.
Key Features
Moisture absorbent
Lightweight
Smooth and seamless
Great for underdress and skirts
Long enough
Pros
Elastic closure
Machine wash
Ultra-soft fabric
Tagless label
Wide waistband
Comfortable crotch
Cons
Rolls down
Not true to size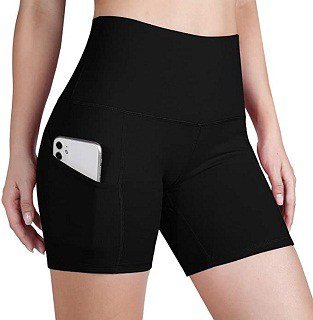 If you are looking for a combination of fashion, function, performance, and comfort, ODODOS High-Waist Yoga & Running Shorts are your to-go shorts. Made with the highest quality fabric of polyester and spandex, it absorbs moisture from your body and offers maximum comfort.
It is a high rise short with a wide waistband for a no muffin top and maximum coverage. The shorts contour perfectly to your body and apart from wearing underneath your dress or skirt, it can be used for yoga, fitness, or any type of workout. These quality shorts have big side pockets that can be used to store small things.
Key Features
Comes with side pockets
21 different colors to choose from
Highly durable
Thin enough
Breathable and moisture absorbent
Pros
Comes with a short underneath
Controls tummy and hip bulges
Non-slip design
Elastic waistband
Offer all-day comfort
Machine sash
Cons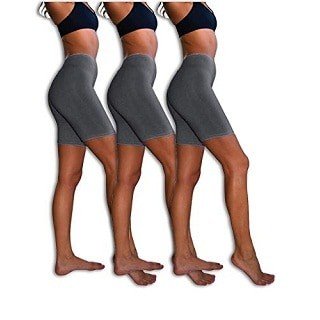 If you are looking for shorts to wear under your longer dresses or skirts, Sexy Basics 3-Pack Slip Bike Shorts will do. They stretch down longer on your legs. The fabric is 95% cotton and 5% spandex, which makes it highly breathable and comfortable.
Not only is it lightweight, but also incredibly soft. It comes in a tone of colors and can also be used for the gym, yoga, bike, or even bedtime.
If you experience pain and irritation because of your legs rubbing together, Sexy Basics 3-Pack Slip Bike Shorts will prevent that and you can now wear your dresses or skirts in summer.
Key Features
Soft and lightweight
Variety of colors
Best for longer skirts and dresses
Cotton and breathable spandex fabric
Pros
Super soft
Shapes body
Seamless
Hand wash only
Pull-on closure
Comfort wear & tag free
Super Light Weight
Cons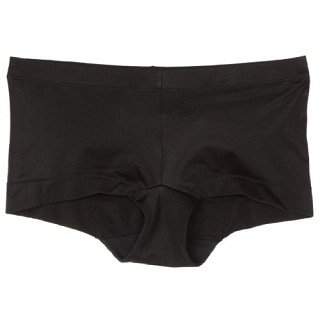 If your skirts or dresses are tighter and shorter, Maidenform Women's Dream Boy short Panty is your ideal short. It is a low rise short that cuts right above the thigh and helps to lift your rear. It is 100% cotton with a nylon and gusset lining.
The fabric is silky soft and offers a stretch fit. This extra stretchy short gives you protection and feels comfortable. It is highly breather able to prevent sweaty thighs and keep you cool all day. It comes with six different colors and you will get a seamless look underneath.
Key Features
Extra stretchy
Silky soft
100% cotton
Adequate coverage
Pros
Fits to shape
Gusseted crotch
Anti-chafing material
Wide waistband
Gusseted crotch
Snug fit
Does not fade
Cons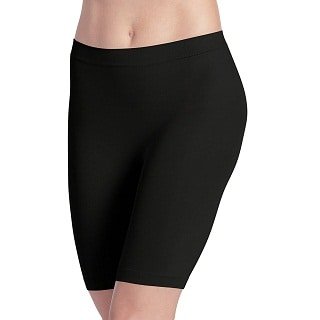 Jockey Women's SkimmiesâSlipshort Light Boy Shorts offers full rise and coverage without any sweating or bunching. They are made of silky-smooth fabric that is 85% nylon, 12% spandex, and 3% cotton gusset to prevent thigh chafing.
These lightweight shorts comfortably hug your body and prevent panty lines. They are tight, long-length, and smoothes your silhouette to tone your physique.
Due to their high-quality fabric, they are super durable and can be machine or hand washed. They are super discreet and almost invisible when you wear them under your dress or skirt.
Key Features
Offers full coverage
Machine washed
Long-length
Lightweight and smooth
Pros
Full rise and full coverage
Soft and stretchy fabric
Anti-chafing
Seamless knitting
Tag-free
Stay in place
Cons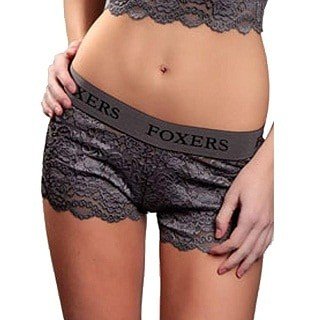 Foxers Women's Sexy Lace Panties Boxer Briefs is a soft lace short that gives you protection and comfort. Made with a blend of nylon and spandex, the short ultra-soft and gives you full coverage. It is designed with a cotton panty liner that helps to absorb sweat and keep you cool all day.
The short is designed with a comfortable flat elastic band and tightly hugs the body to tone your body shape. The short feels comfortable while wearing it under skirts and dresses and can also be worn for any workout tasks.
Key Features
Has a cotton panty liner
Offer full coverage
Suitable for all-day wear
Ultra-soft
Pros
Decorative bow on back
Hand wash only
Soft lace
Tag-free
Ultra-soft
Provide back coverage
Cons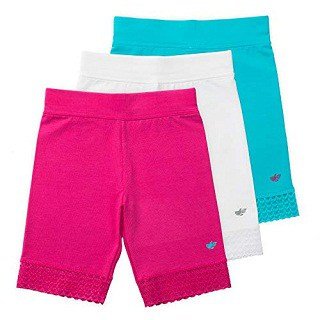 Lucky & Me 3 Pack Little Girls Bike Shorts is a high-quality race trim short that offers great coverage and comfort. Its fabric is a mixture of cotton modal and spandex, which makes it super soft.
It has a wide waistband that is itch-free, comfortable, and gets no roll-over. Its waistband is also smooth and sits against the body for a seamless look.
It is a high-quality anti-pill fabric that is machine washable and still retains its shape and color. It is perfect for underskirts, dresses, pants and a school uniform. It offers breathability, comfort, stretch, and durability.
Key Features
Super soft
Machine washable
High quality
Great coverage
Pros
Modal, cotton, lace
Elastic closure
Machine wash
Certified free of harmful chemicals
Super soft
Tagless undershorts
Long-lasting
Cons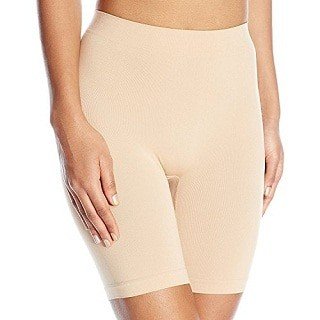 Vassarette Women's Comfortably Slip Short Panty is perfect for everyday layering beneath your dress, skirt, and pants. It is a high-quality blend of nylon and spandex. The ultra-soft seamless short is lightweight and offers smoothing and comfort all day.
It does not ride up throughout the day, ensuring you are peaceful and comfortable. It has an easy stretch and is available for all body shapes and sizes to keep you looking flawless. Its soft and seamless appeal makes it feel amazing to wear under dresses and skirts. It also offers light tummy control.
Key Features
Ultra-soft seamless fabric
High-quality
Breathable
Light-weight
Pros
Pull on closure
Hand wash only
Ultra-soft seamless fabric
Secure fit
Comfortably Smooth
Smoothing
Long-lasting
Cons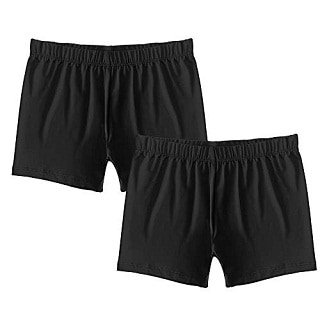 Popular Girl's Playground Under Dress Shorts are made of super-soft polyester and spandex, a fabric that allows lots of stretch with ease. It has an elastic closure and it is super comfortable for everyday activities.
It is perfect for wearing it under dresses, skirts, uniforms, active sports, workouts, or simply relaxing at home. Maintaining the shorts is easy as they are machine washable and maintain their color and shape after every wear and wash.
These super soft shorts are stretchy for a perfect fit and are easy to pull on with an elastic closure that is non-pitch.
Key Features
Breathable cotton liner
Machine washable
Perfect for everyday wear
Super-soft, comfortable and stretchy
Pros
Polyester, spandex
Pull-on closure
Super soft
Perfect for everyday
Cotton liner
Comfortable
Cons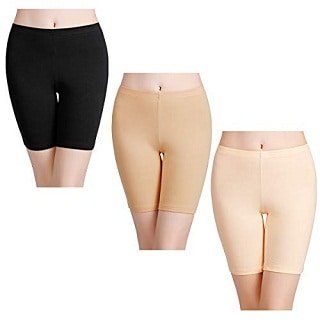 This is a soft cotton short that is comfortable with a stretchy fabric. The waistband is wide and softer and does not roll down to create lines. The legs are long enough and it does not roll-up. This stops thigh chaffing and reduces pain and irritation.
The shorts are breathable and keep the sweat from collecting and prevents thighs from rubbing. It is best for workout wearing, yoga, bike, running, or even bedtime. It has a comfortable gusseted crotch providing the comfort you need while wearing it under your dress or skirt.
Key Features
Long-enough to prevent thigh chaffing
No ride-up legs or roll down waistband
Variety color options
Machine washable
Pros
The new version of shorts
Comfortable shorts
Pull-on closure
Super soft
Long-lasting
Reduce pains
High quality
Cons
How To Pick The Right Shorts For Under Dress?
If you are planning to wear short dresses or a skirt or an evening gown, wearing a pair of lightweight shorts underneath is advisable.
Apart from giving you comfort and security, it prevents your thighs from rubbing together which causes pain and irritation. Here are the qualities to consider in short before selecting one that is suitable to wear under your skirt or dress.
Softness
Shorts with ultra-soft material gives you comfort. Since the shorts will be spending more time in contact with your thighs, you need something comfortable. A short with nylon, polyester, or cotton fabric is a great option since the material will be soft and comfortable.
Breathability
Wearing shorts under your skirts or dresses makes your thighs get hot and sticky. Wearing a short that is breathable will ensure that you stay dry and cool. Shorts with polyester, nylon, or cotton material are moisture-wicking and they will absorb sweat as well.
Stretchiness
The best shorts for under dresses should be stretchy. Shorts with spandex or any other stretchy material are everything. It will not feel restrictive wearing it under your dress and it will allow a full range of motions.
Spandex rests on your skin much comfortably, where you will feel relaxed and enjoy any activity you wish to undertake.
Tight Shorts To Prevent Bunching
Shorts to wear under skirts and dresses should be tight-skin and not loose. Tight and fitting shorts will remain discreet under fitted dresses and skirts. Slim fitting shorts will avoid bunching, tugging, and riding up.
Seamless Shorts Without Edging
To avoid panty lines, seamless shorts without edging are the best. Seamless shorts avoid panty lines and this is what everybody desires to have.
Frequently Asked Questions
Why should you wear shorts under a dress or skirts?
If your dress or skirt is too short, you might feel uncomfortable or exposed while wearing them. Wearing shorts underneath will make you feel less exposed and comfortable.
How do you wear a short dress without the underneath short showing?
To make sure that your shorts do not show intentionally while wearing a short summer dress, wear a short that is way shorter than your dress so that it does not show up. Also, get a short in a neutral color or best match color shorts with that of your dress.
Can wearing shorts under my dress tone my shape?
Yes.  Fitted shorts under your skirt will tone your shape, butt, tummy, and thighs and more gives you comfort.
Conclusion
If you are a fan of wearing short dresses and skirts, wearing a short underneath is all you need to feel safe and comfortable. A short will tone your shape and prevent thigh chaffing. It will make you feel less exposed if your dress or skirt is way too short.
The best shorts for under dresses should be soft, comfortable, stretchy, and breathable. From our review of the best shorts to wear under dresses, we love most the BESTENA Women's Comfortable Smooth Slip Shorts.
It is lightweight, breathable, seamless, long enough, and great for everyday wear. Choosing this short guarantees you security and comfort and you can rock your summer dress with no worries of the wind and thigh chaffing.
Recommended Articles
About Author (Nina J. Erickson)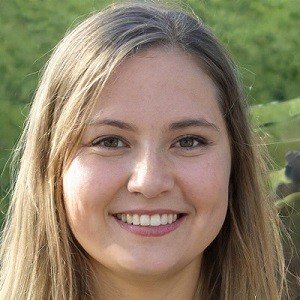 Nina J. Erickson is a makeup blog author who writes about the latest trends and techniques in beauty. With a passion for all things makeup, Nina shares her insights and expertise with her readers, helping them achieve their desired looks and feel confident in their skin. Whether she's reviewing the newest products or offering step-by-step guides, TheApexBeauty's blog is a go-to resource for anyone interested in makeup.