Do you know that Morphe brushes boast of having some of the best makeup brushes? The tools you use can define your makeup game. This means that the brushes you use can help you get the most of your makeup. Quality brushes make an immense difference when applying and blending makeup. Morphe is an international makeup sensation brand that offers nothing but professional quality makeup brushes at an affordable price. The brand offers an extensive line of brushes for every need. You can get all the brushes you can imagine and many more from Morphe, and they don't skimp on quality.
Here is a list of the bets Morphe makeup brushes that every beauty blogger and influencer is talking about, and you should add to your cart list.
Our Top Picks
10 Best Morphe Makeup Brushes In 2023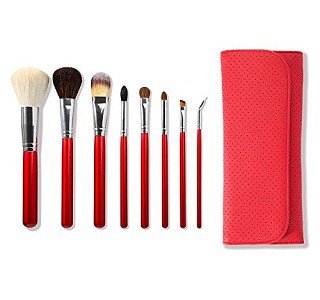 This is a makeup brush set that is ideal for both professional and personal use. The set comes with eight different makeup brushes that make the application of all your makeup products easier. The brushes have precision-cut bristles that pick up and deposit the ideal amount of pigment and have a soft feel on your skin.
The brushes set include a flat foundation brush, pointed crease brush, tapered powder brush, tapered blush brush, oval fluff brush, angle liner brush, chisel fluff brush, and a bent liner brush.
Key Features:
Highest quality material brush
A set of 8 brushes
Soft bristles
Value for money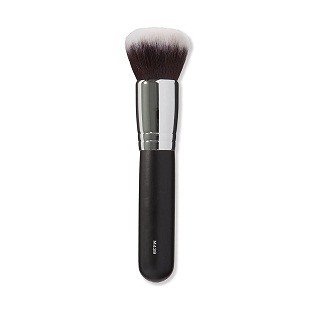 For a flawless foundation application, contours, and bronzer, Morphe Deluxe Makeup Buffer Brush is all you need. It is a luxurious foundation brush that buffs out the cream and liquid products flawlessly to create a perfect canvas. The brush is made with fine synthetic bristles that pick out cream and powders with minimal fallout.
The brush distributes the foundation evenly, creating a flawless coverage and finish. Its high-quality synthetic bristles allow light, smooth, nod essay application. The brush is perfect for applying liquid, cream, and powder foundation.
Key Features:
Perfect for medium to full coverage
Made with fine synthetic bristles
Smooth application
Fits effortlessly into every angle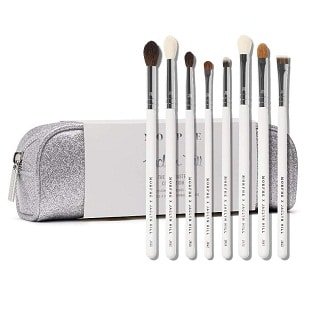 This is a brush set from Morphe and Jaclyn Hill that consist of a set of her eight go-to blending and buffing brushes. The set includes a transition blender brush, a universal blender brush, a precise blender brush, a brow bone highlighter brush, an eyeliner smudge brush, an inner corner highlight brush, a beast mode blender, and an all-over lid brush.
The best thing is that all these brushes are packed in a sleek, beautiful bag that you can carry wherever you go and create a killer eye makeup look.
Key Features:
Creates a flawless finish
Packed in a sleek and stylish bag
Soft synthetic bristles
wide range of brushes
Morphe 6 Piece Deluxe Contour Brush Set is all you need to create an impeccable look masterfully. This valuable set comes with six brushes. Three are full-sized brushes that are designed to use on the larger areas of the face effortlessly.
The other three are small replicas of the full-sized and are designed to be used for smaller, tricky, and hard to cover areas of your face to add fine details. This set of brushes is designed for professionals and novices to create a flawless contoured finish.
Key Features:
A set of 6 contouring brushes
Soft and firm bristles
Suitable for sensitive skin
Flawless coverage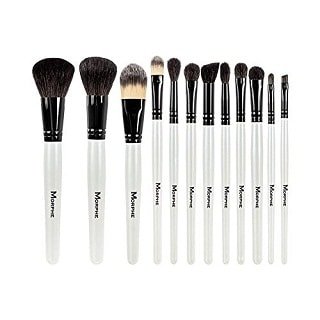 This is a travel set featuring twelve sleek brushes for your face and eyes. The collection consists of a mix of natural and synthetic brushes for powder application and to apply cream and liquid makeup products. The beautifully styled and expertly crafted brushes have plush bristles packed in a stylish and sleek portable case.
The set consists of multi-purpose brushes that can help you create a multitude of effects and finishes. You will find a powder brush, concealer brush, heavy shadow brush, blender fluff, fat shadow fluff brush, flat foundation brush, a blush brush, an angled shadow brush, and a flat shadow fluff brush.
Key Features:
Variety of brushes
Travel friendly
Soft bristles
Versatile
Packed in a sleek leatherette case is Morphe 7 Piece Rose Gold Brush Set. This is a set featuring seven beautifully styled and expertly crafted brushes that have a luxuriously lush bristle.
The set consists of multi-purpose brushes with various brushes for any makeup application, whether it's creams, foundation, powders, concealers and liquids. The set offers perfect precision, where each brush is designed for a specific area of the face to give complete creative control.
Key Features:
Multi-purpose brushes
Perfect precision
Packed in s a sleek leather case
Offers medium to full coverage
Everything you need to achieve a full face of flawless makeup is included in this makeup brush set. The set contains 18 makeup brushes that are 100% vegan and professional grade. Every type of brush for every type of makeup application is in this set.
This makes it a multi-purpose brush for using creams, liquid, and powders. These soft yet firm bristles provide flawless and precise coverage. This kit contains pieces for near every task, and it is an excellent addition to your beauty tools.
Key Features:
Easy to clean and maintain
100% vegan
Clutch-style carrying case
Multi-purpose brushes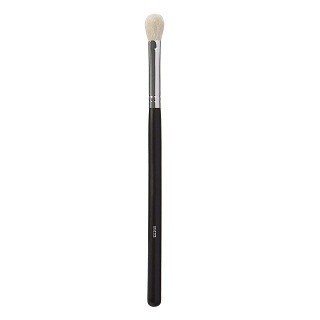 Crease blending is now effortless with Morphe Brushes M433 Pro Firm Blending Fluff. This brush has fluffy and firm bristles that make blending easy. The flat part of the brush is ideal for shading, while the tip helps to create a smooth blend.
It seamlessly creates every look from neutral lid washes to smokey eyes. Use this brush to blend out edges and diffuse eyeshadow on your lids. This small brush is made of natural fibber ad it is ideal for multiple uses.
Key Features:
Natural bristles
Multi-purpose brush
Blending brush
Helps to achieve a seamless finish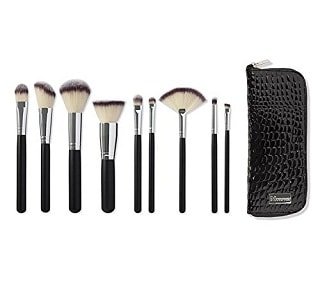 This is a nine-piece deluxe vegan makeup brush set that is made with 100% vegan. It has various brushes that can be used to apply creams, liquid, and powder products for a professional makeup look.
The brushes included in this set are a flat foundation brush, an angled blush brush, a tapered powder brush, a flat bronzer brush, a chiseled fluff brush, a flat oval brush, a soft fan brush, a round crease brush, and an angled liner brush.
All these brushes are packed in a sleek clutch that is easy to carry everywhere.
Key Features:
Super soft brushes
Value for money
Multi-purpose brushes
Vegan friendly
Morphe Deluxe Pointed Powder Makeup Brush
Morphe Deluxe Pointed Powder Makeup Brush offers a luxurious way to apply your highlighted powders or whisk away and redistribute any powder products on your face. With this Morphe brush, you can achieve a more intense color. Its brushes are made from the highest quality material and are so soft.
Key Features:
Soft bristles
High-quality materials
Comfortable handle
Great for highlighting
How To Pick The Right Morphe Makeup Brush?
Purpose
When choosing a makeup brush, it is good to consider the intended purpose of use and what you want to achieve. Big brushes are great to offer comprehensive coverage to your face.
On the other hand, small brushes are ideal for eye makeup and covering tricky and challenging to reach areas. Knowing your makeup step by step can help you choose makeup brushes suitable for your makeup routine.
Firmness
How firm or soft a makeup brush is, affects its functionality. Makeup brushes have a whole range of firmness levels to suit different kinds of makeup routines. Softer brushes use less pressure.
This means that they dispense less product and offer a very smooth blend. Thus, they are better for applying a light wash of makeup. Firm brushes apply more pressure, and they are suitable for a blending effect.
Shape and Size
The other thing to consider before buying a makeup brush is the brush size and shape. Bigger brushes cover a large space and are suitable for complexion makeup. Smaller brushes are great for concealing blemishes and for applying eye makeup.
A small brush will do the precise, detailed work in a makeup application process. On the other hand, the shape of a brush is not as important as the surface area it covers.
The Material of the Fiber
Brushes are either made of synthetic or natural fibers. A brush made from natural fibers is made out of animal hair, especially goats, horses, and other animals with soft fur. The hair is trimmed from live animals, and such hair brushes are considered cruelty-free.
Since most people prefer vegan brushes, most brands use fibers made out of synthetic material known as Taklon. Synthetic fibers feel as soft as the natural fibers, and they are less porous, thus easier to sanitize and use on both powder and cream products.
Natural fibers are good for picking up powder and blending. Depending on your beliefs and preferences, you can choose either synthetic or natural brushes.
Frequently Asked Questions
Is Morphe a good brand?
Morphe brand makes the best makeup brushes at an affordable price where you get value for your money.
What should I look for in a makeup brush?
Check the texture of the bristles and feel them. The hairs shouldn't feel frayed or ragged. They should feel soft and in a base that does not wobble.
How often should you replace your makeup brushes?
Makeup brushes should be replaced every three months. Despite cleaning them regularly and maintaining them well, some may need replacement sooner if they start shedding the bristles, have an unusual smell, and become discolored.
Conclusion
Morphe makeup brushes are arguably the best brushes in the market right now. They are made of high-quality material and are super soft and firm enough to blend easily. The brand has an extensive range of brushes that are meant for all your makeup application purposes.
Our favorite is the Morphe 18 PIECE VEGAN variety makeup brush set from our review of the best Morphe makeup brushes. All you need to achieve flawless makeup is included in this set. What can't you do with 18 makeup brushes?
These multi-purpose brushes can be used on creams, liquids, and powder makeup products. The good thing is that they are 100% vegan, and they are easy to clean and maintain.
Recommended Articles
About Author (Nina J. Erickson)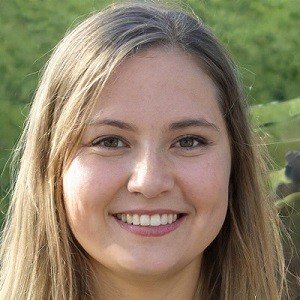 Nina J. Erickson is a makeup blog author who writes about the latest trends and techniques in beauty. With a passion for all things makeup, Nina shares her insights and expertise with her readers, helping them achieve their desired looks and feel confident in their skin. Whether she's reviewing the newest products or offering step-by-step guides, TheApexBeauty's blog is a go-to resource for anyone interested in makeup.