Are you looking for the best nail polish strips? Over the years, the nail industry has been shifting and there are newer lines of nail polish products available in the market today. Many people are shifting to nail polish strips over the traditional nail polish applied with a brush on your nails. You don't have to go to the salon every two weeks to get your nails done with nail polish strips. This is a DIY nail art product that is super easy to apply and has a variety of styles that are impossible to color by hand.  
You can now easily add an artistic flair to your manicure and pedicure without spending much money and time. They come in many designs, colors, and patterns. You will get any kind of nail polish strip you think of. The good thing is that these strips are also super easy to remove just as they are to put on.
Our Picks
10 Best Nail Polish Strips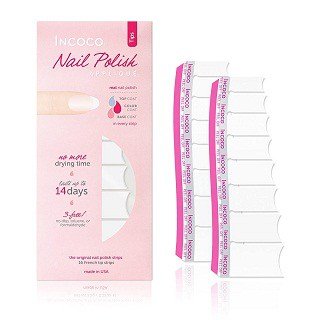 Made in the USA, Incoco Nail Polish Strips French Manicure is formulated with 100% real nail polish. It is a pack of 16 white French tip strips that comes in varying sizes. It does not smear or smudge and you don't need more time to wait for it to dry.
The strips are made with ingredients that are free of toxic chemicals and will take care of your nails. Each strip is infused with a top, color, and base coat of 100% real nail polish.
To remove the strip, a regular nail polish remover will do the trick just fine. The strips last about two weeks and you don't need to go to a nail salon as you can easily do it yourself in the comfort of your home.
Key Features:
Lasts up to 2 weeks
No drying time required
Contain regular nail polish
16 white French tips strips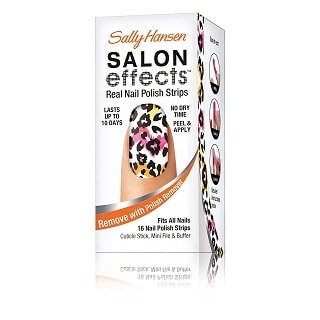 You can choose from over 40 designs from Sally Hansen Salon Effects Real Nail Polish Strips. The strips are very easy to apply. All you have to do is to peel the strips and stick them on. You don't have to wait for it to dry.
Just fit and go. Because the strips are made of real nail polish, they give the look of real nail polish on your nails. These strips can last on your nails for about 10 days before they start to peel off. You can also remove them easily with a nail polish remover.
Key Features:
Easy to remove
Easy to apply
Lasts for 10 days
Comes with a mini-file and a buffer
These are nail strips that come in 16 different eye sheet nail art stickers. It comes in great designs for you to choose from. The strips are made with more durable non-toxic and environmentally friendly 100% real nail polish that will not damage your beautiful nails.
The strips are very easy to use. Just stick directly on the nails and use a nail file to file the edges. Apply a clear coat of nail polish to give extra shine to your nails and protect the stickers. These strips from TailaiMei have a wide application and can be used for various things including weddings, parties, or traveling. It can also be used on false nails and toes.
Key Features:
Safe for toes
Suitable for false nails
Lasts for 2 weeks
Easy to use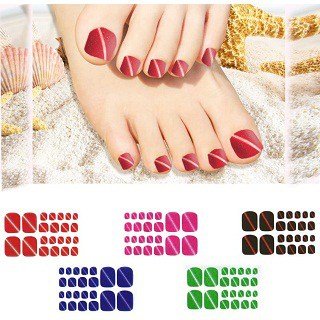 These are beautiful sparkling toenail art stickers that can change your toe art to another level. Whether it is for a professional manicurist or a nail art beginner, these strips are for everyone and you can make the perfect toenail art with them.
They are your summer solution when you want to rock your sandals or flip flops as they offer instant results. You simply peel and stick the stripes on your toenails. They are also made with quality material that will last for two weeks.
Key Features:
Instant manicure
Long-lasting
Easy to use
High-quality material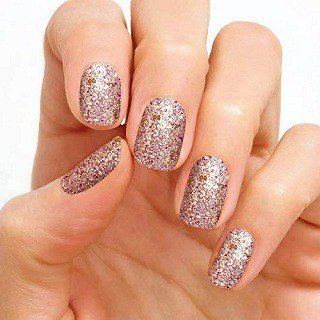 These are color street nail art strips with holographic shimmering sparkles of pink gold, fuchsia, and silver. They make your nails look exquisite on a night out. Each set comes with 16 double-ended nail polish strips, nail prep pads, and a nail file.
Every strip has a base coat, color, and a topcoat that requires no drying time. It makes your nails look like high-quality nail polish is painted on.
Key Features:
Easy peel and application
Glitter-finish nail strips
Comes with 16 double-ended strips
Easy to remove with nail polish remover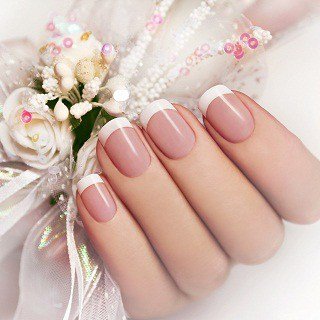 This is one of the best nail stickers. Each package comes with 12 sheets stickers and each sheet contains 54 pieces of crescent moon shaped stickers totaling to a whopping 648 pieces. The nail art stripes are made of good quality vinyl and are self-adhesive and non-toxic.
They will not alter your nails or leave glue marks on the nails after removing them. These stickers are good for DIY manicure crafts. They can be applied to natural nails or art nails and you can mix them to try interesting patterns and colors on your nails.
Key Features:
Wide application
Total of 648 pieces
Does not leave glue mark on the nail when removed
Easy to apply and remove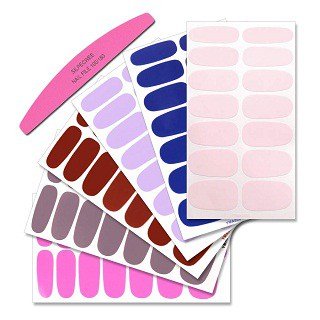 Made from 100% real nail polish, SILPECWEE 6 Sheets Nail Art Polish Stickers will transform your nails within a few minutes. A package contains 6 sheets of adhesive nail polish stickers plus a nail file.
Each sheet has 14 nails in 7 different sizes to make sure you find your match and the size you want. The nail strips are made from quality products that will not ruin your nails. When applied correctly, it can go for 14 days or longer without wear.
Key Features:
Long-lasting
Easy to use
Requires no drying time
Comes with a nail file
These are toenail polish strips ideal for both home and professional use. These stripes are waterproof which makes them look beautiful for 3-4 days without the UV upper coat. To ensure you get long-lasting results for about two weeks, apply the UV topcoat.
The strips are made of non-toxic, environmentally friendly materials and no harmful toxins will leak to your nails. They are easy to stick and you will experience no smudges or streaks. They fit in any nail size and the removal process is also easy.
Key Features:
Waterproof stripes
Long-lasting
Easy to stick and to remove
No drying time
This is a unique nail polish strip that not only lets you have beautiful artistically manicured and well-groomed nails, but also takes care of them. It strengthens weak and thin nails and also repairs the broken ones.
It comes in an easy to use unique self-dispensing pack. The sticker offers a long wear time without peeling for about two weeks. The strips are self-adhesive and can be trimmed to your preferred size.
Key Features:
Self-dispensing pack
Strengthens weak and thin nails and also repairs the broken ones
Self-adhesive nail strips
Lasts for a long time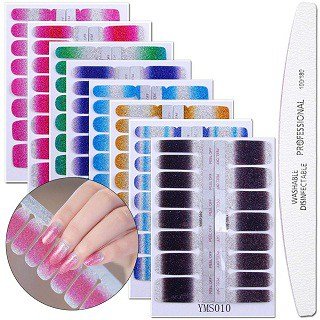 Your nails will look gorgeous with these glittery patterns from WOKOTO 8 Sheets Nail Art Polish Strips. The stickers are self-adhesive and very easy to use. Just stick directly on your nails and you will not require any dry time.
A packet comes with 8 sheets stickers and you can select any to make the perfect nails. Apply a top coat before and after application so that these stickers can last for two weeks.
Key Features:
Self-adhesive
Easy to sue
Long-lasting wear
Available for toenails too
How To Choose The Right Nail Polish Strip?
Check the Ingredients used
The last thing you want is to apply your nail polish strips that will damage your nails. Always check for the ingredients used to ensure that no toxic ingredients are included in the strips. Harmful ingredients can break your nails, cause yellowing, and make your nails brittle.
Adhesiveness
When purchasing nail polish strips, adhesiveness is very important to consider. Most strips are peel and stick and file and cut away the excess of the polish strips.
You should look for an adhesive that is strong enough so that the strips will withstand your day-to-day activities without coming off. Self-adhesive strips are the best and if you get a waterproof sticker the better.
Longevity
Good nail polish strips last for two weeks or more when applied correctly. Read reviews before purchasing one to know its lasting power.
Easy application
Always select nail polish strips that are soft and easy to apply. Some nail polish stickers are coarse and complicated to apply. They may also feel heavy on your nails. Go for stickers that you can apply effortlessly and it will save your time.
How To Apply Nail Polish Strips
Clean your nails
Before anything, ensure that your nails are clean and neat. Remove any dirt or existing nail polish.
Buff and file your nails
Use a buffer to polish your nails to make them more consistent and shinier and file them as you wish. This helps to remove grease, moisture, and smoothen the nail surface for a long-lasting result.
Select the ideal size of the nail strip
Nail polish strips come in different sizes. Select your preferred size and you can always give it a trim if it is too large to correct the sizes.
Remove the transparent protective layer
Carefully remove the transparent protective layer and peel it off carefully. Avoid touching the sticky part as it can reduce its holding power.
Position your strip
Just slightly above the cuticle, place your strip and smooth it down to remove any air bubbles or wrinkles to ensure a smooth touch.
Cut the excesses
Cut the excess sticker and file the edges gently to make it smooth.
Apply a topcoat
Apply a UV topcoat to ensure long-lasting results. Avoid touching water for the next two hurts and you are good to go.
Frequently Asked Questions
How long do nail polish strips last?
Nail polish strips can last up to two weeks if taken well care of. By applying a top coat will ensure that it lasts for two weeks without peeling.
Are nail strips bad for my nails?
No. nail strips are made with real nail polish and thus they are not bad for your nails. They are also easy to apply and to remove and are not harmful at all.
Is a top coat over nail stickers necessary?
The topcoat is not necessary however, it makes your nail strips to last longer for two weeks.
Conclusion
You can say goodbye to the mess of liquid nail polish by using nail polish strips. They come in a variety of patterns, colors, designs, and artwork to help you create beautiful designs in your nails. The best thing is that they are DIY and you don't have to visit the salon to make your nails look fabulous.
From our review, our favorite nail polish strip is the Incoco Nail Polish Strips French Manicure. It has 16 white French tip strips, lasts up to 2 weeks, no drying time required, and it Contains regular nail polish.
Recommended Articles:
About Author (Susan R. Orrell)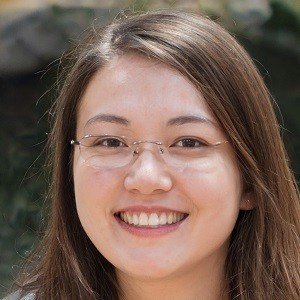 Susan R. Orrell is a well-respected skin care expert and blogger. She has extensive knowledge of skin care products and routines and is dedicated to helping others achieve healthy, radiant skin. Her blog, "The Apex Beauty," is a go-to resource for skincare information, and readers around the world trust her advice. Whether you're looking for tips on how to treat acne, reduce the appearance of fine lines and wrinkles, or maintain healthy skin, the blog has something for everyone.