Are you passionate about skincare products? Then you have come across the rosehip oil. This is a powerful unique skincare ingredient that beats all the other products in the market because of its versatile benefits. It does everything good to your skin from moisturizing, and brightening your skin, healing scars, battling signs of aging and sun damage, and hyperpigmentation correction. Rosehip seed oil is rated as one of the best natural skin rejuvenating and moisturizing substances. Due to its popularity, manufacturers of skin and beauty products now add more and more quantities of this wonder oil. With so many brands available in the market, here are some of the best rosehip oils for your face.
Our Top Picks
10 Best Rosehip Oils In 2023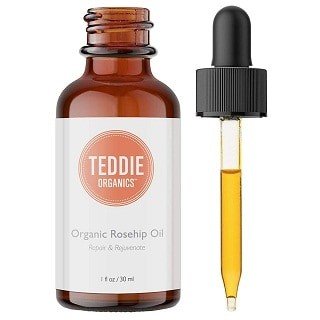 Teddie Organics Rosehip Seed Oil for Face is a great natural moisturizer that will hydrate and soothe your dry skin conditions. It contains organic rosehip seed oil that is cold-pressed and rich in vitamins, A, C, D, E, and omega fatty acids.
This wonder oil will protect your skin from anti-aging effects, reduce skin redness, age spots, and heal scars. It also treats rashes and stretch marks and also soothes burns.
This oil can be used as a standalone daily moisturizer or an add-on to your other skin treatment products. It offers instant relief to rosacea, eczema, and dry skin.
Key Features
Cures scars on your face
Improves the tone of your skin
Highly moisturizing formula
Pure organic rosehip oil
Pros
Moisturizing
Features an easy-to-use dropper
Treats dry skin, cracked heels, brittle nails, etc
Suitable for all skin types
Has anti-aging benefits
Treats rashes and stretch marks
Easy to use
Cons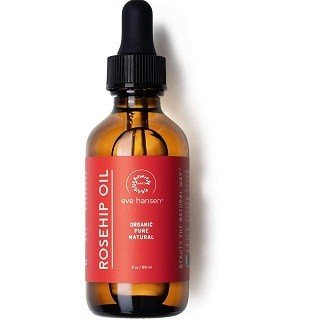 This is a pure undiluted organic rosehip seed oil that repairs dry and damaged skin. It is formulated with a high concentration of vitamin C that reduces the appearance of deep wrinkles. It does this by tightening and firming your skin leaving it smooth, supple, and glowing thus reducing the aging effects on your skin.
Additionally, it reduces the appearance of skin inflammation, acne, breakouts, and dark spots. It provides your skin with the essential fatty acids and omegas and antioxidants that reduce the effects of premature aging.
Key Features
Rich in anti-aging vitamin C
Provides skin with essential fatty acids and omega 3 and 6
Reduce the appearance of dark spots, scars, and wrinkles
Repairs dry and damaged skin
Pros
Highest quality USDA certified
Improves skin complexion
Moisturize & repair naturally
Works well on stretch marks
Includes anti-aging benefits
Cruelty-free and 100% vegan
Cons
Only suitable for dry skin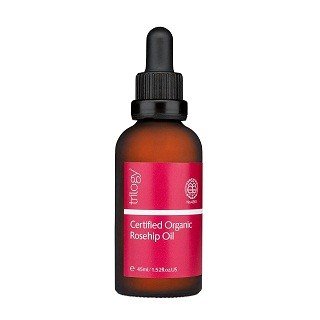 Trilogy certified organic rosehip oil is an effective reparative oil for face and body and contains pure natural rosehip oil that is rich in essential fatty acids. This is a certified organic rosehip oil that uses the highest quality ingredients and it is suitable for all skin types.
It treats dehydrated and aging skin effectively, resulting in a more refined and healthier-looking complexion. It is highly hydrating and improves the appearance of scars, dark spots, wrinkles, and any blemishes on your face.
Key Features
Reduces acne
Certified organic product
Treats dehydrated and aging skin
Soothes redness and parched skin
Pros
Rich in omega 3 and 6 fatty acids
Suitable for all skin types
Offers hydration and nourishment
Provides smoother
Healthy-looking skin
Easy to use
Cons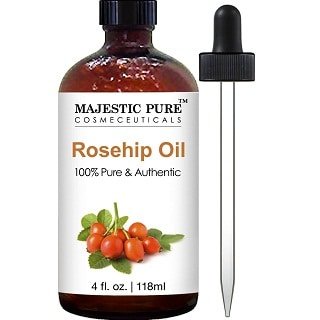 Majestic Pure Rosehip Oil for Face is derived from the seeds and seed cases of the rose bush plant. The formula is full of vitamins, antioxidants, and essential fatty acids, all of which are a plus to your skin.
It uses fresh and high-quality ingredients and is 100% organic means that it has no additives or fillers. The oil has great healing properties to damaged and distressed skin.
It soothes irritation and sensitive skin and can also be used as a moisturizer. The oil is cold-pressed to retain its properties and comes with a glass pipette dropper for ease of use.
Key Features
Hydrates dry skin
Reduces scars and fine lines
Acts as a protective layer against harsh weather
Made with all-natural ingredients
Pros
Fresh and high quality
Moisturizes and treats
No additives or fillers used
Dropper for easy application
Easy to use
Promotes hair health too
Cons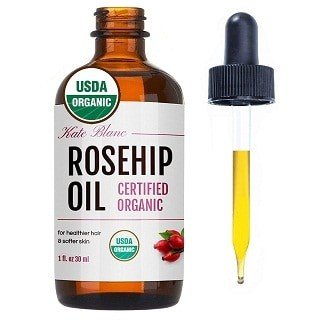 This is a cold-pressed organic rosehip oil that can help with acne, eczema, and dermatitis. It has anti-inflammatory properties that reduce the appearance of stretch marks, acne marks, wrinkles, and scars.
It is also an anti-aging solution because it contains omega 3 and 6 and fatty acids that tighten your skin and gives it a youthful look. It has a beautiful fragrance and it's a great facial toner.
Its ingredients accelerate your skin cellular activity that slows down your aging process. The oil is 100% pure and it absorbs into your skin without clogging your pores or feeling greasy.
Key Features
Pleasant fragrance
Does not have any carrier oils
Keeps your skin moisturized
Anti-aging solution
Pros
Pleasant fragrance
Multipurpose
Non-comedogenic
No filers
Paraben-free
Suitable for all skin types
Cons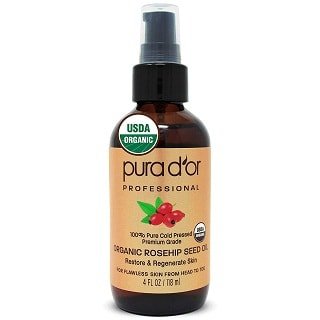 If you want to start feeling young again with your skin glowing and looking beautiful, PURA D'OR Organic Rosehip Seed Oil is the product to use. It is a blend of rich antioxidants, vitamins C, A and retinol that increases collagen production and reduces wrinkles and other signs of aging.
The oil has rich fatty acids and antioxidants that enhance cell regeneration, improve skin texture, and reduce acne scars, spots, and skin redness. This high-quality oil comes with a convenient pump bottle for easy application.
Key Features
Reduces the appearances of scars
Provides nourishment to your skin
Can be used for both hair and skin
Uses 100% natural ingredients
Pros
Reduce wrinkles and other signs
Budget-friendly
Pump bottle
USDA certified organic
Essential fatty acids and antioxidants
Can help improve skin texture
Cons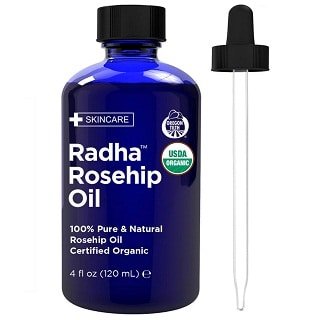 This is a 100% certified organic rosehip oil that is cold-pressed with no additional chemicals added. It offers the skin with a rich source of antioxidants and essential fatty acids that restores nutrient content to the skin cell and treats an array of skin conditions.
It softens fine lines and wrinkles, reduces blemishes, brightens the skin, and eliminates premature aging. The oil has no synthetic fragrance and harmful chemicals making it safe for all skin types. Its formula is lightweight and it gets absorbed to the skin quickly.
Key Features
It soothes redness
Moisturizes your skin
Reduce hyperpigmentation, dark spots and wrinkles
Suitable for all types of skin
Pros
Hypoallergenic
No synthetic fragrances
Moisturizing
Can be used as a carrier oil too
Restores skin elasticity
Paraben-free
Easy to use
Sulfate-free
Cons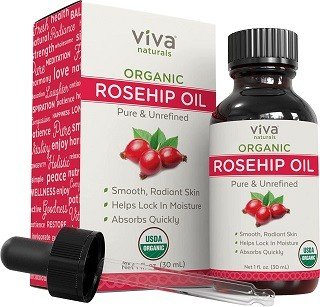 If your skin is dry and sensitive, this is your rosehip oil great choice. It has a high concentration of fatty acids that moisturizes your skin fully and improves its overall texture.
The oil is lightweight and absorbs quickly to your skin and protects it naturally. It contains vitamin C antioxidants that reduce dark spots and blemishes in your face. The oil is purely refined from natural ingredients making it great for all types of skins.
Key Features
Great for dry and sensitive skins
Absorbs quickly
Rich in vitamin C
Rich in essential fatty acids, retinol and vitamin E
Pros
Unique bulb dropper for easy application
Rich in retinol and vitamin E
Absorbs quickly
Retains nutrients
Lightweight formula
Skin deserves only the best
Cons
Flawless skin can now be something you brag about by using Aria Starr Rosehip Seed Oil Cold Pressed for Face. It is a 100% cold pressed rosehip seed oil that offers a smooth and glowing skin.
It can help in the evening your skin tone, reduce acne, lighten dark spots, and smooth out fine lines, wrinkles, stretch marks, and diminish scars.
The oil absorbs quickly into your skin and the bottle comes with a dropper for easy application. This is a deeply hydrating formula that moisturizes dry and itchy skin to soft and supple skin.
Key Features
Absorbs quickly
Brightens dark spots
Evens your skin tone
Deep hydrating formula
Pros
Light for ultimate preservation
Enjoy smooth and glowing skin
Say goodbye to dry skin
Helps with dandruff
Silkiness back in your hair
Easy to use
Cons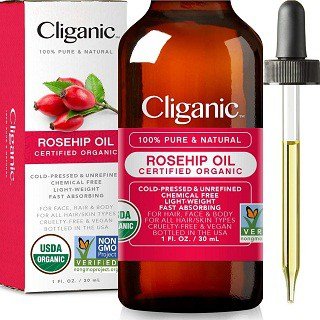 This is a pure and natural rosehip oil that is cold-pressed. It has no additional fragrance, chemicals, additives and it has not been diluted. It is a multipurpose oil that can be used for your face, hair, and body.
It is formulated with ingredients like fatty amino acids, vitamin C, and antioxidants that are naturally known to hydrate the skin. The oil gets absorbed quickly into your skin and it is gentle enough to be used by people with sensitive skin.
The oil is made using only one ingredient and can be used as a moisturizer, skin brightening formula, treating acne, and as an anti-aging solution.
Key Features
Fast absorbing
Lightweight
For all skin and hair types
100% pure and natural
Pros
Ensure ultimate quality and integrity
No synthetic additives
For face, hair & body
Vegan & Cruelty-Free
Non GMO certified
Lightweight
Easy to use
Cons
Benefits Of Rosehip Oil
Hydration
Rosehip seed oil keeps your skin moisturized and hydrated. It is rich in fatty amino acids that prevent the cell walls from losing water which ensures that your skin stays hydrated and looks healthy. The oil is also light, non-greasy and it does not clog your pores.
Sun Damage And Hyperpigmentation Correction
Rosehip oil is rich in vitamin C, a great antioxidant that helps in the synthesis of collagen and photoprotection. When used consistently for months, the oil will help the skin to restore and correct sun damage and hyperpigmentation.
Treatment Of Scars
Rosehip oil can help in the treatment of scars and stretch marks. It does this by reducing discoloration and scarring on your skin. It, therefore, diminishes scars, dark spots, and any blemishes on your face. It also soothes skin irritation and redness with the linolenic acid in it.
Anti-Aging
The oil can diminish the appearance of wrinkles on your face. it thickens the deep layer of your skin thus reducing the appearance of fine lines.
Brightens Your Skin
Rosehip oil is richer in vitamin C than any other fruits or vegetables. Vitamin C helps in regenerating skin cells thus boosting your skin radiance effectively with its brightening effect.
How To Pick The Right Rosehip Oil?
When choosing the best rosehip oils for your face, here are some of the things you should consider to get genuine oil.
Production Process
There are various ways of extracting rosehip oil but cold-pressed is the best production process. This is because it retains the potent antioxidants and essential fatty acids found in the rosehip seed.
Always choose a rosehip oil that is cold-pressed because you will enjoy all the benefits from the nutrients. The cold pressing method maintains all the good stuff that is vitamin A, C and E, and omega fatty acids.
No Additives
Always go for the natural and pure rosehip oil. Look for one that has no added fragrances, color, or preservatives.
Fast Absorbing
It is good to choose lightweight rosehip oil. This will make it absorb to your skin quickly so that you can reap all the healthy benefits of the oil.
Non-Greasy
Some rosehip oil will have added carrier oils in them. When applied, you may feel your face or skin feeling greasy and it may end up clogging your pores. To avoid this, select rosehip oil that has not been added to any carrier oil meaning it is non-greasy and will not clog into your pores.
Frequently Asked Questions
What are the benefits of rosehip oil?
Rosehip oil contains a concentration of essential fatty acids and vitamins that take care of your skin. It helps moisturize your skin, healing scars, acne, antiaging, and dark spots, correcting skin damage and hyperpigmentation, and reducing wrinkles.
What are the uses of rosehip oil?
Rosehip oil can be used for your hair to moisturize it, for your skin and even your nails.
Can you use rosehip oil every day?
Yes. It is even recommended to use the best rosehip oils twice in a day to keep your skin protected, hydrated, rejuvenated, and glowing.
Conclusion
Rosehip oil is all you need to treat any skin condition and improve your complexion. It works to improve your skin tone because it has antioxidants present and it is rich in vitamins that help in curing scars and black spots.
It also moisturizes your skin leaving it looking healthy. No matter your skin types this oil will nourish and soothe your skin for a healthier complexion.
From our review, our best rosehip oil for face is the Teddie Organics Rosehip Seed Oil for Face. Cures scars on your face. It is a pure organic rosehip oil that is cold-pressed, highly moisturizing, and improves your skin tone.
Recommended Articles:
About Author (Susan R. Orrell)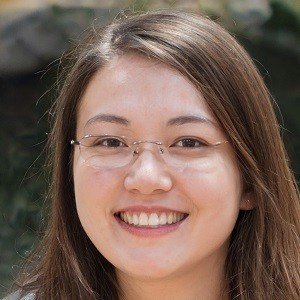 Susan R. Orrell is a well-respected skin care expert and blogger. She has extensive knowledge of skin care products and routines and is dedicated to helping others achieve healthy, radiant skin. Her blog, "The Apex Beauty," is a go-to resource for skincare information, and readers around the world trust her advice. Whether you're looking for tips on how to treat acne, reduce the appearance of fine lines and wrinkles, or maintain healthy skin, the blog has something for everyone.