Do you always wonder why your makeup does not match celebrities, models, and professional makeup artists whose skins look so good in the pics? The secret is that they use airbrush makeup. This is a technique where makeup is sprayed onto your skin using an airbrush and other tools. It offers extremely durable and long-lasting makeup with complete coverage. Today, airbrush makeup is not only used for special occasions like weddings and red carpets—many airbrush makeup kits on the market that you can use at home for a flawless look. You only need a few practices to use the machine, and you're good to go.
Unlike regular makeup practices, an airbrush makeup kit is more hygienic because you don't touch the makeup with your fingers, and you will not be touching your face. It is a fast way of having your makeup done, and it covers more with less saving your products. It is also long-lasting and withstands sweat, tears, and smudges. Here is a list of the best airbrush makeup kits on the market if you want to try them out.
Our Top Picks
10 Best Airbrush Makeup Kits
This is a weightless airbrush makeup kit that suits all skin tones. It comes with an airbrush, airbrush compressor, airbrush cleaner, 6 pieces of a fair and medium foundation set, bronzer, shimmer, anti-aging primer, blush, and a carrying bag. It is a complete kit with everything you need to get started.
This long-lasting makeup conceals blemishes, scars, fine lines, wrinkles, redness, age spots, and acne. This kit offers a fully adjustable air pressure control knob to give you full control of the airflow system.
Key Features:
Offers sheer to full coverage
Offers a weightless makeup that lasts all-day
Conceals blemishes, acne scars, redness, fine lines, and wrinkles
Has a fully adjustable air pressure control knob
Oil, and fragrance-free
Luminess Air Basic Airbrush System gives you an easy, quick, and long-lasting makeup application for foundation, blush, primers, skincare, and eyeshadow. This airbrush makeup kit is portable and durable.
It features an almost silent motor that offers continuous airflow that conceals skin imperfections like scars, wrinkles, skin discoloration, dark circles, or even tattoos. This lightweight makeup is buildable and breathable offering light to full coverage. It offers a quick and easy makeup application that is flawless and will save you time.
Key Features:
Suitable for all skin types
Covers skin imperfections
Lightweight makeup that is buildable and breathable
Lasts up to 18 hours
Available in light, medium, and dark skin tone packages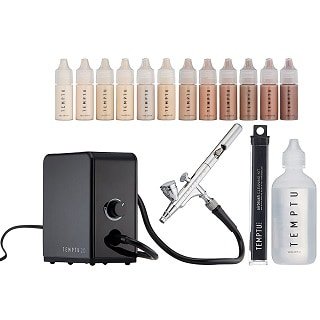 If you are new to airbrush makeup, TEMPTU Airbrush Makeup System 2.0 Premier Kit is your go-to equipment. It is easier to use for beginner artists, and it is designed for beauty and light bodywork.
It features a 2.0 lightweight compressor designed for easy usage and easy travel. It includes an AC adapter. Flex hose, airbrush gun cradle holder, and a clear makeup bag. The set comes with 12 shades of silicon-based foundations to suit all skin tones.
Key Features:
Has a worldwide dual voltage
Lightweight and travel-friendly
Features 30 adjustable airflow speed
Easy to use
Great for entry-level artists, students, and light bodywork
This is a complete professional airbrush makeup kit suitable for those looking to get started in makeup airbrushing. It features a precision makeup airbrush and a compressor with three airflow settings. It comes with 17 foundation color shades ranging from fair, medium, dark, and tan to suit all skin tones.
The kit includes bottles of anti-aging moisturizing primer, blush, shimmer, bronzer, airbrush cleaner, and a carrying bag. Within a few minutes, you can achieve an even, flawless natural look perfectly blended to match your skin tone.
Key Features:
Conceals imperfections instantly
Comes with a set of 17 color shades
Lightweight and easy to apply
Safe for all skin types
Can be used on your face, neck, and body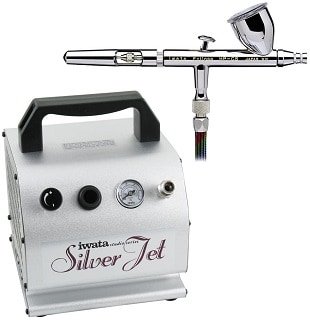 This is a multi-purpose versatile airbrush kit with multiple uses. It is perfect for cosmetics, tanning, fingernail painting, bakery, and general airbrushing. The kit includes a coiled air hose and an adjustable pressure knob, which gives you total control of the airflow to customize it to your preference.
The pressure of airflow is adjustable from 10 to 18 psi. This airbrush features a unique 0.33mm needle and nozzle combination that allows fine detailing spray.
Key Features:
Multi-purpose airbrush kit suitable for tanning, bakery, cosmetic, and fingernail painting
Has an adjustable pressure knob
Easy to use and clean
Long-lasting
This is a simple and easy-to-use airbrush makeup kit best for applying makeup in your home. Its water-based makeup is formulated with 89% organic water with aloe juice that not only enhances your beauty but takes care of your skin.
Its compressor is very quiet and provides a steady output for flawless makeup. It features three adjustable air pressures that you can select from low, medium, and high. It is a powerful but lightweight machine that allows easy portability.
Key Features:
Offers full coverage
Comes with three adjustable air pressure
Lightweight and easily portable
Has 3 shades of foundation to choose from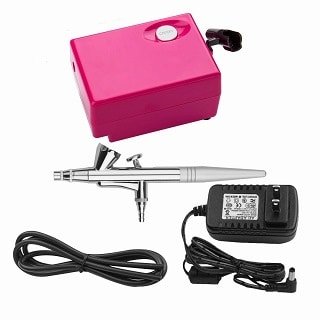 This is an awesome airbrush makeup kit for both professional or personal use at home. It is a multi-purpose device ideal for tanning, face painting, cake decoration, and makeup application. It is made with high-quality precision components that enable it to work efficiently while providing exceptional atomization and accurate spray control.
It uses a mini compressor that is durable and quiet. It's lightweight and very easy to carry around. With three adjustable pressures to control the airflow, you get total control of the device.
Key Features:
Can be used for makeup application. body tattoo, cake decoration, and tanning
Has 3 adjustable pressure to control airflow
Lightweight and portable
Has a quiet and durable mini compressor
Lightweight and easily portable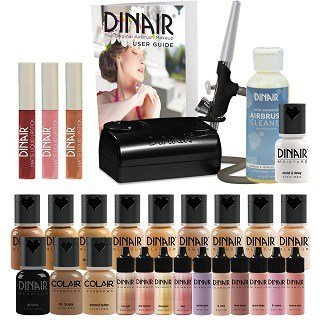 This is an airbrush makeup starter kit with everything you need to get started. The kit includes foundation, eyeshadow, blush, highlighter, and airbrush cleaner.
It is also accompanied by a moist and dewy lightweight moisturizer made from olive extracts to soften your skin while giving it a dewy glow. It spreads makeup evenly on your skin to give a smooth and natural finish.
Key Features:
Lightweight
Suitable for all skin types
Water-resistant
Beginner-friendly
Even makeup applications with a long-lasting effect
If you are just starting out with airbrush makeup whether professional or personal use, HUBEST Airbrush makeup system kit is your go-to kit. It is portable and extremely lightweight, and it will not make your hands weary when applying your makeup.
It features three airflow control settings where you can select between low, medium, or high. It is designed to cover small to large areas for high-definition cosmetic applications. This conceals skin imperfections to give you a beautiful natural-looking finish.
Key Features:
Portable and extremely lightweight
Has 3 airflow control settings
Operates nearly silently
Conceals skin imperfections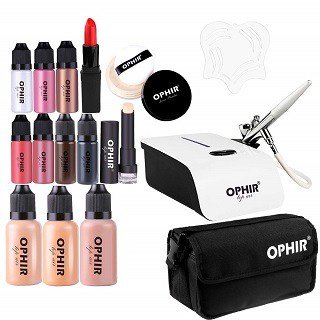 This is a professional airbrush makeup kit with all the accessories that you need for cosmetic airbrushing. It comes with five adjustable airflow speed that allows you to customize your experience to achieve a flawless, soft, natural complexion.
Airbrush foundation comes in three colors, blush two colors, and eyeshadow five colors, and one lipstick. A leather bag for easy carriage is included, and a quick start guide for starters to use the kit easily.
Key Features:
Has 5 adjustable speeds
Gives you a flawless, soft, natural complexion
Offers long-lasting makeup
Suitable for all skin types
How To Pick The Right Airbrush Makeup Kit?
Your Skin Type
It is good to consider your skin type before buying an airbrush makeup kit because not all kits are suitable for all skin types. Read the product description to know whether the kit is suitable for your skin type.
Lightweight
You need to select an airbrush makeup kit that is lightweight so that your hands will not feel weary when spraying the makeup on your skin. A lightweight kit is also easily portable and easy to carry around to be used anywhere.
Easy to clean
Go for an airbrush makeup kit that is easy to clean for effective and long-lasting usage. Most kits come with an airbrush cleaner, and you are required to clean the device after every use. Keeping the airbrush kit clean prolongs its life.
Features
Airbrush kits come with different features. For ease of use look for a kit that has an adjustable airflow speed control. This enables you to use the speed that you are comfortable with. If you are a beginner, you can start at a low speed and increase gradually as you gain more experience.
Noise Levels
Choose an airbrush makeup kit that operates with low noise levels. It will give you a peaceful makeup application process.
Frequently Asked Questions
How long does airbrush makeup last?
When done correctly, airbrush makeup can last for 10-12 hours which is enough time to last you through the day. Some kits promise to give you long-lasting makeup for up to 18 hours like the Luminess Air Basic Airbrush System.
Can you apply airbrush makeup alone?
Though you might find it difficult to apply airbrush makeup alone at first, you don't always need a makeup artist to help you. Just a few practices and following tutorial videos online will help you do it alone.
Is an airbrush makeup kit necessary?
Unlike regular makeup, the airbrush makeup kit is a fast way to apply your makeup. It is comfortable and gives you a clean finish that you will not get from regular makeup.
Conclusion
Airbrush makeup settles evenly on your face and does not appear cakey. It is also faster to apply and looks more natural and subtle on your skin, and lasts longer than regular makeup. From our list of the best airbrush makeup, we highly recommend the Luminess Air Basic Airbrush System.
It System gives you an easy, quick, and long-lasting makeup application for foundation, blush, primers, skincare, and eyeshadow. It is portable, durable, lightweight, and covers skin imperfections. It is buildable and breathable and lasts long for up to 18 hours.
About Author (Nina J. Erickson)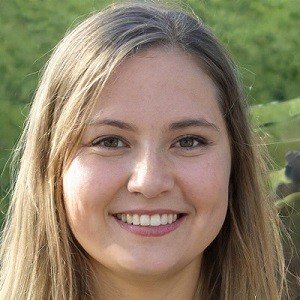 Nina J. Erickson is a makeup blog author who writes about the latest trends and techniques in beauty. With a passion for all things makeup, Nina shares her insights and expertise with her readers, helping them achieve their desired looks and feel confident in their skin. Whether she's reviewing the newest products or offering step-by-step guides, TheApexBeauty's blog is a go-to resource for anyone interested in makeup.