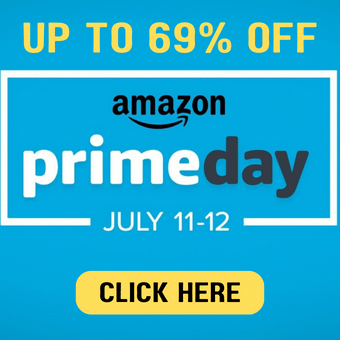 How do you love your contours? Depending on how well you have mastered the contouring technique, you may like it subtle, simple, classic, or overly crazy. With the best drugstore contour kit, you can achieve the effect and face beat you desire without emptying your wallet.
A contour kit entails a blush, highlighter and a bronzer neatly packed in a pallet. It helps you enhance your face by giving it a shape that looks more defined. You need to use the right shades and do your contouring properly to get the most benefits.
If you desire to have a prominent cheekbone, a narrow nose, a thin face shape, and a more defined jawline and enhance or hide some facial features the right contour kit will help you create your desired look. Here is a review of the best products that will give you the contoured look of your dream.
The Winners
10 Best Drugstore Contour Kits Of 2023
NYX Cosmetics Highlight & Contour Pro Palette is a powder-based palette with 8 different shades to contour and highlight. You can define your contours like a pro with this palette that contains a generous amount of pigmentation.
Its formulation is incredibly soft with a smooth texture that leaves your skin with a glorious finish. The variety of shades can be blended to create a shade that best suits your needs and works for different skin tones.
The palette has removable pans that can be refilled with your favorite highlighting and contouring shades.
Key Features
Super pigmented
Removable pan for refilling
Customizable palette
8 refillable color shades
Cruelty-free
An excellent option for oily skin
Ideal for daily use
Pros
Good mix of shades for all skin tones
Color correction and coverage
Cruelty-free
Vegan Formula
Blends like a dream
Looks very natural
Cons
Subtle fallout with certain shades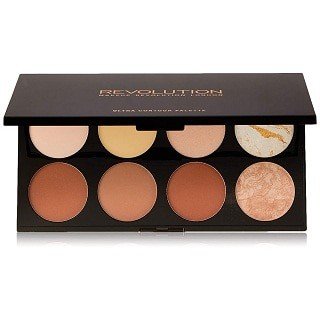 The Makeup Revolution Ultra Contour Palette has a generous packing with 8 different shades that provide high-end results at an affordable price. The palette powders are perfect for sculpting and contouring your face with four lighter tones for highlighting and four darker for contouring.
The varieties give you options for experimenting with different shades for your desired effect. The palette is large enough to fit a mirror in the lid. This makes it perfect for traveling as it comes in handy when you want to do makeup and you don't have a full-sized mirror.
Key Features
Palette has 8 shades
Large palette with a mirror
4 highlighter colors
4 darker contouring shades
Pros
Highlighters & contour shades
Illuminating
Adds definition & sculpts features
Natural finish
Long-lasting
Good color selection
Cons
Depending on the brush you use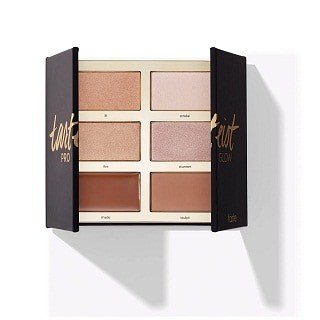 Tarteist PRO glow highlight contour palette is a versatile palette that comes with 6 pigmented powder and cream shades making it ideal for every skin tone.
Among the six shades, 4 are for highlighting while two are for contouring. The contouring shades come in both cream and powder form. The cream is best for shading while powder is good for sculpting.
The versatility helps you create a more defined face. Also, the palette is suitable for people with sensitive skin since it does not contain any ingredients that will irritate or damage your skin.
Key Features
Cream and powder contouring shades
6 shades for highlighting and contouring
Ideal for every skin tone
4 highlighting shades
Creates perfect glow
Pros
Perfect glow and chisel look
Ideal for every skin tone
Six pigmented shades
Lightweight
Easy to use
Highlighter
Cons
If you are looking for a palette that will make your skin look and feel better, then you should try the Physicians Formula Bronze Booster Highlight & Contour Palette.
It is a trio palette with three gorgeous matte finishes with a highlighter, an angled contour blush for perfect application, and a bronzer for defining your features.
The formulae are infused with glow activators such as antioxidants, vitamins, and moisturizers. It not only makes you look better but leaves your skin in a healthy state.
Since it is hypoallergic, it is good for people with sensitive skin since it will not irritate your eyes and skin thus suitable for daily use.
Key Features
Hypoallergenic
Oil and fragrance-free
Blended and buildable contouring shades
Suitable for all skin tones
Pros
Matte sculpting
Fragrance-free
Hypoallergenic
Paraben and gluten-free
Dermatologist tested
Safe for sensitive skin
Cons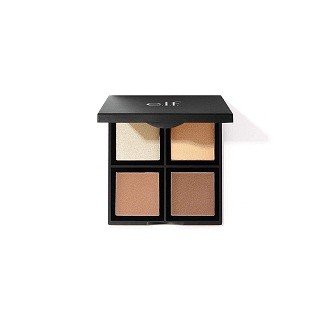 e.l.f brand produces some of the best drugstore contour palettes. This cosmetics contour palette consists of four powder shades with great pigmentation that is designed to work for different skin tones.
Their formulas blend easily with a soft and smooth texture for a flawless face. The contours are infused with vitamin E that nourishes your skin and gives you a gorgeous complexion.
The pans can be removed and you can replace them with customized shades to match your skin tone and suit your needs.
Their products are free from harmful chemicals like parabens, phthalates, triclosan, and triclocarban. With 3 sculpting bronzers it is easy to find your perfect contour shade.
Key Features
Infused with Vitamin E
Travel-friendly packaging
Blends easily
4 different shades
Vegan friendly
Cruelty-free
Pros
Colors blend well
Travel-friendly packaging
Soft and smooth texture
Great pigmentation
Ideal for mature skin
Easy to use
Cons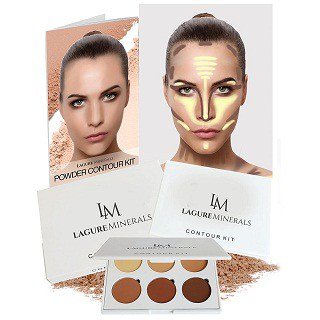 Contouring is not for professionals only because even starters can now show off your beautiful facelift features with Lagure Minerals Powder Contour Kit. The palette comes with a step-by-step guide on how to help you contour like a pro perfect for beginners.
With a total of six shades, three darker for contouring, and three lighter shades for highlighting this versatile kit is designed for all skin tones.
At the top of the palette is a mirror that helps to do your makeup anywhere at any time. Its magnetic cover is also travel friendly since it stays in place rather than falling open and helps you do your makeup conveniently.
Key Features
Six pigmented matte shades
A step-by-step guide to follow
Cruelty-free palette
Instants facelift
Safe for all skin types
Pros
Flawless face definition
Light to a deep brown shade
Cruelty-free
Suitable for every skin
Broaden cheekbones
Easy to use
Cons
If you are a beginner and you are looking for a simple contour palette, the Sleek Make Up Face Contour Kit is your ideal palette. It is a simple duo compact with a strong pigmentation contouring powder and a shimmering highlighter.
With its reasonable price, it offers high-quality performance with its skin-matching pigmentation. It is a good choice for beginners since it blends easily and enhances basic contoured appearance.
For best results, the manufactures suggest that you apply the contour over a base like a foundation for a smooth finish.
Key Features
Ideal for everyday use
Simple palette with two shades
Cruelty-free
Lasts all-day
Pros
Illuminating your face
Perfect flawless finish
For best results
Perfect for all skin
Ideal for everyday use
Lasts all through the day
Cons
Contour has an orange shade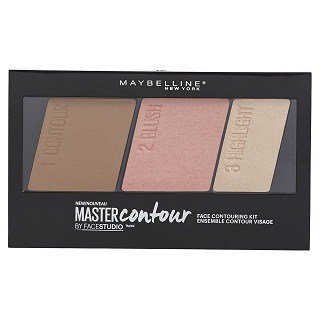 Maybelline Master Contour Face Contouring Kit is easy to use a palette with three blendable and buildable shades that will help you customize your look. The palette comes with two shades a light medium and a medium-dark.
The shades are soft textured powders with a matte finish. The palette has a blush, highlighter, bronzer and contour that lasts up to 7 hours in your face. The angled contour blush ensures that you get contoured in no time.
The powder is easy to blend, which makes it perfect for most skin types. It is also safe for sensitive skin since the formulae will not irritate your eyes and skin.
Key Features
Simple to use
Available in two shades options
Clear instructions on how to contour
Safe for sensitive skin
Pros
Buildable shades help shape
Create a perfect canvas
Perfect for everyday wear
3-in-1 compact kit
Suitable for most skin tones
Easy to use
Cons
Celebrity makeup artist Pat McGrath designed a unique formula something meant for everyone. The COVERGIRL Trublend Contour Palette Light is available in two shades options suitable for light skin, medium skin, and deep skin tones.
It is simply one palette with multiple tones. They easily blendable formula can highlight, contour, and bronze your face for a flawless complexion.
Contouring and face sculpting is now easy with these palettes as you can easily highlight and define your features with the three creamy ultra-blendable formulas. The palette is available in two shades options good for different skin tones.
Key Features
Oil and fragrance-free
2 shade options
Natural-looking finish
How-to guide
One palette of multiple looks
Blends beautifully
Pros
Contouring palette designed
Ultra blend-able formulas
Designed for light skin tones
Fragrance and oil-free
Lightweight
Natural-looking
Cons
L'Oréal Paris Infallible Pro Contour Palette is a quality contour kit from the L'Oréal Paris brand that is easy to use and you can achieve your professional finish in just 30 seconds.
The palette has a single pan that is divided diagonally into two. The upper part has a highlighting color while the lower has a darker contouring color.
The nicely pigmented shades leave your skin with a natural finish since the highlighter and the contour easily blends. The palette comes with a unique brush to perfectly sculpt your contours with no time.
Key Features
Cool-toned color powder
Quick contouring guide
Long-lasting up to 7 hours
Cool blending powder
Pros
Highlights and enhances
Unique pro-contour brush
Pigment-rich
Good staying power
Quick to apply
Perfect matte finish
Cons
Looks orange on lighter skin
What Is A Contour Kit?
A contour kit is a set of makeup products designed to help sculpt and define the face. The kit typically includes a variety of shades of contour powder or cream, as well as highlighting powder or cream. The contour shades are used to create the illusion of depth and structure on the face, while the highlighting shades are used to bring out the natural highlights and add a subtle glow to the skin.
Contour kits are a popular tool among makeup artists and beauty enthusiasts, as they can enhance or change the shape of the face. For example, contouring can create the illusion of a slimmer nose, sharper cheekbones, or a more defined jawline. Highlighting can be used to accentuate the natural features of the face, such as the brow bone, cheekbones, and Cupid's bow.
Contour kits come in various formulas, including powders, creams, and liquids, and they can be applied with various tools, such as brushes, sponges, and beauty blenders. There are also contour kits available in different shades to cater to various skin tones. In addition to contouring, these kits can also be used for other purposes, such as to create the illusion of a more symmetrical face or to add depth and dimension to the eyes.
How To Choose A Good Drugstore Contour Kit?
Are you a beginner and you are looking for a flawless contour? Best drugstore contour kits can help you achieve your desired face-beat look. However, with the many brands in the market, choosing the best contour kit in a drugstore may be confusing.
For successful contouring, you need to pick your contouring shades carefully so that you can make it as natural as possible. For contouring, always choose contouring products that are just one shade darker than your skin tone.
This will help the contour to emulate a real-life shadow other than enhancing a murky look. For highlighting, choose a shade that is lighter than your foundation shade.
Contours come in either cream or powder form. Cream formulas are better for beginners because they blend in easily without leaving harsh contour lines.
Also, with a cream contour palette, it's easier to find the right shade by doing several tests quickly. On the other hand, powder formulas leave a more natural matte effect.
If your skin has a medium tone, choose a bronze shade. If your skin is dark, look for a deep shade with some red undertone. For those with sensitive skin, always go for experts' opinions before trying a contouring product.
How Do You Use Drugstore Contour Makeup To Contour Your Face?
Once you have your contouring products and tools ready, it's time to get started. Follow this simple guide for a chiseled look:
Always Apply Your Foundation First
Contours work best when applied over a foundation. So, your number one step is to apply your foundation.
Map Your Face
Get a shade or two darker than your foundation and use it to map the areas you want to accentuate. If you have a large forehead and you want it to appear smaller, apply your contour shade along your hairline until it is blended seamlessly to minimize it.
Bringing the contouring powder or cream down toward your temples has a slimming effect on your face. To define your cheekbones, suck in your cheeks and place fingers on the hollow parts on both sides of your cheeks.
Now, just above that is where you put your contouring pigment using an angled brush. Brush your contouring shade along the edges of the length of your jawline and the areas around your chin to chisel your cheeks.
This will help you define your jawline and slim your neck. If you love your nose you can leave it. To make it narrower, brush the tip of your nose. If it is small and you want it to appear longer or wide, brush your contour from your nose moving it to the brow.
Blend It
Once you have applied your contour in all the areas you want to enhance, blend it in using a sponge or a damp beauty blender. Tap over the areas with contour color with small circular motions until it blends in completely and there are no harsh lines left.
Highlight
Use your lighter shades underneath eyes, the center of your forehead, top of your cheekbones, chin, and the bridge of the nose to highlight your face.
Dust It
Use a fluffy brush with a setting powder to dust off your face and use a setting spray to blend everything and make your makeup last for hours.
Is Cream Or Powder Contour Better?
Since contours come in cream or powder form, which one is better? The truth is, both are better and they achieve the same result, that is chiseling your face to perfection. The only difference is the tools used, base, and application technique.
With a cream contour, you can apply and blend it using your fingers. This makes it convenient and easy to use. For the powder contour, you need to have a fluffy brush more so an angled one for easier application.
Cream contours are much quicker to work with and have a more natural-like finish. If you want a more chiseled and defined look, powder contours will do you well.
Powder contours are also great for events and photoshoots because you can wear them for long hours and give you that photogenic effect you desire. They are also good for oily skins because powder naturally absorbs oil.
Conclusion
An easy way to look gorgeous is by contouring your face to highlight your best features. By using the best drugstore contour kits, you have plenty of options to accentuate your look to the desired complexion.
With many contouring products available in the market, finding one that suits you can be tricky. From our review, we highly recommend the NYX Cosmetics Highlight & Contour Pro Palette for its versatility.
We love it because it comes with 8 refillable shades that give you plenty of options on how to chisel your face. It is also high quality, super pigmented, and ideal for everyday use.
Recommended Articles:
About Author (Nina J. Erickson)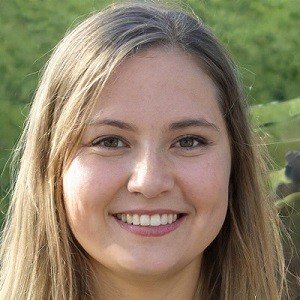 Nina J. Erickson is a makeup blog author who writes about the latest trends and techniques in beauty. With a passion for all things makeup, Nina shares her insights and expertise with her readers, helping them achieve their desired looks and feel confident in their skin. Whether she's reviewing the newest products or offering step-by-step guides, TheApexBeauty's blog is a go-to resource for anyone interested in makeup.