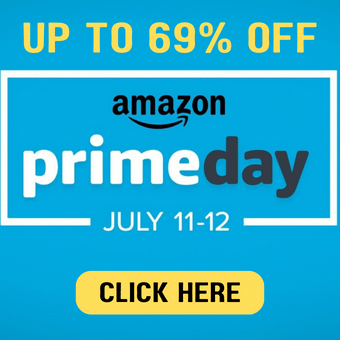 You all know that there is gluten in foods and drinks but do you know that gluten is also present in hair products? While these gluten hair products are not harmful to many people, if you are gluten sensitive, have severe allergies, or have sensitive skin and you have been sticking to a gluten-free diet, then you need to ensure that all products you use on your skin and hair are gluten-free.
Gluten is a group of proteins found mainly in grains. It triggers the immune system and causes celiac diseases, rashes, hair loss, itchy scalp, and sores on the scalp. Depending on how sensitive you are to gluten, using only the best gluten free shampoos will save you from high exposure to gluten. This is because it can be easily absorbed through the skin or scalp or find its way to your mouth while washing your hair and accidentally swallow it.
Our Top Picks
Top 10 Gluten-Free Shampoos
PURA D'OR Original Gold Label Shampoo is a clinically tested gluten-free shampoo that enhances the overall health of your hair. Suitable for men and women with all types of hair, it is an anti-hair thinning shampoo that enhances hair thickness with increased volume, reduces breakage by strengthening your hair shaft, and cleanses your scalp. If you are looking for a hair thinning solution, this is the shampoo to use for thicker and fuller hair. The shampoo has essential vitamins that help to hydrate your scalp so that it is not dry and makes managing your hair simple. With ingredients like biotin, pumpkin seed, cumin seed oil, nettle extract, and many more, it is the secret to thicker hair.
Key Features
Prevents hair breakage
Suitable for all types of hair
Reduces hair thinning
Hydrates your scalp
Prevents split ends
Pros
Herbal DHT Blockers
Natural extracts
A powerful blend of Biotin
Black cumin seed oil
Ultra-nourishing blend
Effectively treat damaged
Gluten-free
Cons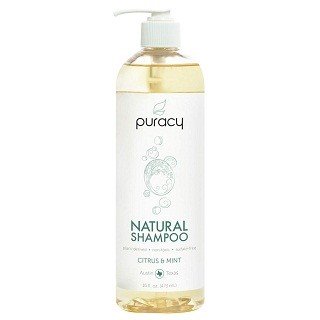 Puracy Natural Daily Shampoo is a powerful formula that will not only cleanse and moisturize your hair but also take care of your scalp and hair. The gluten and sulfate-free shampoo produce a luxurious fluffy foam to cleanse your scalp and hair creating frictionless hair that is silky smooth.
This shampoo is for both men and women and its cleansing ingredients are derived from plants meaning that it does not have harsh chemicals.
With a balanced blend of luxurious cleansers and clinical-grade ingredients combined with essential oils, the shampoo cleans your hair without drying it and eliminates static for a frictionless hair.
Key Features
Gentle natural scent
No harsh chemicals
Child/pet safe
Safe for sensitive skin
Suitable for all hair types
Pros
Healthier-looking hair
Gentler natural scent
Coconut-based cleansers
Sulfate-free
Beet sugar extract hydrates
No triclosan
Safe for all hair types
Cons
If you are looking for a gluten-free shampoo that is affordable then Acure Curiously Clarifying Shampoo is your solution. The shampoo contents are infused with all-natural organic ingredients that are gentle for everyday use.
The shampoo is infused with lemongrass that promotes healthy hair growth and works to soften your hair to make it easily manageable. It is ideal for cleansing your scalp from dirt, excessive oils and impurities and washes away build-up instantly.
This gentle shampoo also heals itchy scalps and prevents dandruff maintaining healthy hair. With a light scent of sweet almonds, the shampoo smells great and is free from parabens, sulfates and mineral oil, gluten where men and women with sensitive skin can use it confidently.
Key Features
Great for oily scalp
Adds shine to hair
Safe for all types of hair
Hydrates hair
Pros
Infused with lemongrass
Gentle enough for everyday cleansing
Vegan and sulfate free
Clarifying for all hair types
Paraben and cruelty-Free
With lemongrass and argan
Cons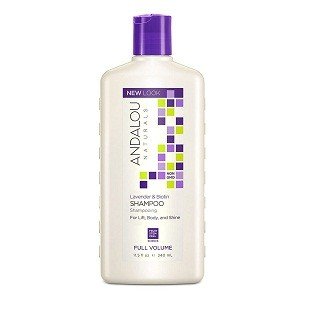 Andalou Naturals Lavender & Biotin Shampoo is a volumizing shampoo made with naturally occurring ingredients like argon oil, aloe vera that help to refresh and cleanse your hair.
Another unique ingredient is the grape stem cells that add the lifespan of hair follicles, thus enhancing longer and stronger hair and minimizing hair loss. This deep cleansing formula will lift your hair from the roots, add shine, strength, and volume for a healthier hair look.
The shampoo is infused with Biotin-B complex essential proteins that support the strength and texture of your hair. It makes your hair thicker, stronger, and healthier for easier manageability.
Key Features
Boost hair growth
Reduces hair loss
Adds volume to hair
Ideal for thin, fine and medium hair
Safe for color-treated hair
Pros
Inspired by nature
Vegetarians with a large vegan
Gluten and cruelty-free
Hemp plant support skin protection
Promotes healthy hair growth ideal for thin and fine hair
Makes your hair soft and manageable
Cons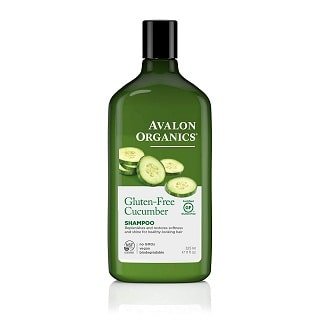 Avalon Organics Gluten Free Shampoo is one of the certified gluten-free shampoos made with organic botanicals and essential oils. If you hate fragrance on your hair products, then this should be your choice as it is fragrance-free.
Its gentle plant-based ingredients include a medley of cucumber, aloe vera, and vitamin E essential oils—all these help to nourish and replenish your hair and restore shine and softness.
With no harsh preservative chemicals, the shampoo is suitable for sensitive skin and will not leave any irritation to your scalp.
Key Features
Gluten-free certified
Unscented
Suitable for all hair type
No harsh chemicals
Pros
Softness & shine for healthy
100% vegetarian formula
Gentle, effective, plant-based
GFCO certified gluten-free
No parabens
Contains natural and organic
Safe for all hair types
Cons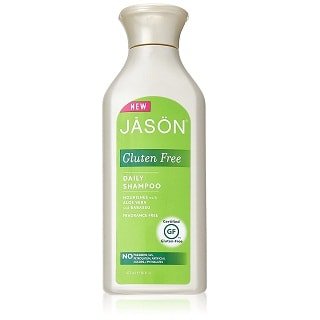 Jason Gluten Free Shampoo will clean your hair gently without stripping off its natural oils. It is a gluten-free certified shampoo that leaves your hair moisturized and soft.
Its formula is a medley of babassal oils, vitamin E, and rosemary that calms your scalp and reduces inflammation. Suitable for all hair types, this shampoo fights dandruff effectively, relieves an itchy and flaky scalp and leaves a long-lasting healthy shine on your hair.
The fragrance-free shampoo contains organic and natural ingredients meaning it is safe for people with super sensitive skin.
Key Features
Safe for sensitive skin
Fragrance-free
Adds volume to hair
Fights dandruff
Relieves itchy scalp
Pros
Formulated with babassu oil
Nurturing gluten-free
GFCO certified
Organic ingredients
Blended simple
Suits for all hair types
Cons
Dries out your hair initially
If you are looking for a gluten-free shampoo that you can use with all family members including your small kids, Original Sprout Natural Shampoo is your ideal shampoo.
The 100% vegan shampoo uses organic emollients and moisturizing botanicals to detangle your hair and get rid of all frizz which makes rinsing effortless. Infused with vitamin C, your hair stays shiny, hydrated, soft, and healthy.
It contains an added sun protection that ensures your scalp, hair, and skin stay nourished and healthy. This soothing shampoo removes any product buildup leaving your hair clean and shiny.
Key Features
Effective for color-treated hair type
Safe for small kids
Hair stays shiny and hydrated
Keeps hair soft and healthy
100% vegan
Gluten-free
Pros
Soothing and healing plant-based
Safe for the whole family
Super silky smooth and smelling
Safe for all skin types
Allergen free
Rosemary provides hydration
Cons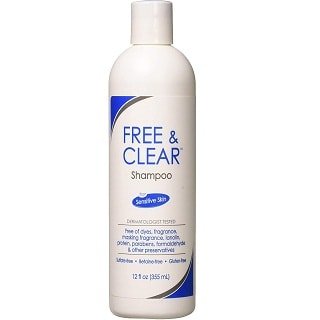 Free & Clear shampoo is an advanced gluten-free shampoo that is designed to work with your hair and delicate scalp. The shampoo removes dirt, excess oil and buildup and leaves your hair soft clean and dandruff-free.
The shampoo is hypoallergenic and free of harsh chemicals. Made with all-natural organic ingredients to balance and maintain your scalp delicate ph.
Its primary cleansing agent is coco-glucoside that does a great job in removing all dirt, oil and grease, buildup, and adds shine and creates volume to your hair.
Key Features
Boosts volume
Removes build-up
Good for sensitive scalp
Safe for color-treated hair
Pros
Tearless formula
Removes build-up
For sensitive scalps
Irritation-free
Creates shine
Boosts volume
Ideal for daily use
Cons
Mineral Fusion Volumizing Hair Shampoo is a unique blend of essential minerals and natural ingredients. The volumizing shampoo gives your hair strands the lift and volume you desire.
It is infused with plant-based proteins that boost your hair thickness since the essential minerals help to strengthen your hair strands from inside out.
The shampoo is gluten-free and therefore people with celiac, allergies and sensitive skin can comfortably use this shampoo with no worry. If you desire more voluminous, healthy, fuller-looking hair, look no further.
Key Features
Safe for color-treated hair
More voluminous hair
Gluten-free
Skin enhancing minerals
Contains vitamin E
Pros
Body care & skin care each formulated
Plant-based proteins
Argan oil hydrates
Long-lasting
Big hair goals
Moisturizers
Gluten-free
Cons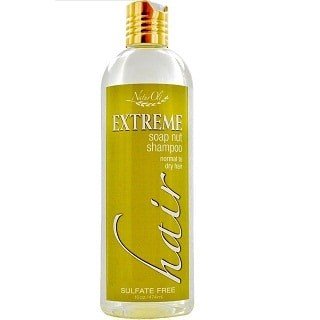 If your hair is dry, NaturOli Soap Nut / Soapberry Shampoo is your to-go shampoo. It works well for normal to dry hair and comes in two forms. One is normal to oily hair and normal to dry hair.
This shampoo will rinse clean your hair leaving it tangle-free and manageable. It hydrates and revitalizes dry, damaged and stressed hair leaving it with a healthy texture, volume, and shine.
The shampoo is safe for color-treated hair and reduces fading. It also relieves an itchy scalp and cleans your hair without irritating your scalp or weakening your hair follicles. This no-fragrance shampoo does not deplete your hair's natural oils and moisture.
Key Features
Fragrance-free
Safe for color-treated hair
100% vegan
Best for dry hair
Pros
Made with organic soap nuts
Proprietary ayurvedic formula
Fragrance and gluten-free
Safe for color-treated
Depleting natural nutrients & moisture
High quality
Cons
What To Look For In A Gluten-Free Shampoo – Buying Guide?
Gluten-Free
Don't expect a brand to genuinely label their shampoo to have gluten. It's your work to check if the shampoo is gluten-free. The easiest way is to look for product description and most important the list of ingredients.
Since gluten is derived from most cereal grain, avoid shampoo products with wheat-based ingredients because they have gluten. They include things like germ oil, vitamin E, hydrolyzed vegetable protein, oatmeal, rye, and many more.
You also want to avoid using harsh chemicals like parabens and sulfate on your hair. So, it's good to read the product descriptions carefully.
Be cautious because some of these ingredients are labeled in their scientific names rather than plain ingredients where you can end up buying shampoo with gluten unknowingly. To save you the agony, use the above gluten-free shampoo list.
Hair Type
To avoid damaging your hair, always buy a shampoo that matches your hair type. This is because using the wrong shampoo can damage your hair.
Depending on the intended purpose, different shampoos are formulated with different ingredients to achieve the desired goal. There is a shampoo designed for every hair type. Looking at the product description will help you buy shampoo that fits your hair type.
Types Of Shampoos
The shampoo comes in different kinds based on what their intended goal is. There are volumizing shampoos, shampoos for color-treated, a medicated shampoo, moisturizing shampoo, hair-repairing shampoo, etc. by knowing your hair needs, you will be in a position to buy the right shampoo that caters for your hair needs.
Reviews
Reading reviews or customer feedback before purchasing your desired gluten-free shampoo is very important. It gives you a clear idea of what to expect and whether it is what you are looking for. Go for the product with many reviews and has a high rating.
Conclusion
If you are sensitive to gluten or have celiac disease, it's good to use the best gluten-free shampoo. It helps in reducing glucose sensitivity symptoms like skin rash, depression, skin eczema, fatigue, hair loss, and itchy scalp.
The gluten-free shampoo is free from harsh chemicals, allergens, and is naturally best. If you want to switch to gluten-free shampoo, this list will get you sorted.
From our review, we highly recommend the PURA D'OR Original Gold Label Shampoo. Besides ranking the number one bestseller in Amazon, it is 100% gluten-free and has no harsh chemicals like paraben and sulfate.
Recommended Articles:
About Author (Kelly V. Lampkin)
Kelly V. Lampkin is a hair care blogger who writes about various topics related to hair care, including hair styles, hair products, and hair health. She is passionate about helping people achieve healthy, beautiful hair and shares her knowledge and experience through her blog. Whether you're looking for tips on how to style your hair or advice on how to care for damaged locks, TheApexBeauty's blog is a great resource for anyone interested in hair care.