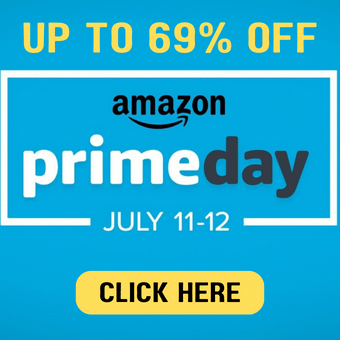 Are you looking for organic hair coloring products? Are you willing to try out different colors on your hair but the fear of harsh chemicals restricts you from experimenting with new looks? Over the years, consumers have become savvy of the dangers of chemicals found in hair dye. Manufacturers are now producing organic hair colors made using natural botanicals and have only a negligible chemical content safe for your hair and scalp. Hair colors match one's style, mask emerging grey hair, or simply create a unique look in your hair. Our review of the best organic hair colors highlights the bests ones available in the market. Read on.
Our Top Picks
Top 10 Organic Hair Colors
Light Mountain Natural Hair Color & Conditioner is made with 100% pure botanicals. It not only adds color to your hair but conditions, volumizes, and strengthens your locks for a vibrantly healthy look to your hair. This certified organic hair color is ammonia-free and free from other harsh chemicals like parabens, metallic salts, PPD, and peroxide. Its main coloring agents are henna, Senna, and indigo which offer a variety of shades with a shinier and healthy look. It comes in a complete application kit with a hat, gloves, and a step-by-step application for best results.
Key Features
Certified organic
100% pure botanicals
Adds volume and conditions your hair
Ammonia and peroxide-free
Step-by-step instructions
Pros
Non-carcinogenic products
Safe Natural Hair Color
Fair Trade certified
Illustrated instructions
Vegan & Cruelty Free
Easily to apply
Brightening
Cons
Reviewers note package directions could be better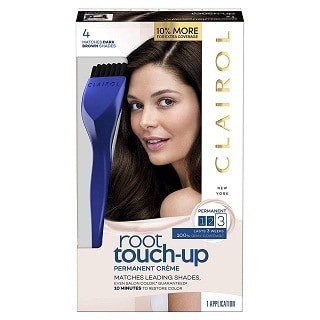 If you want to extend the life of your hair color, Clairol Root Touch-Up Permanent Hair Color is your to-go product. The product offers a 100% gray coverage, conceals your roots and gives your hair color a boost. It comes with a precision brush that makes application easy and fast and you don't have to go to the salon to do your hair root touch-ups. The best thing is that it works in just 10 minutes and the color can last up to three weeks. Its natural approach towards hair coloration has made it among the best organic hair color brands in the market.
Key Features
Easy to apply
100% gray coverage
Works in 10 minutes
Ammonia-free
Contains aloe and vitamins to improve hair condition
Pros
Pre-formulated salon color
Damage-free root fix
Looking natural & radiant
Gray coverage
Lasts up to 3 week
Long lasting
Cons
Not ideal for a complete color change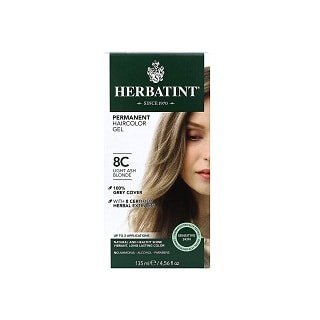 With over 60 million consumers, Herbatint Permanent Hair color Gel is a leading organic hair color brand for its natural herbal-based ingredients. It is effective in providing the desired hair color without damaging the hair and scalp. With 8 organic herbal extracts, the gentle formulation can lighten your natural hair color with two shades while leaving your hair soft, radiant, and beautiful. The organic extracts have a toning and soothing action that protects your hair and scalp. The hair color is free from ammonia and parabens and it is clinically and dermatologically tested on sensitive skin.
Key Features
Alcohol fragrance-free
Herbal extracts
Suitable for vegans
Ammonia and parabens-free
Colors and nourishes hair
Safe for sensitive skins
Pros
Unique formula
Reddish highlights
Organic herbal extracts
Clinically and dermatologically tested
Light ash blonde
Alcohol Free
Cons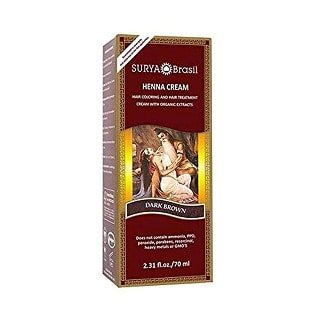 Surya brand has been in the hair and skin products market since 1995. They are known for using only natural extracts and organic plants to make suitable coloring products safe for all hair types. Their coloring cream is made using extracts from plants and fruits sourced from Brazil and India. This semi-permanent hair color has no harsh chemicals like ammonia, parabens, PPD, and hydrogen peroxide that can damage your hair and scalp. The color can also be applied to chemically treated hair.
Key Features
Chemical-free
Suitable for chemically treated hair
Conditions of dry and damaged hair
Uses natural extracts
Nourishes hair
Pros
Natural henna color formulations
Safer and more natural
Conditions of dry and damaged hair
Lightweight
Cruelty-free
Easy to use
Cons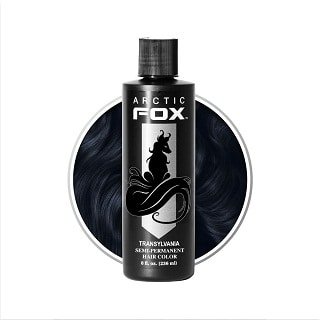 Arctic Fox Vegan and Cruelty-Free Hair Color Dye can help you achieve all your hair color dreams with its vibrant shades of color. Made only from vegan ingredients, the gentle formula is suitable for frequent use. This semi-permanent hair dye does not contain any harmful chemicals like peroxide, ammonia, PPD, and parabens. It is a super conditioning product that causes zero damage to your hair. If you desire vivid and long-lasting results, apply it to pre-lightened hair. Depending on your hair type and hair care routine, the dye can last 4-8 weeks.
Key Features
Gentle for frequent use
Long-lasting colors
100% vegan
Cruelty-free
No harsh chemicals
Pros
Primarily blue-based
Favorite mixes and tips
No harmful chemicals
No Peroxide
Sweet Scent
Long lasting Colors
Cons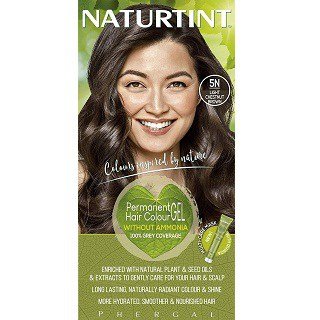 Naturtint Permanent Hair Color is made with natural plant-based ingredients and botanical extracts. The ingredients help to nourish and moisturize your hair to add softness and shine. It offers 100% gray coverage and a natural-looking result. With 32 mixable shades to choose from it gives you plenty of options to rock your hair in the color you desire. The plant and seed oil extracts used ensures deep hydration in your hair and the result is vibrant gorgeous-looking hair. Its gentle formula free from harsh chemicals protects your hair and scalp.
Key Features
Hydrates and softens hair
Long-lasting with up to 20 washes
100% gray coverage
Plant-based colorant
Artificial fragrance-free
Pros
Meadowfoam Seed Oil
Cleanse, moisturize, and protect
Conditioning Hair Food Mask
Plant Enriched
Fragrance Free
Long-lasting
Cons
Hydrogen peroxide and phenylenediamines may cause an allergic reaction
If you are looking for a hair color that will leave your hair strong, silky, shiny, and healthy, Revlon Color silk Permanent Hair Dye will do that for you. It is enriched with keratin and silk amino acid that helps in nourish your hair, smoothen and strengthen it leaving it in a better condition than it was before. The formula is free from ammonia so that you can enjoy a hair color with no unpleasant smell. It has a rich lasting color that ensures 100% gray coverage even to that stubborn gray hair. The non-drip hair dye is very easy to use and deposits a rich natural-looking color that lasts for a long.
Key Features
Enriched with keratin
Variety of black, brown, red and blonde shades
Ammonia-free
100% gray coverage
Pros
Nourishing formula
3D Color gel technology
Radiant shine at home
Long-lasting gray coverage
Ammonia-free
Easy to use
Cons
Since 1976, Rainbow Research Henna Hair Color and Conditioner has been renowned for making color hair with no harmful chemicals and additives. It is a 100% botanical hair color and conditioner that blends naturally with your hair. Dye coats each hair shaft with color to cover all gray hair. It also smoothens and seals hair cuticles improving the texture of your hair and providing great shine. The hair color comes in a variety of shades and can be applied on either wet or dry hair as long as the hair is clean. The color makes you look livelier and more beautiful where it can last 4-6 weeks.
Key Features
No additives and pesticides
Mild formula
100% botanical hair color
Variety of shades
Pros
Blends naturally
Smooths and seals the hair's
Used for special effects
Fades gradually
Greater for shine
Long-lasting
Cons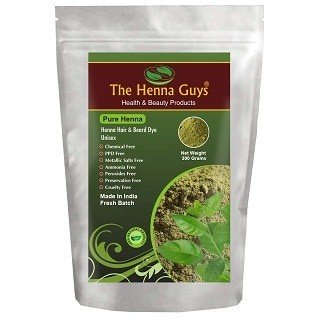 The 300 Grams 100% Pure & Natural Henna Powder offers a perfect blend of pure henna and indigo plants with no harsh chemicals to provide a beautiful natural-looking coloration on your hair. The brand uses herbs that they organically grow to make their product 100% natural and free from harmful additives. It offers premium quality results and it is suitable for everyone from men, women, children, and pets. It is free from metallic salts, paraben, ammonia, alcohol, and fragrance. Available in 10 shades, the hair color leaves strong, lustrous, and healthy hair while covering all the gray hair.
Key Features
Lasts for weeks
Safe hair coloring ingredients
100% Natural
Free from harmful additives
Safe for everyone to use
Pros
Plant-based formula
Not any harsh chemicals
Improved Results
Vegan free
Metallic Salts Free
Long-lasting
Cons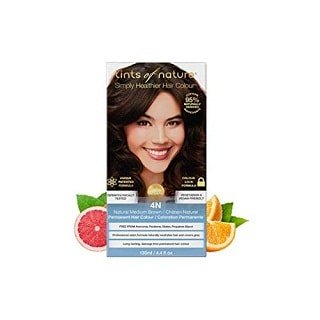 Tints of Nature 4N Natural Permanent Hair Dye blends organic and natural ingredients that provide professional salon-like results. With 95% naturally derived ingredients, the dye naturally nourishes your hair and covers all the gray. It also strengthens and hydrates your hair giving it a healthy look. The dye is free from ammonia and parabens and the amounts of PPDs are very minimal. With 24 different shades, this permanent hair color covers a shade for everyone
Key Features
Easy to mix and apply
Dermatologically tested
Ammonia and parabens-free
24 shades to choose from
100% gray coverage
95% naturally derived ingredients
Pros
Dermatologically tested
Visibly healthier results
100% gray hair coverage
Vegan and cruelty-free
Easy application
Long-lasting results
Cons
What Are Organic Hair Colors?
Hair color that is organic means that it has been produced using natural botanicals. Also, the amount of chemicals used in organic hair color is very minimal or negligible. The botanical extracts and ingredients used to make organic hair colors are also planted and grown using natural methods. This means that at no point, any fertilizer or pesticides is used in these botanicals. This explains why organic hair colors will claim to be chemicals free and they are therefore safe for prolonged use and people with sensitive skin and scalp. The final color of organic hair color may not be as vibrant as the synthetic dye, but it is healthy for your hair.
Does 100% Organic Hair Color Exist?
The truth is, no hair color is 100% organic. This is because for the color to be effective, it requires certain amounts of synthetic chemicals. These chemicals will help activate the PH levels of your hair so that the tresses can absorb the color accurately. The only difference is that the chemicals present in organic hair colors are minimal and rely on botanical ingredients that are naturally derived. The only hair color that can be termed 100% natural is henna. However, it contains metallic salt that can damage your hair causing it to be dry and brittle over time.
What Is The Difference Between Natural And Organic?
Hair color comes in three types; chemical, natural, and organic. While it's clear that chemical hair color has harsh chemicals like ammonia and hydrogen peroxide, many people do not know the difference between natural and organic hair colors. Natural hair color products usually have both natural and chemical ingredients that may be harsh to your hair or scalp. Some of the natural hair colors only have natural ingredients.
Also, natural hair color uses ingredients derived from nature but they are not necessarily organic. One application or two of the natural hair colors will get you the desired hair color. Organic hair color uses natural ingredients that are organically grown. It lacks harsh chemicals like ammonia and PPD which makes it gentle on your hair and scalp. You may need multiple applications to achieve the hair color you desire.
How To Pick The Right Organic Hair Color?
Free from harsh chemicals that damage your scalp and hair.
Gentle to your scalp. The botanical extracts, essential oils, and vitamins are gentle on your hair and scalp.
Boosts hair growth. Ample nutrients present in organic hair products and hydration will promote hair growth and make your hair healthy and glossy.
The hair absorbs organic hair color effectively which produces long-lasting results.
It is safe to apply especially if your skin is sensitive.
Works effectively and causes no breakage to your hair.
Contains a mild and pleasant natural fragrance.
Nourishes hair strands right from the core while covering your gray hairs with no side effects.
Conclusion
You can now try any shade you want on your hair without worrying about the harsh chemicals present in hair colors. This review highlights some of the best organic hair colors in the market that you can comfortably try. From their wide range of benefits, organic hair colors are the way to go. One of our best organic hair color is the Light Mountain Natural Hair Color & Conditioner. We love it because It is certified organic, uses 100% botanical extracts, and comes with a step-by-step application guide. Apart from having a unique color in your hair, always look for a hair color that not only adds beauty to your hair but also takes care of your hair and scalp.
About Author (Kelly V. Lampkin)
Kelly V. Lampkin is a hair care blogger who writes about various topics related to hair care, including hair styles, hair products, and hair health. She is passionate about helping people achieve healthy, beautiful hair and shares her knowledge and experience through her blog. Whether you're looking for tips on how to style your hair or advice on how to care for damaged locks, TheApexBeauty's blog is a great resource for anyone interested in hair care.