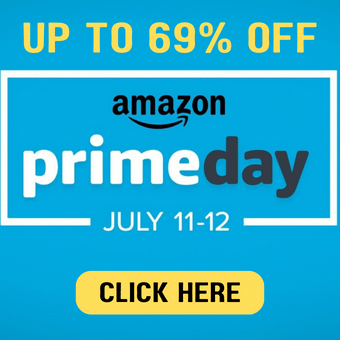 Do you wish to get glowing skin with a great tan? Tanning lotions will help you achieve that dark tan you want quickly and freshen up your appearance. Indoor tanning lotions are applied before getting into tanning beds to protect your skin's moisture levels and to open up your pores to capture the UV rays you are being exposed to on a tanning bed to get the best tan possible.
Applying the tanning lotion reduces the risks of dry skin and dehydration and helps you to achieve a nice tan without experiencing irritation or looking burnt. You will experience the tan you want without excessive exposure to sun UV rays. Tanning lotions are rich in melanin for pigmentation and other oils to protect and condition your skin. Thus, you can achieve a golden Sunkissed tan right from the comfort of your home. Here is a list of the best indoor tanning lotions that you should try.
Our Picks
Top 10 Indoor Tanning Lotions Of 2023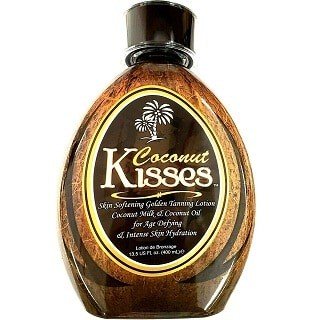 This is a skin softening and golden tanning lotion for oily, combination, dry, or normal skin. It is infused with coconut milk, coconut oil, and cocoa butter that offers immense skin hydration. This tanning intensifier offers a dark golden tan without the use of bronzing agents.
It is formulated with a quad tyrosine blend and melano bronze that stimulates and increases melanin formation to accelerate the tanning process. An intoxicating light coconut fragrance with a faint scent of vanilla is also added.
This lotion also has a tattoo fade protecting formula that prolongs the radiance and life of your tattoos and tanning results.
Key Features:
Protects your tattoos against color fading
Gives a longer-lasting tan
Moisturizes your skin deeply
Does not streak or stain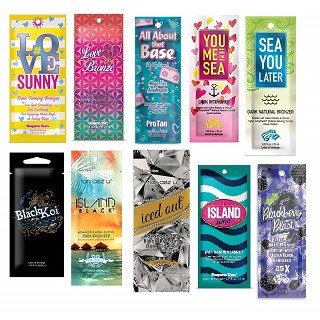 You can boost your color in your next tanning session with these ten assorted premium brands of indoor tanning lotions and bronzers. These lotions hydrate and moisturize your skin and they do not streak or create a mess.
They are easy to use and apply evenly on your skin to achieve an even tan. They glide on your skin easily, and they will not stain your sheets or carpets.
Key Features:
Absorbs quickly into your skin
Hydrates and moisturizes your skin
Offers long-lasting tan results
Tightens your skin
Do not streak or stain the sheets or carpets
If you are looking for an all-natural tanning lotion, Maui Babe Tanning Salon Formula 8oz is a great option. Instead of mineral oil, it is formulated with sunflower oil that preserves the acrylic on your tanning bed.
It is also enriched with vitamins, Kona coffee extract, and aloe vera to maximize your tan while leaving your skin super smooth and radiant. This tanning salon formula gives you a rich tan all year around how you can't get that natural sun effect.
Key Features:
Water-resistant formula
Suitable for all skin types
Leaves skin soft and well-moisturized
Has no mineral oils to harm your tanning beds
Long-lasting results
This is one of the best indoor tanning lotions that come with a bronzer to increase your tan almost immediately. The lotion can be used for both indoors with tanning beds and outdoors under the sun to give you a deep and dark tan.
It is formulated with native Australian oils and vitamins A and E to create a skin-hydrating formula for a maximum tanning experience. This lotion gets absorbed quickly on your skin leaving no oil residue. This 8.5 oz bottle sells at $24 and has a 4.5-star rating with many positive reviews.
Key Features:
Great for both indoor and outdoor use
Quickly absorbs into the skin
No oil residue is left on the skin
Skin-hydration formula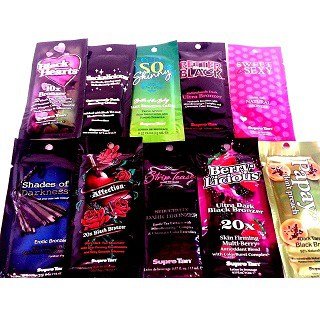 These are ten assorted tanning lotion packets that may include bronzers, intensifiers, and maximizers. These premium tanning lotions hydrate and moisturize your skin and leave it soft and smooth.
These lotions are easy to use as they apply evenly on the skin and do not streak, offering a golden bronzy glow on your skin. They also get absorbed quickly so you do not have to worry about staining your sheets. For long-lasting results, apply the lotions overnight. They come in travel-friendly pouches that are easy to carry around.
Key Features:
Offers long-lasting results
It comes in travel-friendly pouches
Hydrates and moisturize the skin
It applies evenly and absorbs quickly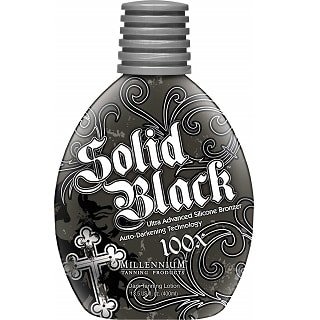 If you want to achieve a darker tan, Millennium Tanning Products Dark Tanning Lotion will give you that. This 13.5 Oz bottle is made with an ultra-advanced 100X silicone bronzer to offer an immediate dark tan after use.
It uses an auto-darkening tan technology that deepens the color of your skin when exposed to ultraviolet lights. This lotion is deeply moisturizing and nourishing leaving the skin looking hydrated and healthy. It will also firm your skin and give it a youthful glow.
Key Features:
Auto-darkening tan technology
Ultra-advanced 100X silicone bronzer
Suitable for all skin tones
Firms the skin and adds a youthful glow
This is a dark tanning cream oil blended with coconut and macadamia oil to offer deep moisturizing and hydrating benefits. The lotion has color correcting components that improve the luster of dull skin and promotes healthy skin that looks youthful.
It firm and tightens the skin to give a toned finish after your tanning bed session. With a 4.3-star rating, this 12.25 Oz lotion has many positive reviews where users praise it for its long-lasting results. The lotion is fragrance-free, making it suitable for people with sensitive skin and those who do not like strong scents.
Key Features:
Fragrance-free
Moisturizing and hydrating lotion
Dark tanning cream oil
Makes the skin look younger
Improves the luster of dull skin
For exceptional tanning results, Designer Skin BombShell 100XXBronzer is the real deal. It is enriched with white tea extracts, CoQ-10, amino acid, and soy, an extreme combination that yields unsurpassed tanning results.
This lotion is designed for experienced tanners only because it is an extreme tingle and you may experience extreme redness and a burning sensation. Thus, it should not be used on the face and other sensitive areas. It has an exotic bronzer bled that offers incomparable tanning results.
Key Features:
Dries quickly
Does not leave oil residue
Enriched with white tea extracts and soy
Kiwi watermelon fragrance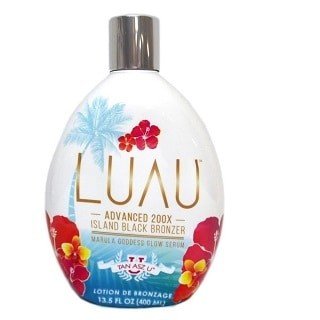 This 200X black bronzer offers a rich indoor tanning experience. It is made with Marula Goddess glow serum whose high levels of marula oil helps in tanning and results in healthier skin.
The lotion is also formulated with island extracts and silicone to condition your skin for lasting softness and glow. Its pleasant peach smell is not too strong and will last on your skin the entire day. The lotion comes in a consistency that is not too thick or sticky, making it easy to apply.
Key Features:
Great for darker tans
Offers long-lasting results
Leaves skin silky and smooth
Has island extracts that conditions your skin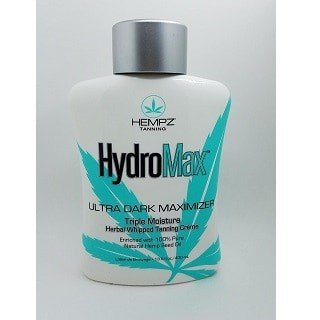 This is a non-greasy lightweight lotion that absorbs quickly into your skin to offer a great tan. It is a rich blend of dark tan enhancers that prepare your skin for a deeper, long-lasting color. It is made with 100% pure natural hemp seed oil that nourishes, hydrates, and conditions the skin leaving it soft and smooth.
It is also enriched with hydrating Yangu oil rich in antioxidants and fatty acids that help protect and retain a firm moisturized skin. A rich apple fruit extract with nourishing vitamin C conditions and hydrates dry mature skin reviving the skin radiance.
Key Features:
Enriched with natural hemp seed oil
Lightweight lotion
Non-greasy
Absorbs quickly into the skin
Hydrates and conditions the skin
How To Choose The Right Indoor Tanning Lotion?
Your Skin Tone
Tanning lotions offer different tanning colors. Thus, consider your skin tone before choosing a tanning lotion so that you can select one that is suitable for you. If your skin is light, choose a sheer tanning lotion and if you have a dark skin tone, go for a lotion with a deeper color.
Your Skin Type
Considering your skin type will help you buy the best tanning lotion. For example, if your skin is oily, avoid using tanning lotions with multiple oils. If your skin is dry, lotions with oils will moisturize and hydrate your skin.
Ingredients
Always check the ingredients used to make your preferred tanning lotion to ensure you are not allergic to any. Also, ensure the lotion does not have harmful ingredients like sulfates and parabens.
If your skin is sensitive opt for lotions made with natural ingredients and those that are fragrance-free. A good tanning oil will have ingredients like coconut oil, amino acid, hemp oil, and other essential oils beneficial to your skin.
Stain-resistant
Choose a tanning lotion that will not stain your fingers while applying or your sheets while sleeping.
Frequently Asked Questions
Can you tan in a tanning bed without using a tanning lotion?
Yes, but the tanning will not be effective. It is recommended to use the tanning lotion to open up your pores to capture the UV rays to achieve a proper tan. When the skin is dry, it reflects the UV light rather than absorbing, and thus skipping the lotion may give you an unnoticeable tan.
Can you shower right after tanning?
If you are not using any tanning accelerator or bronzer, you can shower after 20 minutes of your tanning bed session. If you use tanning bronzers and lotions, wait for 2-3 hours before showering for the chemicals to complete their cations.
Can you tan every day?
No. do indoor tanning three times a week until you develop a tan. Then tan twice a week to maintain the tan.
Conclusion
With indoor tanning lotions, you don't have to expose your skin to harmful sun rays to achieve the tan you want. Get your bottle of the best indoor tanning lotion from our list and flaunt your stunning tan wherever you go.
Our recommended favorite tanning lotion is Ed Hardy Coconut Kisses Golden Tanning Lotion. This skin softening and golden tanning lotion for all skin types are infused with coconut milk, coconut oil, and cocoa butter that offers immense skin hydration. It also protects your tattoos from fading, has a longer-lasting tan, and does not streak or stain.
Recommended Articles
About Author (Susan R. Orrell)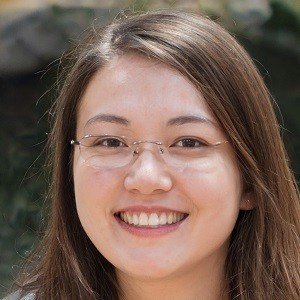 Susan R. Orrell is a well-respected skin care expert and blogger. She has extensive knowledge of skin care products and routines and is dedicated to helping others achieve healthy, radiant skin. Her blog, "The Apex Beauty," is a go-to resource for skincare information, and readers around the world trust her advice. Whether you're looking for tips on how to treat acne, reduce the appearance of fine lines and wrinkles, or maintain healthy skin, the blog has something for everyone.