A spray tan machine is a great choice to help you reach the perfect tan easily. Spray tanning is a healthy alternative to sun tanning because it does not expose your body to harmful UV sun rays. An airbrush gun helps you to get an even tan on your body, perfect for vacation. Today, spray tanning machines come with many features that give you an impeccable tan and make the job effortless. With the many types of spray tan machines available in the market, here is a list of the best spray tan machines that you should give a try.
Our Top Picks
Top 10 Spray Tan Machines In 2023
This is a spray tanning machine designed for mobile use, and it is a beginner-friendly machine because it comes with everything you need to start spray tanning right away. This lightweight machine is easy to use and can handle 10 plus applications in a day.
The machine features a powerful 300-Watt turbine and a spray nozzle in the spray gun that allows a fast application. The spray gun has a horizontal and vertical pattern and flows adjustment, which makes tanning the whole body an easy process. It comes with three cups featuring a conical design and a wide base to enhance optimal solution pickup.
Key Features:
It comes with a nonstick gun cleaner to avoid any clog
Lightweight and portable
Adjustable spray nozzle vertically and horizontally
It comes with a carry bag
Experience a sunless tanning experience with Norvell Mobile HVLP Spray Tan Airbrush Machine. This lightweight machine is compact and portable which makes it ideal to use by yourself. This machine features 8oz samples of Norvel ultra-dark cosmo, Venetian, and dark tanning solutions to help you start the tanning process right away.
The tanning solutions are formulated with micro-nutrient technology to offer a blend of vitamins and antioxidants to boost the ski with a beach bronze tan. Its spray gun comes with a metal tip that produces the ideal spray for smooth application.
Key Features:
Lightweight machine
Includes shoulder straps for added portability
Offers an adjustable spray pattern with variable speed control
Removable nozzle for an easy cleanup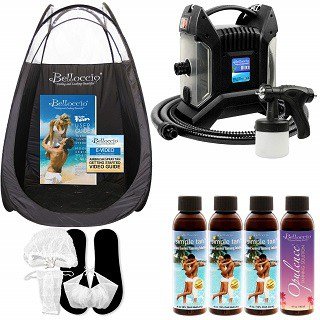 This is a high-performance HVLP turbine tanning machine that is lightweight and comes with a compact body. It features high-quality antioxidants and vitamins in its tanning solutions that help to revitalize, tighten and moisturize your skin.
It features four solutions, a variety pack of 8, 10, and 12% DHA tan solutions and opulence solutions that enable you to spray all skin types. It comes as a complete tanning accessory kit including a spray tanning tent.
Key Features:
HVLP spray application gun with a quick-connect fitting
Lightweight plastic composite body
Spray tanning tent booth
4 tanning solutions variety pack
This is a high-quality kit that offers professional spray tan and allows easy spraying. The pack includes an 8oz Venetian spray machine, 8oz Xalatan, and an extra-large bright skylight tanning tent.
These tanning solutions contain all-natural fragrances, are 100% vegan, and are paraben-free, sulfate-free, and gluten-free. It features an 11ft durable and flexible hose that allows easy maneuverability. Its turbine is quiet and its minimal noise allows smooth conversations at a salon or spa.
Key Features:
Long flexible hose for easy maneuverability
Lightweight turbine with cable management
Retractable carry handle for easy portability
25+ daily uses
This is an ideal tanning machine for both salon and mobile use.
This professional-grade applicator features a metal body, stainless steel fluid components, adjustable spray pattern knob, and adjustable fluid control. This tanning machine will cater to all your spray tanning needs whether it's small touchups air full-body length sessions.
Its turbine is lightweight which makes it easier to use. It features a metal body, stainless steel fluid components, adjustable spray pattern knob, and adjustable fluid control. Its air filters are washable and are fitted with noise reduction covers and Air is drawn through rear slots preventing direct sound paths.
Key Features:
A lightweight turbine that is easily portable
Has a heat dissipation box for cooler running and a longer life for the turbine motor
Washable and replaceable air filters
It a gun holder bracket to conveniently rest the applicator when not in use
This lightweight spray tanning machine is expertly designed from bottom to top to offer the ideal spray for optimal smooth application. This machine provides you with a wide array of tan solutions that suit all skin types. It features a high-tech chrome control panel to help you select various accents and finishes.
A shoulder strap and a carrying handle are included for added portability. It offers an adjustable spray pattern and a 10ft quick connect hose. Its tanning solutions contain a special combination of antioxidants and vitamins to provide a special radiance to your skin.
Key Features:
Designed for use in all airbrush HVLP systems
Variable speed control
Shoulder strap mad carrying handle for added portability
Lightweight compact design
Adjustable spray pattern
Fragrance-free tan solutions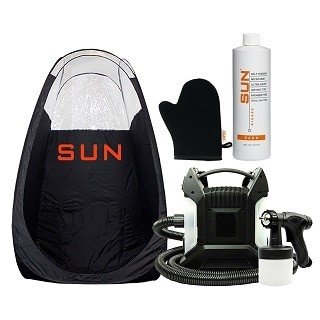 This is a spray tan machine bundle that includes a spray gun, hose, spray tanning tent,16oz ultra dark spray tanning solution, and a tanning mitt. Its airbrush tanning solution is made with a blend of natural ingredients to provide your skin with the best sunless tan.
The solution also moisturizes, nourishes, and revitalizes your skin by enhancing its elasticity. This machine is powerful, lightweight, compact, and portable which makes it ideal to use at home. Its spray tan gun allows vertical and horizontal fan patterns and the multipurpose circular spray pattern for quick and efficient tanning application.
Key Features:
Lightweight and portable machine
Tangun supports vertical and horizontal spray patterns
1.5m hose length
Compressor cools off after working for a long time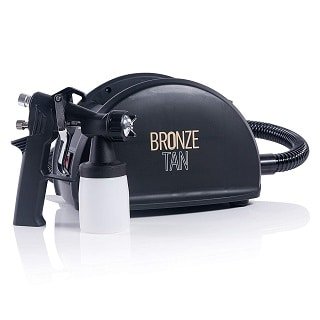 This airbrush tanning kit is the best solution for your tanning business. This airbrush tanning kit gives a smooth and even sunless tan. It comes with premium quality tan solutions made with quality ingredients to offer the best tan possible.
This spray tanning machine has a step-by-step guide where even novices can easily use the machine and get an impeccable tan. This spray tan machine is also very easy to clean and to maintain its effectiveness.
Key Features:
Perfect for spray tan business
Easy to clean
Gives a smooth and an even sunless tan
Step-by-step instruction guide
This is a lightweight spray tan machine that is ideal for mobile users and yet powerful enough for salon use. The pack includes the spray tan machine, 8 Oz of Norvell Dark Spray Tanning Solution, 1 Norvell Maintenance Kit (Including:1 – 2.5oz Pre-Tan Exfoliator, 1 – eXmitt Pre-Tan Body Mitt, 1 – 2.5oz Self-tanning Prolong Sunless Color Extending Lotion, 1 – 2.5oz Post-Tan Shower Cleanser, 1 – 2oz Self-tanning Facial Mist).
An extra-large tanning tent with a carry bag is also included. The turn=bine comes with simple one-button control and a direct air intake. The filters are also easy to remove for easy cleaning. The spray gun has an adjustable fan and allows vertical and horizontal spray patterns.
Key Features:
The spray cups hold up to 4oz of tanning solutions for multiple applications
Mobile-friendly lightweight design
Quiet operation
Comes with disposable spa soles to stick on your feet to protect the sole of your foot
Everything you need to complete your spray tanning process is included in this kit. This spray tan machine is designed to provide a perfect full body spray tan in 3-5 minutes using the least amount of the tan solution.
Its front gun adjusts easily to allow a quick twist to spray either horizontally or vertically. A set of five 8oz tan solutions is included to give you the perfect tan regardless of your skin type.
Key Features:
Lightweight design for easy mobility
Ergonomic handle for ease of use
Five different tanning solutions
20-25 applications per day
How To Pick The Right Spray Tan Machine?
Capacity of Solution
Lok for a spray tan machine that holds the correct amount of fluid. Find one that can handle at least 2ounces of liquid that is required for full-body coverage.
Easy Cleaning
Select a spray tan machine that you can clean easily because it can get really messy, clog, and reduce its effectiveness. Some come with removable filters that help you to clean the machine thoroughly.
Consider the volume of use
Some tan machines are designed for light usage while others can handle heavy use, especially in a salon. Light and medium usage machines are great for home and mobile tanners while heavy usage is ideal for salons. Depending on your intended use, you can select one that suits your needs.
Weight
The weight of your spray tan machine will depend on your intended use. For example, if you are a mobile or home tanner, you need a lightweight machine that is easy to transport and store. If you are using it in a salon, mobility is less of your concern.
Adjustable Spray Pattern
For versatile tanning applications, choose a spray tan machine that offers switch spray patterns, either vertical or horizontal, and the general round pattern.
Frequently Asked Questions
How long does a spray tan last?
It depends on your cell regeneration. If your skin cells regenerate fast, the faster the tanning effect will disappear and vice versa. However, on average, a spray tan can last for about 10 days.
Is using a tan spray machine safe for my skin?
Yes. This is because it does not expose your skin to harmful sun UV rays and offers a sunless tan.
Can I leave my spray tan on overnight?
Yes, you can leave the spray tan overnight and rinse it in the morning. This gives it ample time to develop fully, and it can also get a little bit darker.
Conclusion
There are many choices of the best spray tan machines from the list above that will give you safe sunless tanning. You can now avoid the harmful UV rays from the sun and still get that impeccable tan you wish to have.
We recommend you to choose the MaxiMist Lite Plus HVLP Sunless Spray Tanning System with Tent. It is beginner-friendly and comes with everything you need to start spray tanning right away. This lightweight machine supports 10 plus applications in a day, and its spray gun allows the horizontal and vertical spray pattern.
Recommended Articles:
About Author (Nina J. Erickson)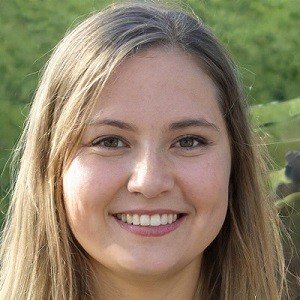 Nina J. Erickson is a makeup blog author who writes about the latest trends and techniques in beauty. With a passion for all things makeup, Nina shares her insights and expertise with her readers, helping them achieve their desired looks and feel confident in their skin. Whether she's reviewing the newest products or offering step-by-step guides, TheApexBeauty's blog is a go-to resource for anyone interested in makeup.