A nail dust collector is a must-have item in your home or salon if you get your nails done regularly. This device comes in handy if you use a nail drill machine and procedures like nail filing, gel removal, nail extensions, and manicures. All these processes result in nail dust, which is an ordeal to clean and poses health risks to you. Research states that a cosmetician is estimated to inhale about 4kg of harmful nail dust yearly. This can result in respiratory diseases, which can be prevented by having a nail dust collector in your station or home.
The role of the nail dust collector is to suck and capture the remains of the nails and dust around them during the manicure process. This prevents you from inhaling harmful nail dust and keeps your working station dust-free. Here is a list of the best nail dust collectors on the market:
Our Top Picks
10 Best Nail Dust Collector In 2023
This is one of the best nail dust collectors on the market. Unlike most nail vacuums, it is equipped with two robust and powerful vacuum dust suction fan motors. This makes it very efficient in dust cleaning and sucking in fine particles and dust in any nail care process. It provides a comfortable filing process for removing gel and creating nail art.
This nail dust collector comes with an adjustable suction switch making it convenient as you can adjust the fan suction to suit your needs.
This is a multipurpose nail dust machine collector for all your nail procedures. You can also use it for both salon and personal use at home. It is designed with large cooling holes at the back, continuous heat dissipation, and high-speed rotation to prevent it from generating heat while working.
Makartt nail dust collector is ergonomically designed with a nice size and height, which makes your hands comfortable. It also has a reusable filter which is easy to clean and does not need to be exchanged all the time.
Pros
Adjustable
Salon or personal Use
Durable
Reusable
Cons
Too big for some
Only comes with one filter
If you are a nail technician, adding this salon-grade nail dust collector to your salon will make your operations easier. It is a powerful dust and odor collector that sucks in UV gel dust, fumes, and odors from nail products and processes.
This nail dust collector eliminates nail dust and odors, and a nail technician and their clients can operate in a clean conducive environment. The device is equipped with a powerful LED light that illuminates the area where the nail technician is working on. This improves your visibility and increases your productivity.
This nail dust collector is designed to operate quietly and thus will not interfere with a relaxing spa environment. It also has an adjustable wheeled stand for easy movement between manicure and pedicure stations. Its filters are easy to clean, and it's easy to operate.
Pros
Ensures a clean & healthy work area
Powerful LED light
Quiet operation
Easy to maintain & operate
Adjustable wheeled stand
Cons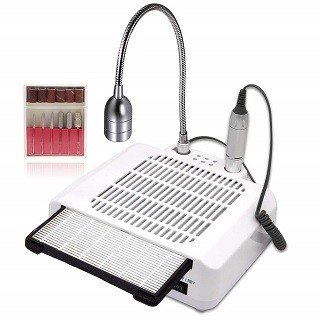 If you are looking for versatility, go for this 3-in-1 multifunction nail machine. It is designed to perform three great functions combined in one device for the best professional use. Its features include a nail lighting lamp, nail vacuum cleaner, and nail polishing feature.
All these functions can be used together or detached for separate use. The nail vacuum cleaner can absorb daily nail crumbs and keeps your surroundings clean. Its nail drill has efficient heat dissipation and operates with very low noise and vibration. Its LED light rotates at 360 degrees allowing you to adjust it at any angle and illuminate different directions.
Pros
Multi-Function 3 in 1
Efficient heat dissipation
Long-life nail drill
LED light
12 months warranty
Cons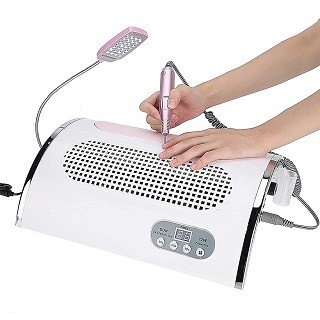 This is among the most powerful pieces of equipment to help you carry out most professional nail tasks. It is a 4-in-1 multi-functional device ideal for polishing, manicure, pedicure, carvings, grinding, engraving, milling, and sanding.
It can collect nail dust, polish nails, dry nail gel, illuminate, and charge your mobile phone. All your nail problems are solved with Sonew 4-in-1 nail drill machine. This electric nail drill for acrylic nails operates on low heat, power, and noise.
This nail dust collector has a user-friendly design. It has built-in 36 light beads for fast drying and 28 high-brightness LED white light beads, making it possible to work in dark environments. The device is ideal for both salon and home use and gives you an enjoyable nail art experience.
Pros
4 in 1 Multi-Functional
Work smoothly and fast
LED white light
Powerful and quiet
Digital display
User friendly
3 Powerful fans
Cons
This is a 2-in-1 nail drill with a nail dust collector. It has a high-quality rotary motor with a high speed for long-time polishing and smoothly removing all kinds of nails. It comes with a user-friendly design that has an adjustable speed and direction. It's ideal for acrylic nails, gel nails, carving, grinding, cutting, and removing gel polish.
With its adjustable suction with a high-power fan, this nail dust vacuum can absorb and collect all nail dust while flying ash 360degrees. It gives your clients a free-breathing environment while doing the nail procedures. The nail drill is lightweight and operates on low heat, vibration, and noise.
Pros
Professional
Friendly design
Adjustable speed & suction
Ideal nail art tool
Low Noise
High Speed
Cons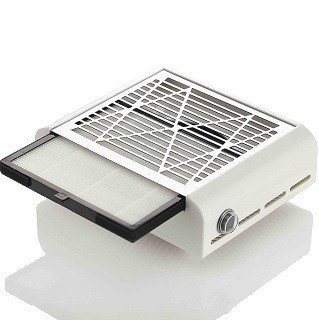 This is one of the easiest nail dust collectors to use as it does not require any installation. This is a simple device to get your gel nails, extensions, manicure, and nail filing done in the comfort of your home. It has one washable filter, so you don't have to constantly change your filter.
The drill of this nail dust collector is very lightweight for ease of use and gives your nails an excellent polish with a shiny finish. The device is budget-friendly, making it ideal for home users and nail technician beginners. It also has a good suction power that collects all nail dust.
Pros
Easily use at home
40W
Ergonomic design
Multipurpose
Easy to clean
Cons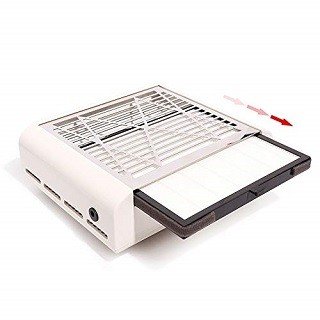 This high-quality nail dust collector is made with a durable stainless steel surface that is easy to clean and attractive. If you want a clean nail art environment, go for this nail dust collector with a perfect vacuum effect.
This device is multi-functional because, apart from collecting dust, you can use it for nail artwork, seal cutting, die polishing, and jewellery carving. It is convenient and easy to clean because you only have to use a hair dryer to blow it and clean the filter. This nail dust collector is suitable for both home and professional salon use.
Pros
High quality
Perfect vacuum effect
Multifunctional
Suitable
Convenient
Best for salon and home use
Cheap
Cons
This nail dust extractor gives you a 100% vacuum effect, unlike other nail dust collectors that offer 70-80%vaccum effect. This means that you will enjoy no dust spilling. Inhaling dust all day can result in respiratory diseases, and that is why you should have this nail dust collector if you are a nail technician.
This machine is equipped with an automobile quality filter that strengthens the suction of nail dust and ash. Its filter is durable and reusable and should not be washed with water but blown with a hair dryer. The machine adopts a hollow design that ensures a robust heat dissipation for a long-time life-span. Its stainless steel surface is durable and easy to clean.
Pros
Powerful
No dust fly out
Automobile quality filter
100% Vacuum effect
Easy to clean bags
Cons
This lightweight and durable nail dust collector is designed to use reusable filter pads that are easy to clean with a hair dryer. This machine absorbs all dust during nail filing, polishing, and removing gel or artificial nails.
It is equipped with a powerful motor with a rotation speed of up to 45oo rpm, making it a little too loud. The dust collector is easy to clean with its replaceable filter boards that you clean using a hair dryer. It is made with a hollow back design that makes it easy to dissipate the heat generated by the machine.
Pros
New style nail vacuum
Powerful motor
Easy to clean
Good heat dissipation
40W
Non-slip mat design
Cons
This nail dust collector gives you a clean and comfortable working environment by collecting dust as you file or polish nails. Its 80W powerful suction fan has an adjustable suction speed to set the power to suit your preference.
This nail dust vacuum machine is ergonomically designed with an oval bracket-shaped and silicon hand rest pillow design that is soft and comfortable. The acrylic dust collector is covered with ABS plastic plus carbon material, making it more sturdy and efficient. It features two dust collecting bags that can be washed and removed.
Pros
Powerful suction fan
Adjustable
Salon & Home use
Low Noise
80W
Washable dust extractor bags
Cons
Conclusion
Having a clean, better working environment as a nail technician is only enabled by having the best nail dust collector in your station. This device prevents dust from flying in the air and scattering all over the workstation. Breathing in nail dust can be dangerous and poses health risks to you and your clients. That is why this machine is necessary to suck and capture all the nail dust in your workstation. Get one of these nail dust collectors and work in a healthy dust-free environment.
About Author (Susan R. Orrell)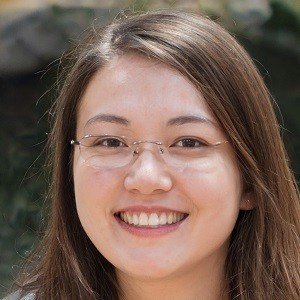 Susan R. Orrell is a well-respected skin care expert and blogger. She has extensive knowledge of skin care products and routines and is dedicated to helping others achieve healthy, radiant skin. Her blog, "The Apex Beauty," is a go-to resource for skincare information, and readers around the world trust her advice. Whether you're looking for tips on how to treat acne, reduce the appearance of fine lines and wrinkles, or maintain healthy skin, the blog has something for everyone.