Do you have bunions on your toes? You can ease the pain caused by using bunion correctors. A bunion occurs when your big toe tends to lean to your second toe, causing a misalignment of bones that leaves bonny bumps on the side of the big toes. Due to the direct friction between the bunion and your shoe, you might experience severe pain, soreness, and discomfort. This is where bunion correctors come in handy to offer pain relief by cushioning your feet to prevent shoes from rubbing against the bunion. They also help to realign your toe back to its natural position.
Bunion correctors will include things like pads, splints, bunion sleeves, toe separators, and braces. These correctors lessen pain while walking or standing by preventing direct friction between your shoe and the bunion. These bunion correctors only offer short-term relief because they do not treat or reverse the bunion condition. If you are not considering bunion surgery, bunion correctors are your go-to products to ease pain naturally. Here is a list of the best bunion correctors in the market.
The Winners
10 Best Bunion Correctors In 2023
These are popular toe stretchers that help straighten your toes, increase flexibility, and relieve bunion discomfort. These yoga toes are made of 100% hypoallergenic and medical-grade gel that is latex and BPA-free. They have an open-top design that allows for more flexibility and customized stretch. These gems help to soothe aching feet, strengthen weak toes and fix foot problems naturally. They should be used daily and worn for 15 minutes to 1 hour to relieve bunion discomfort and stretch your toes back to their natural position.
Key Features:
Easy to wash
Help to ease bunion pain
Soothes aching feet and strengthens weak toes
100% hypoallergenic pure, and safe
This is a 7-piece set package that will help you treat bunions. It is a one-size-fits-most set for bunion corrector and bunion belief. These carefully selected bunion correctors are made with 100% medical grade silicone with no harmful substances. The silicone used is a premium quality that is a perfect fit, soft and stretchable, to fit different feet. These bunion correctors are also easy to use and reuse. These bunion correctors help reduce friction between your toes and separate, straighten, and align them properly.
Key Features:
One-size fits all bunion corrector
You can wear it with or without shoes
Relieves pain and treats bunion
Reduces friction between your toes
Separate, straighten, stretch, and align your toes
This is one of the best bunion correctors that helps relieve pain and realigns the MTP joint on your big toe. This bunion splint is made from medical-grade materials that are safe on your feet. It comes with a built-in metal plate for supporting correction and toe alignment. These bunion sleeves have a gentle gel pad cushioning that prevents direct friction between your bunion and shoe. You can use these bunion sleeves before and after surgery to reduce pain. It features big toe straps that help to stretch the ligaments and muscles. This helps to realign toes to their natural position and reduce pressure and friction on bunions.
Key Features:
It helps to relieve bunion pain
Provides gentle gel pad cushioning
Reduces pressure and friction
It helps to realign toes in their natural position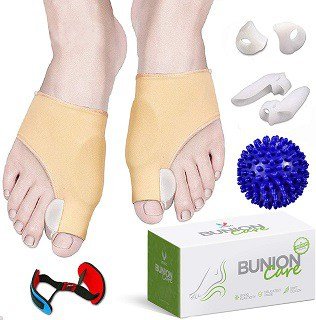 Prevent your bunion from getting worse by using Vesigo Bunion Corrector and Bunion Relief. It offers immediate bunion pain relief by providing an aiding effect on the bunion area, which relieves pain immediately. It features a comfortable toe gel separator and toe spacers that align the toe back to its natural position. A spiky massage ball is included in the kit to help relieve joint pain and reduce muscle soreness after a long walk.
Key Features:
Soft and comfortable toe corrector
Made of medical-grade gel elastic fabric and rubber durable, portable, and easy to clean
Realign your toes slowly to their original position
Offers immediate bunion pain relief
One -size-fits-all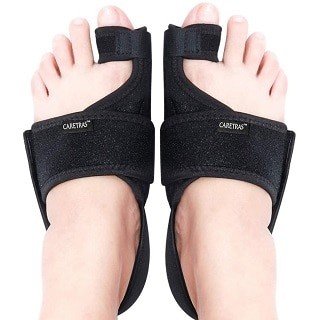 If you want to alleviate bunion pain naturally and effectively, use Caretras Bunion Corrector Orthopedic Bunion Splint. It helps to ease the discomfort, pain, pressure, and inflammation caused by bunions. Your pain will completely disappear while wearing this bunion corrector. Wearing this bunion corrector every day slows the progression of the bunion and heaps to realign the big toe.
Key Features:
Made with comfortable skin-friendly material
It has a flexible size that fits most
Restores natural alignment
Alleviate bunion pain
Non-slip design that will not slip off while sleeping
Easy to clean and reuse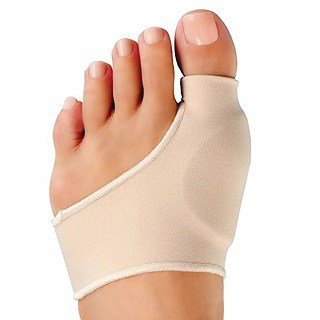 This is a bunion sleeve that is designed to correct the bunion and relief pain. It provides cushioning and supports the bunion area, which makes your steps pain-free and comfortable. It's made of a stretchable fabric that is one-size-fits-all and can be used by both men and women. The best thing is that these bunion cushions can be worn in all kinds of footwear. It features a silicone gel pad that protects the sensitive bunion area to prevent rubbing and friction.
Key Features:
You can wear it 24/7
Non-slip grip design that will not slide up your feet
Realign joints
Protects bunion from friction and rubbing
It can be worn on all kinds of shoes
Reduces foot discomfort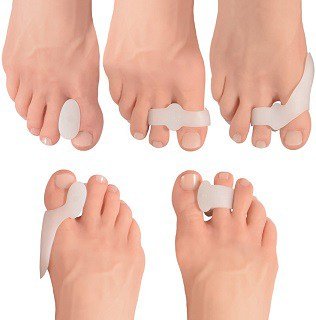 This is a set of 14-piece bunion corrector kits. It includes six shield spacers, six gel toe separators, and two-sport toe separators. These spacers, pads, cushions and shields provide enough relief to your bunion, which helps you to postpone the need for surgery. The protectors shield the bunion to prevent friction and pain and help you get back to your regular routine. It provides relief for corns, calluses, bunions, toe rubbing, and hallux valgus.
Key Features:
One-size fits all bunion corrector kit
Provides gentle toe realignment
Designed to fit an active lifestyle with sport shield spacers and toe separators
Made from super-soft, flexible gel
This is a bunion corrector relief kit designed to keep you comfortable all day. It is made from medical-grade, breathable, soft, stretchable, and washable fabric. The toe separators and spacers are made from silicone gel, which is elastic and skin-friendly. This bunion corrector kit offers natural pain relief. It slowly and gently realigns your toes into their original natural position. This kit is designed to fit any size and comes with adjustable sleeves and splints to separate, straighten and align your toes.
Key Features:
11-piece kit to offer a complete solution for bunion correction
Universal fit with adjustable splits and sleeves
Offers natural bunion pain-relief
Realigns your toes to their original position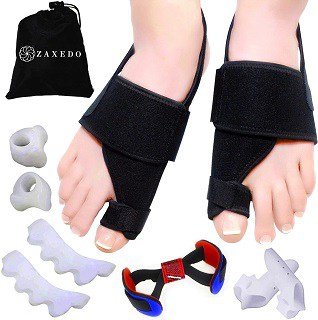 This is a bunion kit corrector that features a bunion splint, big toe corrector, straightener brace, and toe separator straighteners. This kit helps to relieve bunion pain immediately. It provides a cushioning kit covering the bunion area to prevent friction against the shoe, which can cause soreness and pain. It is made with a breathable, soft and easily washable cotton material.
Key Features:
Easy to use
It helps to align your toe to its initial position
Easy bunion pain
Cotton-lined material
This is designed to offer bunion relief and ease pain. It relieves discomfort, inflammation, and soreness caused by bunions. This bunion corrector has an integrated aluminum brace that supplies constant gentle pressure on the big toe to realign it. The aluminum is held in place with hook and loop closures around the instep which prevents slip-off. Its bunion sleeve comes with two gel pads that protect the bunion and cushion it. This prevents the bunion from the friction of the shoes, which prevents pain and soreness.
Key Features:
Made with comfortable and breathable material
It comes with adjustable straps for customized fitting
Realigns your big toe
Prevents pain, friction, and inflammation of the bunion
How To Choose A Good Bunion Corrector?
Size
When looking for a bunion corrector, it's good to consider the size. Most of them are a one-fit-all size, but you should look for those that come with adjustable straps. The corrector should provide ample space that allows your big toe's flexible movement without creating pressure or discomfort.
Ease of Use
Bunion correctors come in many designs. You should look for one that is easy to use and has minimum maintenance. Some bunion correctors are designed to be worn with shoes, while others are designed to be worn barefoot. Choose a design that is easy to use.
Easy to Clean
Bunion correctors can be a source of fungal infections if not cleaned regularly. If your feet sweat extremely, look for bunion correctors with breathable fabric and those that you can clean quickly and regularly.
Frequently Asked Questions
Do bunion correctors work?
Yes. Bunion correctors help to offer pain relief from the bunion temporarily. Consistent use of bunion correctors can slow down the bunion's stiffness progression and allow it to realign the toe to its usual position slowly.
Can bunion correctors cure bunions fully?
Bunions are permanent t and bunion correctors cannot fix or correct the bunions. They only help to ease the pain and reduce soreness and inflammation. Bunions can only be surgically corrected.
Why should you use bunion correctors?
If you have painful bunions and are not ready to go for surgery, bunion correctors can help with pain relief. They include cushions, toe spacers, splints and pads, which provide a buffer around the bunion.
Conclusion
Bunions can be painful and interfere with your day-to-day activities. If you are not ready to go for surgery to correct them, using bunion correctors is a natural way to ease and relieve the pain. These are tools that you either wear alone or together with your shoes. This prevents friction between the bunion and shoes, which causes painful and sore bunions. Regular use of these correctors slowly aligns the toe joints back to their normal place and prevents further progression.
This list of the best bunion correctors will help you select the most suitable one. We highly recommend the Flyen Bunion Corrector & Bunion Relief Protector. It can be worn with or without shoes and includes a 7-piece set to help you correct the bunion.
About Author (Nina J. Erickson)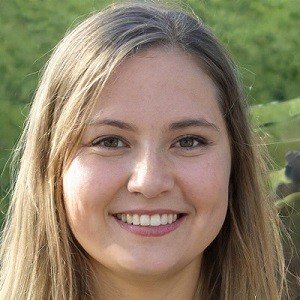 Nina J. Erickson is a makeup blog author who writes about the latest trends and techniques in beauty. With a passion for all things makeup, Nina shares her insights and expertise with her readers, helping them achieve their desired looks and feel confident in their skin. Whether she's reviewing the newest products or offering step-by-step guides, TheApexBeauty's blog is a go-to resource for anyone interested in makeup.