Do you blow dry your hair? Are you tired of standing in front of the mirror blow drying your hair until your arms hurt and you still have damp hair? I could never seem to get the underneath section of my hair completely dry.
What if I tell you that you have been doing it wrong? Yes, Wrong! The way you would do it, the tools you use. Never the result you are looking. This Guide will cover tools you need, the discuss proper ways – how to blow dry hair, common mistakes people will make when drying hair, etc.
Below are some tools you will need for blow drying your hair. Depending on the type and length of your hair you may not need them all, or you may need more.
Tools You Need For Blow Drying Your Hair
Heat Protector– This will protect your hair from any damage that may be caused by heat. Salons use some heat protector when drying hair.
Blow Dryer – You want to make sure you have a high-quality dryer. The best hair dryer will be a little more expensive. It will have high power, multiple heat settings, a cool shot, and ionic technology on it. It should be at least 1800 watts.
Brush – There are many types of brushes, you can use and just as many you should avoid. The best hair straightening brush is determined by your type of hair.
Hair Clips – These are used to section the hair. It is recommended to dry hair in sections.
Diffuser – This is a large round attachment for the dryer. It helps give curls shape and definition and cuts back on the frizz.
Shampoo – We know that this is to clean your hair, but there are different types for different types of hair.
Conditioner – keeps your hair and head moist. Just like the shampoo, there are different types of conditioners for the different types of hair.
Hair Serum -This will make your hair smooth and shiny at the end of drying.
There are many different styles people choose after drying; they also want different types of styling products. Some of them are hair sprays, mists, mosses, etc. The choice of product is ultimately yours. You know what works for you, your style, and your hair.
How to Blow Dry Hair: Step By Step Guide
Easy ways to blow dry straight and curly hair and still be able to get out the door on time.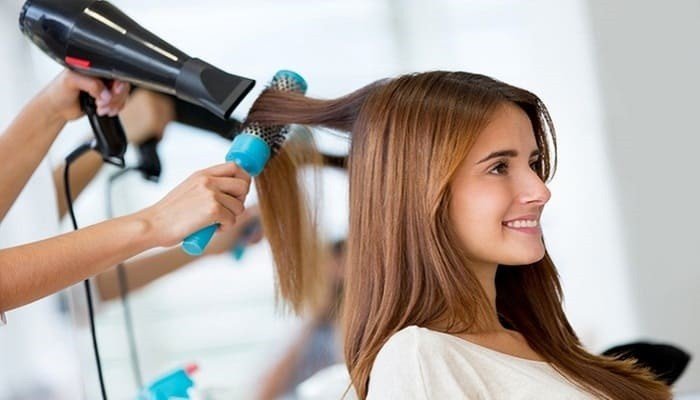 Blow Drying Straight Hair
How to blow dry hair straight? – First, get your tools together:
Blow dryer: Remember your dryer should be at least 1800 watts and have multiple air and heat settings.
Nozzle: The nozzle should not be thrown away. Using it is what will get you the smooth look and puts some distance between your hair and the heat.
A Round Brush: Will create waves, make the ends flip and straighten strands. Brushes with vents or larger surfaces will shorten drying time.
Hair Clips: So you can layer and section the hair. That prevents any damage that can be caused by over-drying the hair.
Pick Your Products:
Mousse: is used if you want thickness. Distribute through strands while your hair is still wet.
Cream: Use this before and after drying your hair to soften and smooth damaged hair.
Hair Spray: This is used when the roots of the hair are almost dry and then when the hair is completely dry. Hair spray is used to hold your hair in place after drying and styling.
Step #01: Pre-Dry and Section
You do this after towel drying your hair. On medium heat, and high air speed blow dry until hair is about 80 percent dry. Then you are going to gather your hair and clip it at the upper back part of your head (called the crown). Then using the brush and higher heat start drying the lower layer of hair. For shiny and smooth hair point the dryer's nozzle downward.
Step #02: Dry The Top Layer(s)
Remove the clip and replace where the dry hair is to avoid over-drying. Then you will blow dry the top sections. If you want to add volume to the hair, aim the dryer at the roots and work outwards toward the ends. You are using the brush to pull the hair out and forward.
Step #03: Final Step
Once you remove the clips flip your hair back. Then part the hair so you can dry around the forehead. If you want to curl the ends, use the brush to roll the terms under, blast with heat, and then set them with cold air.
If you want to keep the ends straight, while using warm air, pull the brush through, set with cold air. You will finish with any styling cream and hair spray you choose to keep down any flyaway hairs you may have.
To Blow Dry Curly Hair
Get The Tools
Dryer: Your dryer should be 1,400 watts, so you don't distort your curls with too much power.
Diffuser: It is most important to create soft frizz-free curls.
Layer Your Products
Conditioner: To keep moisture in the strands as you dry your hair, apply a creamy leave-in conditioner.
Gel: to define curls and keep them in place using a gel (of your choice).
Finisher: After your done drying. Use a serum finish (your choice), to hydrate your ends. That will also hold the curls in place and add shine.
Step #01: Apply Leave-in Conditioner and Gel
After towel drying applies the leave-in conditioner, you will then flip most of your hair to one side. Using your fingers, you will add gel thoroughly from roots down. Do this to four different sections.
Finally, you will hold the ends of your hair and shake your hands from side to side. When you release, this allows the curls to spring back up to the roots.
Step #02: Diffuse At The Roots
Your dryer should be at medium speed and low to medium heat. With the diffuser placed at the roots of the hair at the back of your neck. Hold your ends away from the dryer; they will dry naturally. Move the diffuser around making sure all the roots are completely dry.
Step #03: Smooth And Finish
Use a peas size drop of pomade in your hand and rub them together. Then working from the hairline back, run your hands through your hair — massage scalp at the roots for the fullness.
How To Get Wavy Hair With A Hairdryer
After washing your hair, you will want to apply mousse to your hair. Using the mousse will help add volume and help to retain the waves you are about to create.
Dry the mousse with a dryer. That will prevent the mousse from getting crispy, and it will help set the mousse.
Create a wave. To do this, you will start with the hair closest to the face. Grab a section that is 3-4 inches wide, then wrap it around a round brush from an arm's length away blast this section with the dryer. Your hair will then mimic the round brush shape.
To set your wave and ensure it lasts, you are going to pin it in place. Once you have blasted the hair wrapped on the brush, you want to remove the brush gently. Be careful not to separate the curl.
Then you are going to wrap the curl around your fingers to keep the shape and then pin the hair and remove your fingers. You are then going to curl and pin the rest of your hair. Once your hair is completely curled and pinned you are going to let your hair cool.
Once your hair is completely cool you are going to unpin. One curl at a time remove the pin- your hair will naturally fall into a wave. Once all the pins are removed tip your head upside down and shake. That gives you more volume.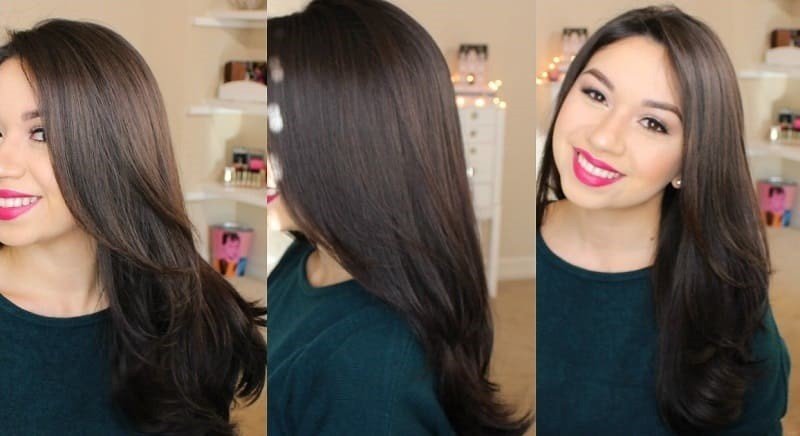 How To Add Volume With A Blow Dryer
Looking to add more volume to your hair? Here is what you need to do.
First, you want to dampen your hair.
Then using large hair clips you want to section off your hair. You will want to isolate your front part of your hair (the bangs). They will be volumed enough.
Next, the bottom layer of your hair should be sectioned off into two parts — one on each side of your head.
With a wide-tooth comb, you are going to want to brush through the first section to make sure you don't have any tangles before you blow dry.
With your blow dryer, you are going to do a rough dry. That is blow-drying your hair while using your fingers as a brush. That is going to remove some of the moisture before the actual brushing.
Get your paddle brush and work it through your hair. That will get some of the drying done. Gently move the hair with the brush so as not to break the hair.
After your hair is about 3/4 dry, you are going to split the hair into two sections. Working with one half, you are going to roll the ends of your hair around a round brush. Then with your dryer, you are going to apply heat to the terms.
Then let the ends cool for one minute. You are then going to add more heat and let cool one minute for the last time. Roll the hair out. You are going to repeat on the other side.
5 Common Blow Dryer Mistakes To Avoid
Towel Drying! When you rub your hair dry with a towel you are causing friction which will cause your hair to become brittle and could make it brake.
You're not using a heat protectant. You want to use a heat protectant before you use a blow dryer or any hot tool for that matter. Applying a protectant will help avoid any damage caused by heat.
You are starting with hair that is to wet! Do not dray hair that is sopping wet with a dryer. The longer you use the dryer, the more damage you are causing your hair.
You are not sectioning your hair! Parting your hair into at least two parts makes sure you are thoroughly and evenly drying your hair. Less time with the heat. Also, it is harder to style your hair if it is all dried together.
You're using the wrong Brush! Metal brushes overheat causing your hair to burn. Instead, make sure you have boar bristle brushes. They grip your hair, don't overheat and won't cause damage to your hair.
Conclusion
Many people (including myself) would take a shower, jump out and blow dry their hair. When it didn't look as good as it did when it was done at the salon, they wondered what they did wrong. As shown in the article it is rather easy to get the salon look and properly drying your hair saves time.
Following the steps listed above will prevent you from damaging your hair and saves you money because you don't have to keep going to the salon. I am going to change out the tools for my hair and save me time and money.
Recommended Articles:
About Author (Kelly V. Lampkin)
Kelly V. Lampkin is a hair care blogger who writes about various topics related to hair care, including hair styles, hair products, and hair health. She is passionate about helping people achieve healthy, beautiful hair and shares her knowledge and experience through her blog. Whether you're looking for tips on how to style your hair or advice on how to care for damaged locks, TheApexBeauty's blog is a great resource for anyone interested in hair care.