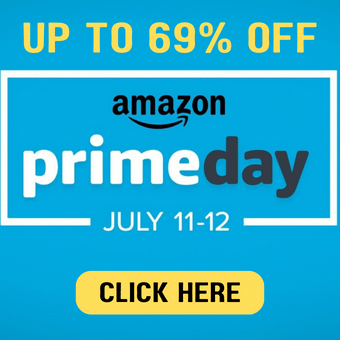 Do you want to have a more youthful and dewier look every day? Who does not want to glow? A cream blush is the secret to a natural rosy healthy glow. They give a radiant sheen and you will have a lit-from-within flush to your cheeks that looks all-natural. Cream blushes also provide ample hydration to dry skin because they contain oils that will moisturize your dry spots, unlike their powder counterparts. The best cream blushes are non-greasy, deposit the right amount of color, and resist fading to eliminate the need for any touch-ups during the day.
A cream blush is easy to blend and has a smooth texture that melts into the skin to give an extremely natural finish. Since not all cream blushes are made equal, these are some of the best cream blushes that you should try for a perfectly natural finish.
The Winners
Top 10 Cream Blushes In 2023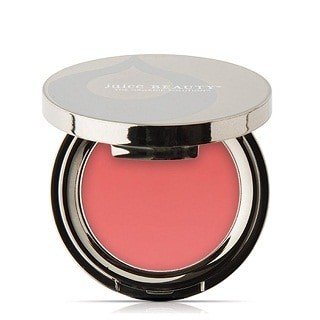 This cream blush from Juice Beauty enhances your cheeks with luxurious buildable color. The formula is infused with plant-derived Phyto-pigments, a blend of rose and purple carrots and uses age-defying serum technology to add a radiant finish to your cheeks.
This creamy formula easily blends to deliver a healthy, natural-looking flush to any skin tone. It is formulated with vegetable oil, grapeseed oil, and phospholipids, a juice beauty exclusive mixture blend to help increase skin hydration.
Key Features:
Adds radiant finish to cheeks
Available in 4 shades
Suitable for all skin types
Hydrating formula
For the best dewy natural-looking finish, Revlon Photo Ready Cream Blush is your to-go cream blush. This is a lightweight formula that has a silky soft feel on your skin. It is formulated with photochromatic pigments that bend and reflect light to provide your cheeks with a beautiful finish glow.
The formula blends evenly and easily over your cheeks to provide a buildable, beautiful flush of color. When applied correctly, this cream blush appears so natural on your cheeks and you will love the feel of it on your cheeks.
Key Features:
Provides a beautiful finish glow on your cheeks
Has photochromatic pigments for a beautiful glow
Gives a natural-looking dewy finish
Long-lasting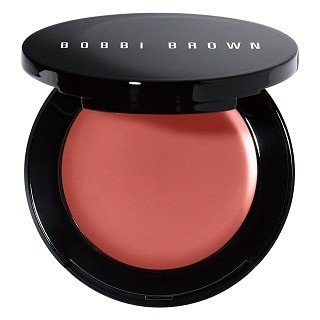 This is one of the best-selling 2-in-1 blush creams for both lips and cheeks. This versatile color makeup has a creamy texture that easily blends in. The formula uplifts your complexion with a youthful look with its subtle shade.
When applied to the lips, it gives soft, stained color full lips that are beautiful. The formula comes with eight different shades to offer the perfect dewy finish for all skin tones. It gives a natural glowing look that lasts all day.
Key Features:
Easy to apply
Formula blends in easily
Available in 8 different shades
2-in-1 product for cheeks and lips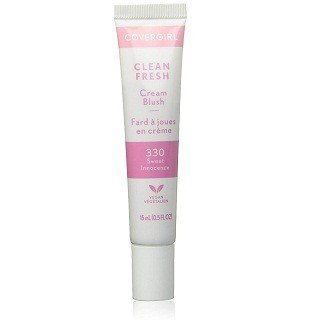 Infused with hyaluronic acid, Covergirl clean fresh cream blush will hydrate your skin and plump your cheeks for a fresh dewy glow. This cream blush highlights your skin and gives it a subtle luminous glow.
It comes with a variety of high-pigments shades that allows you to express yourself by transforming your look anytime you want. You get to choose a natural blush shade depending on how you feel and where you are going. The formula is long-lasting and it is ideal for everyday use.
Key Features:
Gives a natural color glow
A little goes a long way
Easy to use formula
Available in a variety of high-pigment shades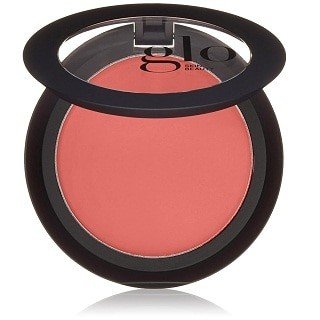 This is a creamy blush formulation that gives you a long-lasting flush of color. It is formulated with rich mineral pigments like seed oil and vegetable oil to offer maximum hydration to your skin and radiate a flash of color that will last all day.
The formula is infused with an exclusive antioxidant blend. This makes it ideal for all skin types and even the most sensitive skins will not irritate. The texture is very smooth and creamy and blends beautifully to create a glow that looks very natural.
Key Features:
Suitable for all skin types
Creates a natural-looking glow
Hydrating formula with rich mineral pigment
Blends easily
The NYX Professional Makeup Cream Blush provides a natural, radiant, long-lasting color to your cheeks. This creamy formulation comes with a variety of shades so that it is fit for all skin tones. It adds subtle to dramatic color to your cheeks that leaves you with a fabulous natural flush.
The formula is highly pigmented with deep, pink color with slight golden, glow highlights. Even if you have oily skin, the color will last for hours because it is super pigmented. The texture of the formula is velvety smooth and applies so flawlessly for a dewy, sultry, long-lasting finish.
Key Features:
Fit for all skin tones
Long-lasting
Highly pigmented formula
Provides natural radiant glow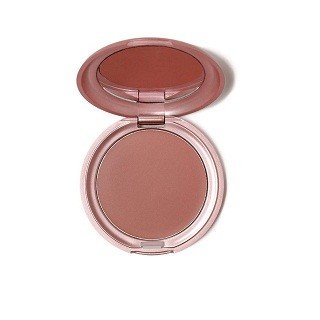 This is a two-in-one lipstick and cream blush. It brightens your cheeks and lips with a creamy translucent color. Its sheer tint adds an intent glow to your cheeks while your lips bloom with fresh radiant color. The formula is non-greasy and comes with a mirrored compact which makes it easy to do touch ups on the go.
The dual lip and cheek cream are suitable for any skin tone. With 11 different shades, you are sure to find a shade that matches your skin tone and your style. The formula has long wear lasting for 8-9 hours without fading.
Key Features:
Dual cream for both lip and cheeks
Suitable for all skin tones
Available in 11 different shades
Non-greasy formula that adds radiant to your cheeks
This is an ultra-luxurious formula that is infused with Murumuru butter, Cupuacu, and Tucuma butter to deliver a radiant glow. Its texture is incredibly soft and ultra-creamy which combines the best features of a powder and a cream blush to deliver a lit-from-within natural glow.
The formula is infused with moisturizing wonder features, ultra-refined pearl, and soft-focus pigments that smooth and evens out your skin texture, brightens your skin tone to deliver a gorgeous blushing glow. It is formulated with essential fatty acids and provitamins that soften, condition, and moisturize your skin leaving it silky soft.
Key Features:
Moisturizing formula
Brightens skin tone
Offers a radiant glow to your cheeks
Lasts all-day
This is a lightweight sheer matte cream blush that gives your skin a glowing radiant. It is formulated with macadamia esters to hydrate and soothe your skin, and beeswax that provides a natural antiseptic.
This hydrating formula is very easy to apply and delivers a radiant flush that is soft, dewy, and completely natural looking. The formula not only makes your skin glow but also protects it from the harmful rays of the sun. It has built-in SPF-20 and powerful antioxidants.
Key Features:
Hydrates and soothes your skin
Easy to apply
Protects your skin from harmful sun rays
Gives your skin a glowing radiant
This is a velvety color cream blush for highlighting and accenting your cheeks. It is formulated with unique ingredients that offer anti-aging benefits, softens the appearance of fine lines, and brightens the skin appearance.
Its key ingredients include Tamanu oil that conditions the skin and promotes cell regeneration. Vitisin on the other hand brightens the look of dark spots and hyperpigmentation to achieve a more even skin tone and lupine protein that increases skin radiance and brilliance.
Key Features:
Reduces the appearance of fine lines
Offers anti-aging benefits
Brightens your skin
Protects and nourishes the skin
What Is A Cream Blush?
Cream blush is a soft velvety smooth cream pigment. It is designed to mimic that natural flush of your face and makes your complexion look healthier and more vibrant. The cream blush is so easy to apply because all you need is your clean fingers.
It can be used alone on bare skin or can be blended on top of your foundation. Cream blush is highly pigmented and tends to look more natural because the color appears to come through the skin rather than sitting on top. Cream blushes also have a more staying power than powder blushes.
Is cream Or Powder Blush Better For Aging Skin?
The best blush for aging and mature skin is the cream blush. This is because the powder blushes will make your skin look more wrinkled and aged. As you age, your skin undergoes a lot of changes. It becomes drier, produces less collagen which results in less elasticity and sagging, and loses its natural glow over time.
Using powder blush on dry skin will make it look drier and more natural. That is why cream blush is recommended for aging skin. It hydrates and moisturizes the aging skin giving it a natural finish. The cream blush will also not settle on fine lines as the powders do.
How To Choose A Good Cream Blush?
Look for a hydrating cream blush
When selecting your cream blushes, go for the ones with hydrating benefits to your skin. Read the ingredients label and look for things like hyaluronic acid and vegetable oils. Well-hydrated skin is rigid, looks youthful, and gives that natural luminous glow.
Anti-aging properties
Most cream blushes will protect and nourish your skin. It is good to look for those that offer anti-aging benefits. They help to promote cell regeneration, reduce the appearance of fine lines, and brightens your skin appearance giving it a radiant glow.
Long-lasting
You want to apply a cream blush that will get you through the day. Look for a cream blush that gives your skin a glow for long hours so that you will not need to do any touch ups during the day.
Highly -pigmented
Choose a cream blush that is highly-pigmented. Such blushes have more staying power and will last long without fading. Also, a little goes a long way and you will end up getting the value for your money.
Frequently Asked Questions
Is cream blush necessary?
Cream blushes help in adding a hint of natural glow on your cheeks. If you are looking for a vibrant rosy glow, then using cream, blush is necessary.
Which is better, cream or powder blush?
Cream blush is way better than powder blush. This is because powder blush adds dryness to your skin by absorbing oil while the cream blush hydrates and nourishes your skin.
Also, the cream blush does not settle into fine lines as the powder blush does. Some cream blushes are also multi-purpose and can be used for the lips and cheeks.
Is cream blush good for oily skin?
Cream blush is best for normal to dry skin. If your skin is super oily, a powder blush will be good as it absorbs excess oil.
Conclusion
A cream blush is all you need to make your skin look more youthful and have that radiant summer glow. The good thing about the best cream blushes is that they are easy to apply, moisturize, and nourish your skin, and offer a radiant glow to your cheeks all day.
From our review, our favorite cream blush is the BOBBI BROWN Pot Rouge for Lips and Cheeks powder. This creamy formula can be used for both your cheeks and lips. It also blends in easily and it is available in eight different shades to uplift your complexion with a youthful dewy finish subtle shade of your choice.
Recommended Articles:
About Author (Nina J. Erickson)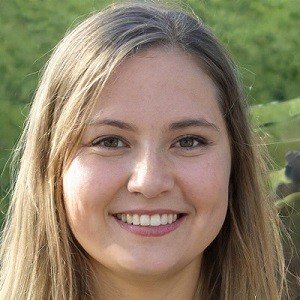 Nina J. Erickson is a makeup blog author who writes about the latest trends and techniques in beauty. With a passion for all things makeup, Nina shares her insights and expertise with her readers, helping them achieve their desired looks and feel confident in their skin. Whether she's reviewing the newest products or offering step-by-step guides, TheApexBeauty's blog is a go-to resource for anyone interested in makeup.