Applying liquid eyeliner is not the simplest thing especially if you are using a fuss and hard-to-handle formula. Creating a perfect cat-eye that anyone dreads to master can be difficult when using sheer, clumpy, or difficult-to-control eyeliner. This can result in jagged shapes that call for makeup remover, cotton swabs, and time and patience to fix. Since time is always against us, you may not have much of it and the grace and patience to redo your eyeliner to perfection. That is why you need to invest in the best liquid eyeliner that is easy to work with, glides on with ease, and won't bleed, run or fade throughout the day.
Our Picks
10 Best Liquid Eyeliners Of 2023
Here is a list of the best liquid eyeliner to try. Read on.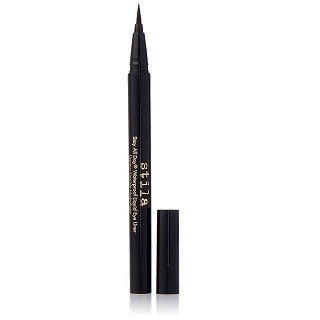 This is a waterproof liquid eyeliner that glides on with ease. It does not run, smudge, and stays put unless you want to remove it. The eyeliner has a thin felt tip that is easy to control, making your eyeliner much easier.
It deposits just the right amount of fluid you need and glides across your lash with zero tugging, pulling, skipping, or smudging for a neat flick. You can create a variety of eye effects easily from thin, precise lines to thick dramatic looks. The formula also dries up quickly and stays all day.
Key Features:
Waterproof liquid eyeliner
The formula dries up quickly
Has a thin marker-like tip for easy use
Does not smudge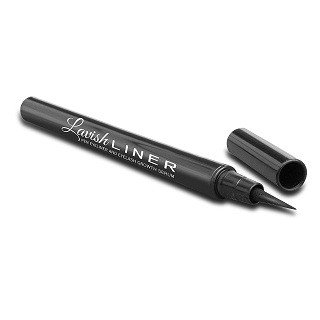 This is a 2-in-1 precision liquid eyeliner pen. The formula is infused with botanical eyelash serum, biotin, and castor oil that help to boost the length and thickness of eyelashes and eyebrows naturally. This results in eyelashes and brows that are fuller, thicker, and longer.
The eyeliner comes with an ultra-precise liquid brush tip that dispenses the right amount of eyeliner where you want it. This makes creating elegant definitions and bold cat eyes looks easier. The formula is water-resistant and smudge-proof. It only wears off when it is washed off with soap and water.
Key Features:
Glides on with ease
Stays all day and night
Won't smudge or run
Easy to use
This is one of the best-selling liquid eyeliners. Apart from its super affordable price, the eyeliner is very effective and easy to work with. It has an ultra-thin fine brush that dispenses a thin line of the liquid making it perfect for creating classic cat-eye flicks.
The tip is flexible and easy to use and it gives you control of your liner. Whether you want to create fine, natural, broad, or bold looks, it's up to you since you are in control. Even if you cry or sweat, the eyeliner will not smudge or transfer because it is waterproof.
Key Features:
Great for oily lids
Exceptional staying power
Ultra-thin fine brush for easy usage
Waterproof formula
With up to 12hours wear, you are guaranteed that Maybelline Eye studio Precise All-Day Liquid Eyeliner will get you through the day. This liquid eyeliner features an ultra-fine brush felt tip to deliver a precise definition in a single stroke.
You can now master the art of the winged eyeliner with this highly pigmented formula. The ease of use of the felt tip combined with the rich pigment provides smooth even lines for the perfect cat-eye. The formula dries up quickly and still leaves a bold color that lasts all day.
Key Features:
Suitable for sensitive eyes and contact lenses wearers
Waterproof formula
Smudge-proof
Highly-pigmented formula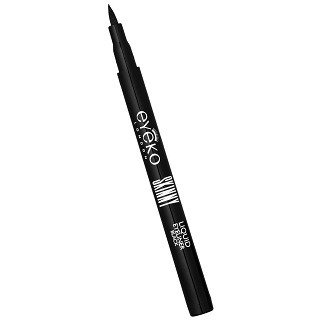 Accentuating your eyes is now easy with Eyeko Skinny Liquid Eyeliner. It comes with a pen that makes it easy to apply and create thick feline flicks or fine defined lines. The formula is color-intense, smudge-proof, and waterproof.
It is also long-lasting and will get you through the day without the need for any touch-ups. The eyeliner is formulated with sodium hyaluronate, a key ingredient for a gratifying highly pigmented finish. It is also infused with conditioning algae extract for a smooth application.
Key Features:
Perfect for everyday use
Long-lasting formula
Smudge-proof finish
Easy to apply
Color-intense
This is a liquid eyeliner that is highly pigmented to leave solid and defined looks. The liquid is formulated using honey and coconut. This water-resistant formula does not smudge or crack. Its ultra-fine brush provides an even line with just one stroke as it does not fray.
The liquid glides on easily and offers an effortless application of sharp and clean dramatic lines. This smudge-proof eyeliner dries quickly and lasts for long without fading or flaking. The eyeliner is hypoallergenic and gentle enough for people with sensitive eyes as it does not run into your eyes.
Key Features:
Designed to resist smudges
Water-resistant formula
Formulated with honey and coconut
Hypoallergenic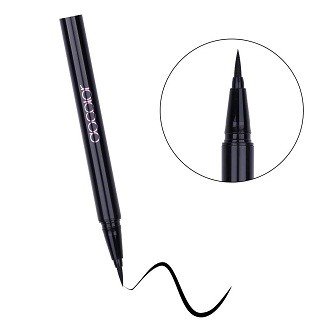 This is a waterproof eyeliner pen that helps you to create natural, bold, broad to fine eye looks. The formula is highly pigmented and its intense color is long-lasting. The eyeliner pen has an ultra-precise tip that is flexible and easy to use. It provides a continuous flow of smooth even lines for the perfect cat-eye look.
Key Features:
Suitable for sensitive eyes and contact lens wearers
Water-resistant formula
Smudge-proof
Long-lasting
Highly-pigmented formula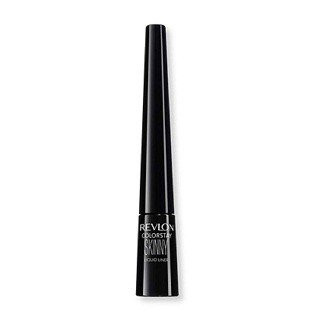 Revlon Color Stay Skinny Liquid Eyeliner is a highly pigmented formula that enables you to make bold, even streak-free colors in a single stroke. Its tip resembles a pizza wheel cutter that allows you to roll on a flawless precise and sharp eye makeup look.
The eyeliner lasts up to 10 hours enough to get you through your 9-5 job. The formula will not smudge, smear, or fade. The eyeliner is ophthalmologist tested and it is fit for sensitive eyes and contact lens wearers.
Key Features:
Available in 2 shades: mahogany Flame and Black Out
Suitable for sensitive eyes and contact lens wears
Smudge-proof
Highly-pigmented formula
This is a matte liquid liner that features a precision brush. It comes with an ultra-fine brush tip that gives you maximum control when drawing thin to thick buildable lines. The brush allows you to achieve an ultra-fine finish effortlessly.
The matte formula offers an exquisite matte finish and smudge-proof coverage. If you have hooded eyes, the NYX PROFESSIONAL MAKEUP Matte Liquid Eyeliner will be perfect for you. The formula dries fast, never cracks, and lasts long.
Key Features:
Smudge-proof coverage
Easy to use
Lasts long
The formula dries up quickly
Does not crack
This eyeliner from L'Oreal Paris comes with nice packaging with a nice grip. The brush tip is super thin and soft and glides on with ease to draw lines effortlessly. The formula is water-resistant and has a staying power of 7-8 hours.
Whether it is hot or humid, the eyeliner will stay put the whole day. The eyeliner appears glossy after application and upon drying it leaves a semi-matte finish.
Key Features:
Easy to use
Water-resistant formula
Long-lasting eyeliner
Smudge-proof
What Are The Types Of Eyeliner?
There are many types and brands of eyeliners in the market today. The most common types of eyeliners include:
Liquid Eyeliner
Liquid eyeliner is said to be the most difficult to apply. However, using the best quality liquid eyeliner should be easy because it goes on much more smoothly giving you the precision you need to make your desired look.
The liquid eyeliner provides well-defined and thin lines that make your eyelashes look thicker. It is best to create cat-eye looks and dramatic looks.
Gel Eyeliner
The gel or cream eyeliner has a thicker consistency than the liquid eyeliner. It comes in a pot and it is applied using a brush. The gel eyeliner gives you more control over the thickness of the lines.
Most gel eyeliners are water-resistant and give you a more glamorous look. The gel eyeliner glides on easily and it takes a little bit longer to dry. It is great for creating smokey eyes since it is very creamy.
Pencil Eyeliner
Pencil eyeliner is the most commonly used type of eyeliner. It is very easy to use and control. You just need to sharpen it when needed and draw your line close to your lash line. They are quick to put on, easy to find, easy to control and above all, they come in a wide range of colors.
How To Choose The Right Liquid Eyeliner?
Since liquid eyeliner needs time before you master how to apply them effortlessly, you need to consider a few things to choose the best liquid eyeliner that suits you. It would help if you considered the following;
Easy to use
The last thing you want is a liquid eyeliner that is out of your control. It would be best if you had an eyeliner that you can use effortlessly. Look for a liquid eyeliner with an ultra-thin brush tip that will deliver precise definition with a single stroke.
Long-lasting formula
The best liquid eyeliner should last for long to get you through the day. An eyeliner that lasts for 7-8 hours without wearing off or fading is good.
Waterproof formula
Choose a waterproof liquid eyeliner. It will stay put even if you sweat or are rained on.
Smudge-proof
Look for an eyeliner that is smudge resistant. It will prevent your eye makeup from smearing and running all over your face.
Highly-pigmented formula
Go for color-intense liquid eyeliner as it leaves highly defined lines.
Frequently Asked Questions
Is liquid eyeliner hard to apply?
If you are just new in eyeliner application, liquid eyeliner is not newbie-friendly. It requires practice and patience to master it but once you get its hang, it could be a breeze. Beginners are encouraged to start with the pencil eyeliner before they master the liquid one.
Is liquid eyeliner better than pencil and gel eyeliners?
When it comes to eyeliners, everyone has their preferences in terms of ease of use. Since all deliver the same results, liquid eyeliners are the best to create cat-eye looks and more dramatic looks.
How do I test liquid eyeliners?
Just draw the line at the back of your hand and see if it rolls on smoothly without feathering.
Conclusion
When mastered correctly, liquid eyeliners are easy to use and provide more defined lines and eye looks. Using the best liquid eyeliners, you are in control of your liner, and achieving your desired results will be effortless. High-quality liquid eyeliners glide on with ease, and do not bleed, run, or fade throughout the day.
From our review, our best liquid eyeliner brand is the Stila Stay All Day Waterproof Liquid Eye Liner. We love it because it is a waterproof liquid eyeliner that dries up quickly. It also has a thin marker-like tip for easy use and it does not smudge.
Recommended Articles:
About Author (Nina J. Erickson)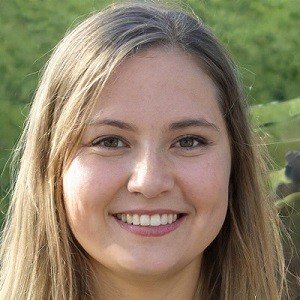 Nina J. Erickson is a makeup blog author who writes about the latest trends and techniques in beauty. With a passion for all things makeup, Nina shares her insights and expertise with her readers, helping them achieve their desired looks and feel confident in their skin. Whether she's reviewing the newest products or offering step-by-step guides, TheApexBeauty's blog is a go-to resource for anyone interested in makeup.