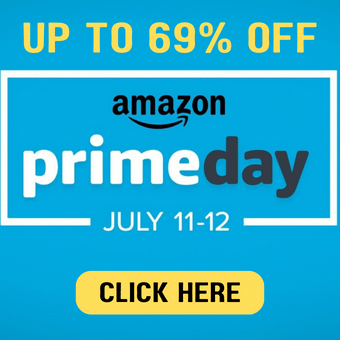 Do you need to conceal dark circles, and redness, and brighten up dark spots? The color-correcting formula is all you need to even your skin tone. While concealers hide small breakouts and blemishes, color correctors give more coverage and correction. They are also available in different shades and each shade is designed to address a specific skin issue. The best color correctors formulas balance discoloration on your skin by canceling it out with a shade opposite on the color wheel. They correct redness, dark circles, pigmentation, dullness, dark spots, and bluish-purple color of under-eye circles. With the many color correctors on the market, choosing the best one can be a daunting task.  Here is a list of the best color correctors you should try.
Our Top Picks
10 Best Color Correctors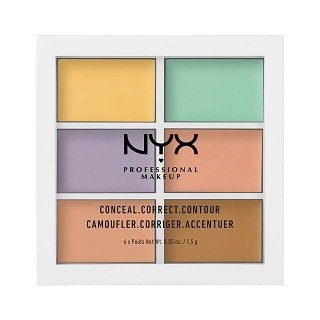 This is your ultimate color-correcting concealer palette. It comes with six shades to conceal and correct imperfections on your face. The yellow and peach shades correct dullness and dark circles. The green color corrects redness.
The purple color corrects and brightens yellow tones, the pink color brightness dull complexions and light colors camouflage imperfections. The formula glides on easily and it's easy to blend. It leaves an ultra-smooth finish that leaves your skin soft and supple. The formula is lightweight and does not feel heavy or greasy.
Key Features:
Lightweight formula
Conceals and corrects imperfections
Easy to blend
Available in 6 color-correcting shades
Read More – Best Bunion Correctors
These color-correcting pens from Maybelline New York are available in six shades. It is a creamy formula that has pure color pigment to provide full coverage of color correction to a wide variety of skin issues. The 6 color-correcting shades are:
Green: to correct redness for all skin tones
Red: to correct dark circles for medium to deep skin tones
Yellow: brightens up dullness for light to medium skin tones
Apricot: to correct dark circles for medium to deep skin tones
Blue: neutralizes sallowness for fair to light skin tones
Pink: brightens dullness for light skin tones
The color correcting pen features a precision applicator to camouflage skin tone imperfections effortlessly.
Key Features:
Available in 6 correcting shades
Offer full coverage
Powerful color pigments for full coverage
Easily blendable
This is a creamy blendable formula that neutralizes discoloration and layers perfectly. It offers full coverage that brightens and neutralizes under-eye discoloration. The result is a perfectly smooth coverage that is easy to blend and will not crease.
The formula is highly pigmented to help lift and brighten dark circles and spots. For the best results, it is advisable to apply a hydrating eye cream first to hydrate the area around the eye and then apply your color corrector.
Key Features:
Highly pigmented formula
Does not crease
Corrects and conceals dark circles and spots
Neutralizes discoloration
If you are looking for a formula that will brighten your under-eye circles and cover under-eye dark spots, look no further. BECCA under-eye brightening corrector is formulated with pigments to correct your imperfections.
The dark blue/purple colors correct the dark circles. The backlight technology used in formulating this corrector illuminates your skin and brightens yours under eyes. The formula is a luminescent creamy texture that gives a smooth flawless radiant finish.
Key Features:
Provides long-wearing
Completely conceals under-eye darkness
The formula contains light-reflecting illuminators that brighten under eyes
Water-resistant coverage
Preps skin for even concealer coverage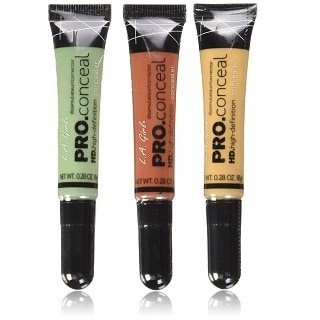 This is a long-lasting color corrector that is formulated to provide natural-looking coverage to last all day. The formula covers dark circles and minimizes fine lines around the eyes, redness, and skin imperfections.
The formula is creamy in texture, yet it is lightweight and crease-resistant. Its highly pigmented color will cancel out even the most extreme skin discolorations. It comes in a set of three concealers and 43 shades to choose from where you will definitely find a shade that matches your skin tone.
Key Features:
Crease-resistant formula
Lightweight texture
Camouflages darkness under eyes, redness and skin imperfections
Long-wearing formula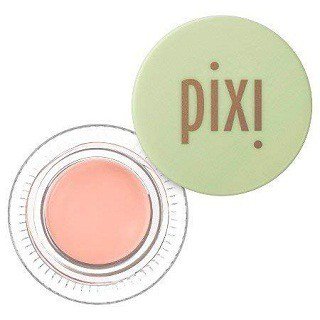 This is a brightening waterproof formula. This dense corrective concealer blends seamlessly into your skin erasing any stubborn darkness, softens, and blurs fine lines. This results in your skin looking fresh, rested, bright, and youthful.
It is formulated with rosehip extract that improves your skin elasticity and brightens dark spots. It also has vitamins A which provides anti-aging effects on your skin and vitamin C that brightens and revitalizes your skin.
Key Features:
Waterproof formula
Formulated with rosehip extract to improve skin elasticity
Softens and blurs fine lines
Has anti-aging effects
Brightens and revitalizes your skin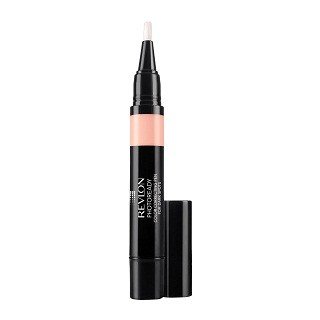 Instead of covering your color imperfections, Revlon Photo Ready Color Correcting Pen is designed to work with your skin to neutralize the imperfections. The formula is formulated with high-definition filter technology.
The color corrector captures and transforms light to blur and softens color flaws leaving a perfect photo-ready complexion. The formula comes with a precision brush that allows you to target and apply the areas with flaws easily. The correction pens from Revlon are available for dullness, dark spots, and redness correction.
Key Features:
Neutralizes skin imperfections
Corrects redness, dullness, and dark spots
High-definition filter technology
Easy to apply with its precision brush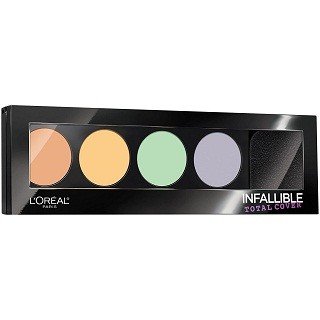 L'Oreal Paris Total Cover Color Correcting Kit is an all-in-one palette corrector formula available in four shades. The formula is easy to blend and does not melt off to reveal your skin imperfections. It hides dark spots and provides a blurring effect on the skin making any skin flaws undetectable.
The peach shade covers up dark circles, yellow combats discoloration, green neutralizes redness, and purple brightens dullness. The cream formula is smooth, highly pigmented, and works across all skin tones.
Key Features:
Easy to blend formula
Highly-pigmented cream
Available in four shades
Works for all skin tones and imperfections
If you want to camouflage under-eye circles and unwanted blemishes, Maybelline New York Cover Stick Concealer is the product to use. It offers full coverage with an undetectable smooth finish. The formula is also waterproof and lasts for hours before fading.
It glides on smoothly and blends in perfectly covering all blemishes completely for natural coverage. The formula will not clog your pores and from the color correctable shades, it is easy to find one that matches your skin tone.
Key features:
Waterproof formula
Blends in easily
Last for long
Covers blemishes and under-eye circles
Kokie Cosmetics Concealer and Color Correctors are a creamy color corrector that is very effective in hiding imperfections, brightening dark circles, and evening out redness. The formula provides medium to full coverage.
It is easy to blend and highly pigmented, meaning a little goes a long way. This natural finish concealer lasts for a long time to get you through the day. It comes with 12 different shades to combat different skin issues.
Key Features:
Long-lasting
Lightweight formula
Highly-pigmented
Easy to blend
Provides medium to full coverage
How To Pick The Right Color Corrector?
1. Cleanse your face
Before applying any makeup, clean and dry your face to remove any dirt, impurities, and excess oil. Once your face is clean, apply your primer. It ensures that any makeup you put stays put all day without smudging or fading.
2. Choose the right shade of your color corrector for your skin
For the color corrector to be effective, you have to choose the right shade to match your blemish. Pick the shade and color over your discoloration. If you are confused by the different shades of your color corrector here is a simple guide to help you choose the right one.
Green Concealer: The green color is directly opposite the red color in the color when. Since colors directly opposite cancel out each other, the green concealer is best for hiding any redness on your face like red pimples and acne scars. It is also the best shade to apply if you have rosacea.
Orange concealer: Orange shade is for people with darker skin tones and has blue dark circles.
Yellow concealer: This is for dark purple bruises veins and undereye circles
Pink Shade: This is for people with light skin tones and has dark circles under their eyes
Purple concealer: This brightens the skin for people with yellow skin tones.
3. Apply Foundation
Apply your foundation on top of your color corrector and blend in for full coverage.
4. Apply your concealer
Concealer will help to balance out the tone of your corrector and foundation for a flawless finish.
5. Apply Setting Powder
Finish with a setting powder for a flawless complexion.
Frequently Asked Questions
What is the best color corrector for redness?
Any color corrector that has a green shade will neutralize the redness on your skin. Whether it's a red pimple or red scars, the green corrector will cancel out redness. Top the green corrector with a light concealer for full coverage.
Does color correcting work?
Color correcting only works when the right shade is used for the right skin imperfection. It helps to even out your skin tone.
What is the difference between a color corrector and a concealer?
A color corrector is applied before the concealer to cover imperfections—the concealer balances out the tone of your corrector for a flawless finish.
Conclusion
Color correcting formulas are something you must have to cover dark circles under the eyes, redness, and brighten skin dullness. Color correctors come in different shades and each shade is meant to combat a certain skin flaw. It understands what shade to use that will make your color correctors effective.
From our review of the best color correctors, our best brand is the L'Oreal Paris Total Cover Color Correcting Kit. It comes in five different shades that can conceal dark spots, dark circles, redness, and discoloration. It works for all skin tones and it is highly pigmented, meaning a little goes a long way and it is easy to blend.
Recommended Articles:
About Author (Nina J. Erickson)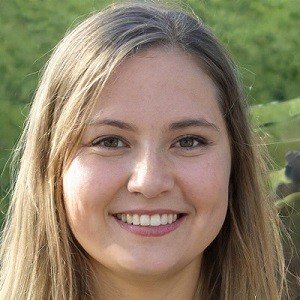 Nina J. Erickson is a makeup blog author who writes about the latest trends and techniques in beauty. With a passion for all things makeup, Nina shares her insights and expertise with her readers, helping them achieve their desired looks and feel confident in their skin. Whether she's reviewing the newest products or offering step-by-step guides, TheApexBeauty's blog is a go-to resource for anyone interested in makeup.