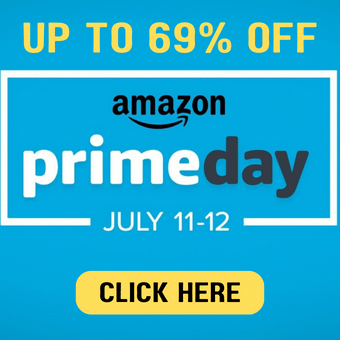 Do you struggle to find the right foundation because your skin is oily? Oily skin has unique needs on its own. It makes your foundation wear off after a few hours, melt off your face, look cakey, and make your face shine. The solution to this is buying a non-comedogenic foundation that will not mix with your skin's natural oil and turn into a smudgy shiny look. The best drugstore foundations for oily skin should contain salicylic acid, an ingredient that helps control oil and fight acne.
Our Picks
Top 10 Drugstore Foundations for Oily Skin Of 2023
Some of the best foundations for oily skin can be found at the drugstore at very affordable prices. Here is a list of the best drugstore foundations for oily skin that you should try.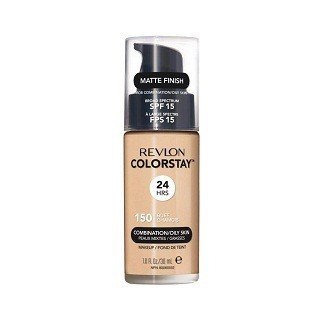 This is a lightweight foundation that is specifically made for oily skin to absorb oil and control shine. The formula is oil-free, and it is fortified with SPF 15 to protect your skin against the sun.
It comes in 43 shades that range from light, medium, to deep shades to suit all skin tones. The formula is easily buildable and wears for up to 24 hours. It is formulated with salicylic acid to help control oil and provide a poreless, flawless matte finish all day.
Key Features:
Lightweight formula
Controls oil and shine
Suitable for all skin tones
Oil-free formula
Maybelline Fit Me Matte + Poreless Liquid Foundation is a non-comedogenic and extremely lightweight formula. It is equipped with micro-powders that absorb oil and smooth out the texture of your skin. Pores, scars, and blemishes are all covered, leaving your skin looking flawless and refreshed.
With 40 shades to choose from, you should find an ideal match for your skin tone. The formula is easily buildable, and it provides medium coverage with long-day makeup wear. It mattifies and refines pores leaving a seamless finish.
Key Features:
Do not clog pores
Long-lasting
All-day wear
Dermatologist tested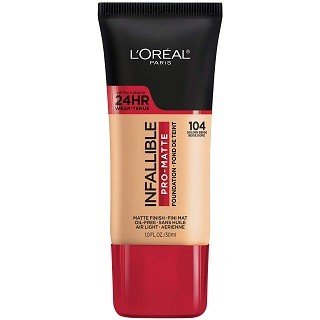 This is a lightweight creamy foundation that glides to the face smoothly, leaving a flawless matte finish. It is easily buildable and offers natural to full coverage hiding all skin imperfections and leaving a clear complexion.
The formula is oil-free and lasts up to 24 hours. It is available in 28 shades to fit all skin tones, and it is suitable for everyday use. It stays all day to absorb oil, control shine and prevent your skin from becoming greasy, making it perfect for people with oily skin.
Key Features:
24 hours shine control
Lightweight
Matte finish
Long-wearing
This is a soft matte formula that gives you a flawless finish. The mattifying powder absorbs excess oils and minimizes large pores' appearance, leaving a smooth polished look. The formula stays up to 12 hours of a matte finish.
It is available in 40 shades to match any skin tones. It is formulated for oily skin to control shine all day while keeping the skin hydrated. The foundation is suitable for sensitive skin, and it does not dry out the skin.
Key Features:
Soft matte formula
Long-lasting wear
Absorbs oil
Minimizes the appearance of large pores
e.l.f, Flawless Finish Foundation is a lightweight oil-free formula that blends naturally to create a beautiful matte finish. This liquid formula offers full coverage. It smoothes uneven skin textures and brightens your skin tone without overcoating it.
The formula is infused with salicylic acid that helps in absorbing excess oil and controlling shine. It is also formulated with tea tree extract, camphor, and soothing aloe vera to reduce any acne breakouts, fight blemishes, and improve your overall skin tone. It has anti-inflammatory properties that reduce redness and clears your skin.
Key Features:
Acne-fighting formula
Long-lasting
Improves uneven skin texture
Suitable four oily skins
Made with natural botanical ingredients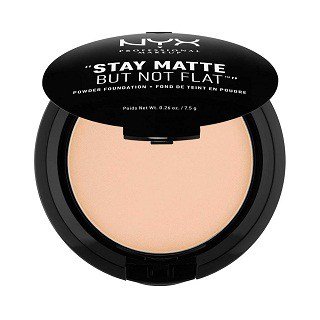 If you are looking for a matte full-coverage finish, NYX Professional Makeup Stay Matte but not Flat Powder foundation will offer that. It is a pressed powder foundation that absorbs oil and controls shine, making it an excellent option for oily skins.
The powder is lightweight and evens skin tone by covering all imperfections leaving behind a gorgeous matte finish. The formula offers buildable coverage to smooth out your skin texture.
Key Features:
An excellent option for oily skin
Lightweight powder
Evens skin tone leaving it velvety smooth
Buildable formula
This is a skin-clearing liquid foundation that is formulated for acne-prone skins. This oil-free acne-fighting foundation contains salicylic acid as its active ingredient. It helps in treating blemishes and prevents emerging acne breakouts by clearing the pores for clearer skin.
The formula will unlock clogged pores and ward off any acne before it starts to develop. The formula is equipped with unique micro-clear technology that handles bumps and redness without causing any irritation. Its coverage is lightweight, breathable, and controls shine.
Key Features:
Formulated for acne-prone skins
Suitable for oily and sensitives skins
Oil-free non-greasy formula
Lightweight formula that won't clog pores
This is a long-wearing foundation suitable for people who have oily skin. It has a matte finish and minimizes the appearance of fine lines and large pores. It has a lightweight feel that leaves a dewy finish, and you don't have to worry about shine. The foundation offers medium to full coverage, and it is comfortable enough for everyday wear.
The foundation comes with 15 shades to match all beautiful skin tones. Aside from that, it has a white mixer to help you create the perfect in-between shade to match your skin tone perfectly. It is a high-definition illuminating formula with added antioxidants to hydrate and improve your skin appearance.
Key Features:
Lightweight long-wearing formula
Added antioxidants to hydrate the skin and improve its appearance
Offers an illuminating glow
Dewy finish
Rimmel Stay Matte Foundation Soft Beige is a shine control formula that blends easily to even out skin tone and prevents shine for hours. It makes your face appear poreless and feels soft all day with a matte finish.
The formula is an oil-free and lightweight texture that will keep your skin from feeling oily and greasy all day. It minimizes the appearance of pores and conceals any imperfections on your skin. The foundation is available in three shades.
Key Features:
Silky smooth formula
Lightweight texture
Reduces the appearance of pores
Controls shine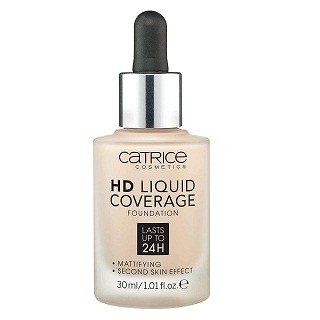 Catrice HD Liquid Coverage Foundation is an ultra-light high definition and coverage formula that gives a natural-looking finish. The foundation provides full coverage for 24 hours that mattifies the skin and blurs any imperfections.
The formula is oil-free and is available in 23 different shades from light to deep. The foundation comes with a unique dropper that allows easy and clean application.
Key Features:
Variety of shades
Full coverage
Lasts up to 24 hours
Mattifying formula
How To Choose The Best Drugstore Foundation For Oily Skin?
Drugstore foundations are not all formulated the same. If your skin is oily, you should look for a foundation that can help minimize and control shine. Check for the following qualities before choosing one:
Oil-free formula
Since your skin is oily, the last thing you want to add on your skin is any product with oil. Foundations with oil will make your oily skin oilier, and this is not what you want. Always select foundation formulas that are oil-free.
Long-lasting
The foundation you choose must offer long-lasting makeup wear. Foundations that are not formulated for oily skin may fade quickly. If you wear them and your skin is oily, they will not offer long-lasting results. Go for a foundation that is formulated for oily skin to enjoy long-lasting results.
Matte finish
Select a foundation that offers a matte finish because it reduces shine even when the weather is hot.
Full coverage
A foundation that offers medium to full coverage will keep shine at bay all day long no matter how oily your skin is.
Consider your skin tone
A foundation aims to look as natural as possible. You must select drugstore foundations for oily skin that will match your skin tone.
The Right Way To Apply A Foundation On Your Oily Skin
Proper application of your drugstore foundation will still result in an elegant and glamorous look. The following steps will help you apply your foundation the right way.
Cleanse your face
Start by cleaning your face to get rid of any dirt, impurities, and excess oils. With a cleanser of your choice and an exfoliant, your skin will be ready to hold your foundation.
Apply a moisturizer
Once your skin is clean and dried, apply your moisturizer to nourish the skin. Even if your skin is oily, a water-based oil-free moisturizer will do you right.
Tap excess oil
Use a tissue or blotting paper to tap the excess oil on your skin.
Apply your primer
It is advisable to apply makeup primer before your foundation. A primer helps to hold your foundation in place and prevents excess oil from interfering with your makeup. Look for a primer that is formulated for oily skins so that it can absorb excess oils and control shine.
Apply your foundation
Depending on the foundation you are using, liquid-based, powder or creamy, dab it on your face and blend in evenly.
Apply your setting powder
Setting powder helps in absorbing oils and covering up the oily T-zones in your skin.
Frequently Asked Questions
How do you keep the foundation intact with oily skin?
Using the right foundation formulated for oily skin will ensure it stays put no matter the weather. Using the wrong foundation for oily skin will cause you frustrations.
Do drugstore foundations for oily skin work?
Yes. The drugstore foundations for oily skin works fine, just like the pricier foundations formulated for oily skins. They have ingredients that help them to absorb excess oil and control shine. They are also long-lasting, providing a mattifying effect for long.
Is liquid foundation or powder better for oily skin?
Powder foundation has the best oil absorbing power. However, it does not stay for long. Liquid foundation has a staying power. You can mix the two for long-day wear.
Conclusion
Ensuring your foundation stays put without feeling greasy can be challenging if your skin is oily. The solution to this is using a foundation that is specifically formulated for oily skin. They have oil-absorbing properties meaning they will control shine and are long-wearing.
Our favorite foundation is the Neutrogena Skin Clearing Oil-Free Liquid Foundation from our review of the best drugstore foundations for oily skin. It is formulated for oily, acne-prone skin. It is also an oil-free non-greasy lightweight formula. It does not clog your pores, and it is suitable for people with sensitive skin.
Recommended Articles:
About Author (Nina J. Erickson)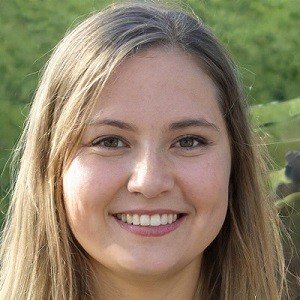 Nina J. Erickson is a makeup blog author who writes about the latest trends and techniques in beauty. With a passion for all things makeup, Nina shares her insights and expertise with her readers, helping them achieve their desired looks and feel confident in their skin. Whether she's reviewing the newest products or offering step-by-step guides, TheApexBeauty's blog is a go-to resource for anyone interested in makeup.