Are you debating whether an eyeshadow primer is necessary or not? Stop the doubt. Eyeshadow primer is a very vital ingredient in completing your makeup look and it is a must. It increases the longevity and vibrancy of the eyeshadow you apply. It also helps to prevent your eyeshadow from caking and creasing. Something you don't want to experience. It creates a barrier between naturally oily eyelids and the shadow to prevent it from creasing. Lastly, it makes the skin on your lid area to be smooth. The good news is that the best drugstore eyeshadow primers are super affordable and work just like their fancy and pricier counterparts. Here is a list of the top 10 drugstore eyeshadow primers brands you should try.
Our Picks
10 Best Drugstore Eyeshadow Primers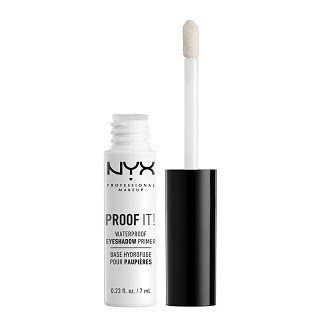 This eyeshadow primer is a waterproof light creamy formula that has a long staying power. It is ideal for someone with eyes that tend to water, great for humid days, long nights out, hot summer days, or teary-eyed occasions. It prevents your eyeshadow from smudging and creasing.
The formula is transparent and dries up instantly and clear. It will not mess with your shadow color and you can apply even the lightest shades and still intensify it. With NYX cosmetics proof waterproof eye shadow primer, your eye makeup will stand out through anything.
Key Features:
Waterproof formula
Long staying power
Prevents eyeshadow from creasing and smudging
Intensifies your eyeshadow
Maybelline New York Master Prime Long-Lasting Eyeshadow creates a long-lasting eyeshadow base that helps you achieve almost any look by prepping your eyes for gorgeous eyeshadow application.
This luminescent formula will pep out tired eyes whether you had a late night or woke up early by brightening your eyes. The primer creates a smooth surface on your lids area that enhances easy eyeshadow application.
This illuminating primer enhances the color of your shadow and lengthens its wear. You can also create a natural shimmery look by wearing this primer alone with no shadow. The formula is non-irritating which makes it suitable for anyone with sensitive eyes.
Key Features:
Suitable for people with sensitive eyes and contact lenses wearers
Creates a smooth surface on lids area
Preps your eyes for shadow application
Enhances color payoff and wear
Eye Primer Makeup Eyeshadow Base by Elizabeth Mott is a lightweight, non-greasy formula suitable for oily skins. It prevents oily lids from smudging and creasing. This primer ensures your shadow color lasts long enough to get you through the day.
The formula is transparent and creates an eyeshadow base that dries in seconds for a smooth crease-free application. The primer will even and brighten your skin tone while at the same time combating the oiliness. It locks your eyeshadow in place and protects your makeup all day.
Key Features:
Lightweight-non-greasy formula
Suitable for people with oily skins
Evens out and brightens your skin tone
Locks your shadow in place
Does your eye color disappear on a long day? You can now stop this beauty crime and enjoy a vibrant lasting eye color with bare Minerals Prime Time Eye Primer. This silky, lightweight primer maximizes your eye color by extending its wear and preventing creasing.
The primer is also suitable for people with oily skins as it combats excess oil in your eyelids and prevents them from looking greasy. This is the perfect eyeshadow base you need to last your eye color all day and night.
Key Features:
Enhances a long-lasting shadow wear
Combats excess oil in eyelids
Ensures a vibrant, long-lasting eye color
All-day and night staying power
This is a lightweight eyeshadow primer that dries down to an invisible finish. The primer intensifies the color of your shadow and increases its wear. Since it dries invisibly, it works on all skin tones and enhances a smooth look on your eyeshadow.
The primer is formulated to be the perfect base for your long-lasting flawless eyeshadow style that lasts up to 8 hours. The texture of this primer is thick and creamy but has a nude transparent finish. It is easy to apply and dries out to a smooth finish. Even without wearing eyeshadow, it makes your eyes look refreshed.
Key Features:
Easy to apply
Suitable for all skin tones
Lightweight invisible finish
Lasts up to 8 hours
e.l.f. Essential Shadow Lock Eyelid Primer will help you prep your eyelids for smoother, long-lasting, and crease-proof eyeshadow. It is a lightweight formula that absorbs quickly into the skin to increase eye color longevity. The primer is thin, light, and easy to blend.
It leaves a smooth non-sticky finish and it is perfect for people with dry skins. The eyeshadow primer comes with two shades: sheer natural tone and silvery pearl. The primer ensures that after you have applied your eyeshadow, it won't peel or crack.
Key Features:
Comes with two shades; sheer and silvery pearl
Suitable for people with dry skin
Lightweight liquid formula
Enhances long-lasting and crease-proof eyeshadow
This primer is formulated with photo chromatic pigments that bend and reflect light to minimize any flaws on your eye area. This oil-free, lightweight gel smoothes and perfects the eye area. It reduces any appearances of fine lines, creases on your eyelids, and under eyes and brightens the entire eye area.
This creates a perfect base so that your eyes' shadow glides on evenly and smoothly. The primer has an impressive long wear time of 24 hours. It can also be worn alone or under foundation to brighten your eyes.
Key Features:
Long wear time up to 24 hours
Has photo chromatic pigments
Lightweight and oil-free formula
Eliminates any flaws in your eye area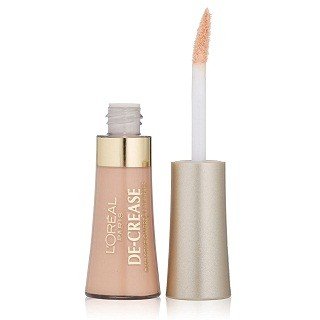 You can now say goodbye to creasing eyeshadow. Tio gets a longer-lasting eye color; you need to crease-proof your eyes. L'Oreal shadow primer is specifically formulated for those with rumpled and wrinkled skin.
It helps cast off creases, evens skin tone, and creates a flawless canvas for eyeshadow application. It is one universal shade that is suitable for all skin tones. This creamy blendable formula extends your eyeshadow wear up to eight hours. The primer can be worn alone for a clean natural look.
Key Features:
Ophthalmologist-tested
Suitable for all skin tones
Extends eyeshadow wear to 8 hours
Casts off creases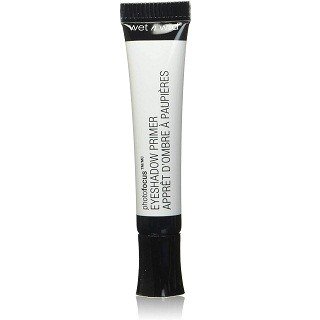 Oily lids can lead to your eyeshadow caking and creasing. With Wet & Wild Photo Focus Eyeshadow Primer, you can prevent that from happening as it preps and brightens your eyelids to lockdown eyeshadow color.
The primer ensures that your shadow color stays in place without budging or creasing. It makes this possible by acting as a buffer between your eyelids and shadow color. This formula dries clear and has a subtle brightening effect on your eye areas.
Key Features:
Lockdown eyeshadow color in place
Brightens eyelids
Best for oily skins
Prevent caking and creasing
COVERGIRL Lid Lock Up Eyeshadow Primer ensures an all-day, crease-proof, shadow security. It maximizes the wear and intensity of your eyeshadow by prepping your lids for all-day wear. This primer dries up and sets within seconds making it ideal for you who require a speedy eye makeup routine.
Covergirl primer is super affordable and this does not compromise on its quality and the results it achieves. The formula evens out the eyelid area and eliminates any flaws. It leaves a skin surface that is ready to hold the shadow color for long.
Key Features:
Enhances eyeshadow security
Maximizes shadow wear time
Eves out the skin
Dries up quickly
What Is Eye Primer?
An eyeshadow primer is a gel-like formula that is used as an eyeshadow base. It ensures that the eyeshadow stays in place. According to beauty experts, the number one way to prevent your eyeshadow from smudging or streaking is by using the primer.
A primer brings out the color of your eyeshadow and makes it stand out more. It also combats oils and prevents your shadow from creasing. Additionally, it ensures that your shadow color stays for long without fading or smudging.
Lastly, it makes your eyelids appear smoother. If you skip the eyeshadow primer in your beauty routine process, see all these perks you are missing.
How To Choose The Right Drugstore Eyeshadow Primer?
Cleanse your face and apply moisturizer
Before applying any makeup product on your face, always start with a clean face to remove oil and dirt that is in the skin. One your face is clean and dried, apply your moisturizer. This will prevent the makeup products from drying your skin.
Squeeze a tiny bit of the primer on your fingertips or an eyeshadow brush
When it comes to eyeshadow primers, a little goes a long way. Only squeeze enough to cover both your eyes. While you want the primer to completely cover your eyelid, using too much can make your makeup to pill, clump, look shiny, or appear chalky. Using too little will make your eye makeup not last for long. Only use enough amount.
Dab the eyeshadow primer onto your eyelids using a brush or your fingertips
Gently and smoothly, dab and pat your primer onto your eyelid skin. Since the skin here is very thin, use gentle pressure, and blend the formula into the skin evenly. Try to apply as close the lash line as possible and under your eyes if you add a liner or eyeshadow color underneath the lower lash line.
Wait for two minutes
Let the eyeshadow primer set in for two minutes before applying your foundation or eyeshadow.
Frequently Asked Questions
Do you apply eyeshadow primer before or after foundation?
Before, your eyeshadow primer should go under your foundation to create a barrier between your skin and eye makeup. This prevents oils on your eyelids from reaching and disturbing your makeup.
Can I apply my eyeshadow without the primer?
We advise you to use the primer because it improves the look and longevity of your eyeshadow. It also prevents your eyeshadow from caking and creasing.
Do I really need eyeshadow primer?
Yes.  Eyeshadow primer is the key to a flawless shadow color effect. It helps to keep your shadow in place and for long and prevent fading and smudging.
Conclusion
If you skip using the eyeshadow primer in your makeup routine you are missing so many benefits. Primer is all you need to make your eye makeup last long without the need to do any touch ups. Using the best eyeshadow primer in the drugstore will prevent eye makeup from creasing and smudging and make it last the entire day.
From our review of the best drugstore eyeshadow primers, our favorite is the NYX Cosmetics Proof Waterproof Eye Shadow Primer.
We recommend it because it is a waterproof formula, prevents eyeshadow from creasing and smudging, has a long staying power, and intensifies your eyeshadow. Eyeshadow primers are what beauty gurus use to ensure their eye makeup is intact and intensified for long.
Recommended Articles:
About Author (Nina J. Erickson)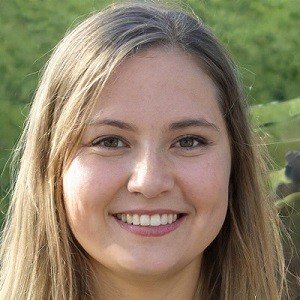 Nina J. Erickson is a makeup blog author who writes about the latest trends and techniques in beauty. With a passion for all things makeup, Nina shares her insights and expertise with her readers, helping them achieve their desired looks and feel confident in their skin. Whether she's reviewing the newest products or offering step-by-step guides, TheApexBeauty's blog is a go-to resource for anyone interested in makeup.