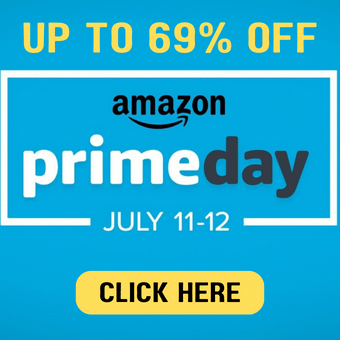 Would you love to spice up your eye makeup? Glitter eyeshadow is all you need to light up your eyelids and your life. It comes with colorful and sparkly glitter particles with rich pigmentation that spice up your eye makeup and uplift your mood. When applied correctly, glitter eyeshadow fits all ages and all occasions. The best thing about glitter eyeshadow is that they are ultra-pigmented, have high sparkles, and is long-wearing without creasing or falling out. You can take your eye makeup to the next level with the superfine microfiber shine pigments of the best glitter eyeshadow in the market today. Read on.
Our Top Picks
10 Best Glitter Eyeshadows In 2023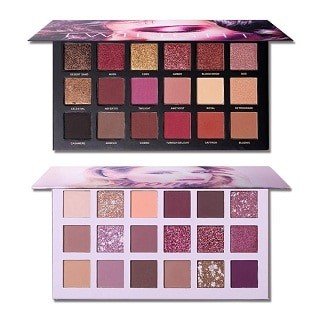 This glitter eyeshadow palette comes with 18 versatile shades, 7 pressed shimmers, 1 pure metallic glitter in gold, and 10 smooth mattes. The shades are highly pigmented and come in vibrant purples and ochres, and soft sandy nude-tones. This enables you to create a vast array of looks with just one pallet.
The glitter eyeshadow is in the form of powder and has a smooth velvety texture. The formula is lightweight and it's also blendable and easily buildable. It is also waterproof and long-lasting and will keep your eye makeup lit all day long without falling out or creasing.
Key Features:
Long-wearing
Waterproof
Blendable and buildable
Highly pigmented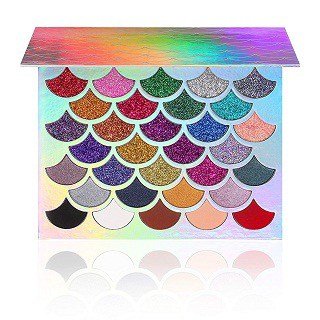 This is a highly-pigmented eyeshadow glitter palette that will help you create mesmerizing looks. The palette comes with 32 shades, 21 of which are glitter shades, 6 shimmery shades, and 5 mattes. The carefully crafted combination of matte shimmers and pigments will help you create versatile, pretty, and bold looks every day.
These blendable and soft hues last long with no need for touch ups. The palette is made with high-quality ingredients to save your sensitive skin from irritation, redness, and rashes.
Key Features:
Suitable for all skin types
Blendable
Long-lasting
Variety of shades
This is a liquid glitter eyeshadow that packs your lids with glitter and glides on effortlessly. Every shade holds its vibrancy to complement every skin type and color beautifully.
The liquid formula is buildable and easily blendable. It is also easy to apply with its superfine point brush that allows you to deposit the liquid glitter formula right where you want it.
Key Features:
Liquid glitter eyeshadow that is easy to apply
Easily blendable
Suitable for all skin types
Lightweight eye color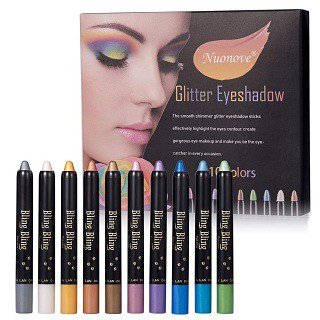 This is a smooth shimmer glitter powder eyeshadow that will help you create gorgeous eye makeup. The rich and beautiful shades are made with safe ingredients that will not irritate your skin. It can be worn alone or blended with other shades to create any sensuous look effectively.
The palette comes with 10 complementary shades that are ultra-pigmented and velvety-smooth. The hues are made with high-quality ingredients with a silky shine color that can last all day. Each shade is unique, beautiful, super shiny with rich pigmentation to make your eyes look bright and attractive.
Key Features:
Color does not fade
Long-lasting
Waterproof formula
Easy to wear
Dries quickly
This is an ultra-intense eyeshadow that lasts from day to dawn for 24hours. The formula is fade-proof, waterproof, and crease-resistant meaning your eye's attractiveness will stay intact no matter the weather condition. This powder-cream formula glides on effortlessly to create the eye look you desire.
Its shades are ultra-pigmented and come in a variety of hues to create any unique look for the day or occasion. Whether your eyes are blue, brown, hazel, or green, L'Oreal Paris Infallible 24HR Shadow is suitable for all eyes with its various shades.
Key Features:
Lasts for 24hours
Waterproof
Fade-resistant and crease-resistant
Intense pigmentation
Glides on effortlessly
You can express yourself differently every day with Almay Shadow Squad Eyeshadow Palette. This is a versatile eyeshadow with one shade that has four finishes: satin, glitter, matte, and metallic. You can either use a single color for subtle style or combine the finishes to create a unique dramatic look.
Its texture is velvety smooth and blends in easily to create an attractive eye. The eyeshadow is available in a variety of shades from flattering neutral colors to on-trend attention-grabbing shades. This is simply your perfect eyeshadow for everyday wear.
Key Features:
Available in 15 shades
Perfect for everyday wear
Velvety smooth texture
Long-wearing
This is a multipurpose eyeshadow glitter dust powder set. Not only can it be worn on your eyes but also your face, hair, nails, and body. It is available in 45 sparkly colors that allow you to define your creativity and your style with its endless shade options.
The powder is suitable for all kinds of occasions, festivals, nail art, and crafts. It is made with safe and high-quality ingredients safe for people with sensitive skin. With 45 sparkly bright colors, you are spoilt with options as they are all easily blendable to create an imagined look.
Key Features:
Easy to remove with water or with makeup remover
Multipurpose glitter powder for eyes, body, hair, nail, and face
45 sparkly colors
Made with safe and high-quality ingredients
Revlon offers an intensely pigmented cream shadow with satin and sparkle finishes creating a unique, customized, and expertly coordinated eye look. It comes with an amazing dual-sided glitter that features a creamy, metallic pigment on one side and a chunky glitter liquid on the other.
This cream shadow glides on effortlessly for smooth and richer color. This is the eyeshadow you need to create intense, smokey glitter looks. It is suitable for all skin tones and lasts all day.
Key features:
Lasts all-day
Fits all skin tones
Intensely pigmented cream
Glides on effortlessly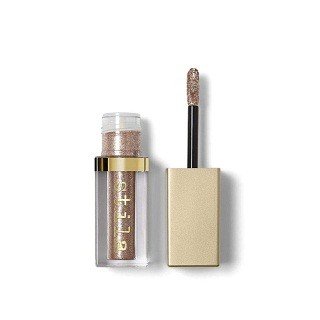 This is a brilliantly long-wearing liquid glitter eye shadow. It is a mix of pearls and glitter that gives your eyes incredible luster and shimmer.
Its formula is lightweight and has water-infused textures so it glides on effortlessly and dries quickly locking in maximum sparkle with minimum fallout. The eyeshadow comes in 12 different shades that enable you to create a unique look for every day.
Key Features:
Long-wearing liquid glitter eyeshadow
Glides on effortlessly
12 different shades
Lightweight formula that dries quickly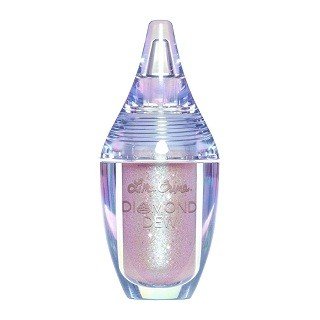 Sparkling just like diamonds on your eyes, Lime Crime Diamond Dew Glitter Eyeshadow is parked with reflective particles that add a sparkly finish to your eye makeup. This liquid formula dries to a smudge-proof, and crease-resistant finish that lasts all day.
The formula is lightweight, easy to apply, and is falling out resistant meaning it will be comfortable wearing it on your eyelids. It can be worn alone on bare lids, cheeks, and body or top of your eyeshadow.
Key Features:
Features matte. Metallic, and shimmer shades
Lightweight
Smudge-proof and crease-resistant
Easy to apply
Sparkly finish
What To Look For In A Glitter Eyeshadow – Buying Guide?
Use a good eyeshadow primer
Once you have cleaned and dried your face, apply an eyeshadow primer before nay eye makeup product. It would be best if you used a good eyeshadow primer to ensure that your glitter eyeshadow stays intact for long and prevents your eyeshadow from creasing, falling out, and smudging.
Use your fingertips or a flat brush to pick your eyeshadow
A brush or your fingertips can be used to pick the eyeshadow from your palette. Use either which is easier and safer for you.
Apply it on your eyelid
Gently apply the picked eyeshadow on your eyelid and ensure it covers the entire area.
Blend in with other shades
You can top other layers of the shades of your choice to build and blend in different colors until you achieve the eye look you want
Use glitter glue for chunky glitter
If you are using chunky glitter, you need to apply glitter glue on top of your primer
Types Of Glitter Eyeshadow
Glitter eyeshadows come in four different types. They include:
Liquid glitter eyeshadow
The liquid glitter eyeshadow is easy to apply; they last for long and are easily blendable. They come with a metallic base with glitter flecks that adds a multidimensional reflection. They also dry up quickly.
Cream glitter eyeshadow
The cream formula glitter eyeshadow has fine or chunky glitters. They can be applied with no need of using the glitter glue and will last all day without any fallout.
Pressed powder glitter eyeshadow
The pressed powder glitter eyeshadow has a velvety smooth texture. They are easily buildable, blendable, and can be layered to achieve the desired look. They need an eyeshadow primer for them to stay intact without smudging, creasing, or falling out.
Glitter loose powder eyeshadow
To stay put, you need to use glitter glue, a primer or eyeshadow base when working with glitter loose powder. Normally, the glitter powder is packed in small containers and needs a barrier to stay intact.
Frequently Asked Questions
Is glitter eyeshadow harmful to the eyes?
No. Glitter eyeshadow can only be harmful when it finds its way inside your eyes. Apply it only on top of your eyelids and away from the inner corner of your eyes.
Can I apply glitter eyeshadow without the primer?
Yes. If you don't want to sue the primer, use glitter glue instead and your glitter will stay intact for long.
Is glitter eyeshadow durable?
Glitter eyeshadow will last all day when applied correctly. Use glitter primer or glitter glue to increase the longevity of your glitter eyeshadow.
Conclusion
Glitter eyeshadow is all you need to spice up your eye look. The best thing is that it has no age limits meaning it applies to all ages. With many glitter eyeshadow brands in the market, finding the most suitable can be challenging. We have done the hard work for you and compiled a list of the best glitter eyeshadow s in the market today.
From our list, our favorite one is the UCANBE Twilight Dust + Aromas Eyeshadow Palette. It is Long-wearing, waterproof, highly pigmented, easily blendable, and buildable and comes with a variety of shades to choose from.
Recommended Articles:
About Author (Nina J. Erickson)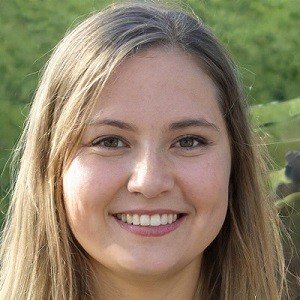 Nina J. Erickson is a makeup blog author who writes about the latest trends and techniques in beauty. With a passion for all things makeup, Nina shares her insights and expertise with her readers, helping them achieve their desired looks and feel confident in their skin. Whether she's reviewing the newest products or offering step-by-step guides, TheApexBeauty's blog is a go-to resource for anyone interested in makeup.