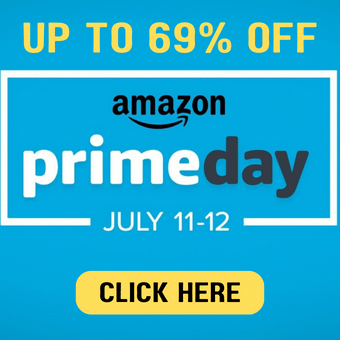 Do you want your eyes to stand out? Using the best eyeliners can help you achieve a stunning eye look. Eyeliners can make your eyes look bigger, make your lashes look lush, and even change and enhance their shape. With eyeliner, you can create those trendy graphic lines you see celebs with on the gram, create a sharp wing or a smokey eye. With so many eyeliner brands in the market today, finding the right eyeliner that will not run, smudge or smear can be a daunting task.
Whether you are in such a liquid eyeliner or an everyday pencil eyeliner, you need one that will stay and will be easier to remove before you go to bed. Here is a list of the best eyeliners that you should try.
Our Picks
10 Best Eyeliners In 2023
This is a water-proof liquid eyeliner that creates the perfect long-lasting cat-eye look. It comes with an ultra-precise tip that is flexible, easy to use and delivers a varying thickness level to put one that suits you. The slim, smooth, brush tip applicator allows you to control the thickness of the line you want.
Whether you want a more natural look, fine, or something broader and bolder, you can achieve it quickly with this eyeliner. This eyeliner is intensely pigmented, and its slender and supple brush tip will help you create the sharpest wing.
Key Features:
Water-proof
Smudge-proof
Long-lasting
Driers quickly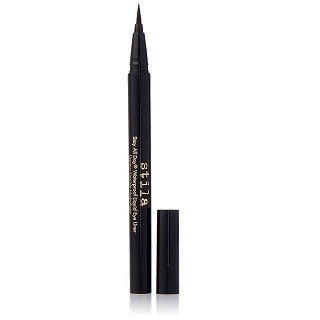 If you are looking for an eyeliner that is water-proof and stays all day, you should try the Stila liquid eyeliner. This formula glides on with ease and helps you to create a thin, precise line, or a bold, dramatic eye looks effortlessly.
It dries quickly, and you don't have to waste time waiting for it to dry. The eyeliner will not smudge or run, and it stays intact until you want to remove it. It comes with a thin marker-like tip that is very easy to use even for the novice. The liquid gel goes on smoothly without skipping, smudging, or pulling.
Key Features:
Smudge and water-proof
Lasts all-day
Dries quickly
Glides on easily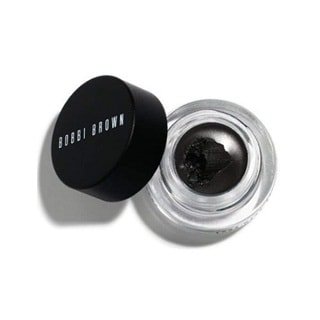 This is a gel-based water-proof eyeliner that offers longer wear. The color stays true for long without fading, smudging, or running. It is effortless to apply, and it delivers both subtle and dramatic looks, depending on your preference.
With its ultra-fine eyeliner brush, it still offers the precision of a liquid liner. With this eyeliner, you can easily cover the hardy-to-reach places and paint the cat-eye wing without skips. The formula has a unique sheen that is rare to get from a liquid or pencil liner.
Key Features:
Long-lasting
Easy to apply
Won't smudge or fade
Dries quickly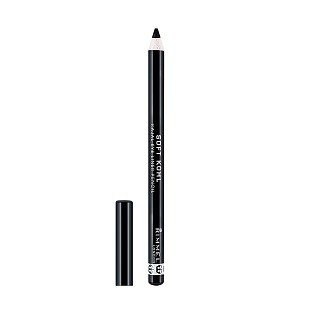 This is a pencil eyeliner that comes with a fade-resistant color. Its formula is soft and smudgeable that can be blended into a lid for a softly smudged look. This color pencil is super affordable and has a super intense color that lasts all day.
The eyeliner is also water-proof, and it will get you through rain, sweat, or even swim days. This eyeliner comes in five different shades that suit a variety of skin types. Its good quality makes it super easy to apply, and you can effortlessly get that winged eye look with no time.
Key Features:
Water-proof
Long-lasting
Super-intense color
Easy to apply
Blendable
With L'Oreal Paris Makeup Infallible Pencil Eyeliner, you can create classic to bold eye designs to fit any mood and occasion. This is a rich, creamy formula that glides smoothly and evenly and delivers long-lasting fade-proof color for up to 16 hours.
The eyeliner comes with a built-in smudger and sharpener that helps you to create versatile eye looks. It has the intensity of a liquid eyeliner combined with a pencil's precision with its precise felt tip, which makes it better than other eyeliners. Based on the pressure you apply, you can create either super-fine lines or a dramatic wing.
Key Features:
Intensely pigmented color
Lasts up to 16 hours
Precision application
Smudge-proof
This is a good eyeliner that lasts for 24 hours without smudging or fading. This eyeliner is what you need to go for a swim or after-work parties as it is water-proof ad withstands sweat and water. It is highly pigmented, and its jet-black color glides on smoothly.
It comes with a slim-tapered tip that gives you the flexibility to create thin or thick lines. It is available in a sharp line, triple edge, or a ballpoint that allows you to create various effects on your eyes.
Key Features:
Water-proof, smudge-proof, and smear-proof
Highly pigmented
Lasts for 24 hours
Glides on smoothly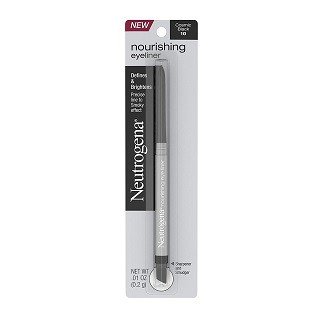 This is a nourishing eyeliner pencil that enhances your eyes' look with its rich, luminous long-lasting color. The eyeliner comes with a built-in sharpener and a smudger for a soft blended smokey look. The eyeliner is formulated with nourish olive oil and rain forest shea butter, and it glides on smoothly without fading or smudging.
This eyeliner pencil has subtle light diffusers that make the white part of the eye appear whiter. Its long-lasting luminous color brightens your eyes, and it also comes in different beautiful shades.
Key Features:
Available in different shades
Glides on smoothly
Safe for contact lens wearers
Infused with olive oil and shea butter
Maybelline Eyestudio Master Precise Liquid Eyeliner will help you master the art of the winged eyeliner. This liquid eyeliner features an ultra-fine brush felt tip that delivers precise definition in one single stroke. This highly-pigmented formula lasts all day for up to twelve hours.
It is water-proof and smudge-proof, making it a better choice for hot summer days to withstand sweat. Apart from lasting all day, this eyeliner is also effortless to remove with a makeup remover. It does not irritate, and it is safe for contact lens wearers.
Key Features:
Water and smudge-proof
Safe for sensitive eyes
Suitable for contact lens wearers
Lasts for 12 hours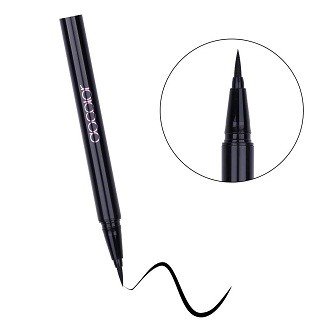 This is a water-proof eyeliner that creates precise, sharp lines. It has an intense color that goes for up to 12 hours without fading, smudging, or running. Its pen has an ultra-precise tip that offers continuous flow, which provides smooth and even lines.
Whether you like fine natural lines or bold, dramatic lines, this eyeliner is easy to use to create your desired look. The eyeliner is suitable for contact lens wearers and people with sensitive eyes.
Key features:
Water-resistant
Smudge-proof
Long-lasting
Safe for sensitive eyes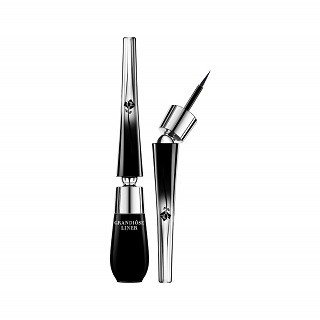 This is another good eyeliner made with skin-friendly ingredients that help boost your appearance and give you an attractive look. Unlike other eyeliners, it comes with a 35-degrees angle, making it comfortable to hold and apply in one smooth stroke. The eyeliner has a super-pigmented formula that dries quickly into a beautiful matte finish.
Key Features:
Highly pigmented formula
Dries quickly
Smudge-proof
Easy to use
How Do You Apply Eyeliner?
Shake the liner or sharpen the pencil
The first step before applying your eyeliner is by preparing it. If you are using a liquid eyeliner, start by shaking the liner for a few seconds so that the liquid can mix well. Ensure that the lid is tightened safely to avoid any mess during this procedure. When using a pencil eyeliner, start by sharpening it or making it dull, depending on how you want your eyeliner to look.
Start in the middle
Place your brush as close as possible to your eyes and start applying the middle of your upper lash and color towards the outer edge line. If you have not perfected the art of drawing an even line, you can first start by drawing the line with a sharp pencil and fill it in with your liquid eyeliner.
With a pencil eyeliner, you begin by holding the outer corner of your eyelid to ensure you create an even straight line, and you start working on the inner corner across.
Fill the gaps
Since you started in the middle and colored the outer corner, fill in the gaps by lining the inner edge. Here, you use small strokes to connect your lines and fill in as needed.
Follow the same for the lower lash
Follow the above procedure to your lower lash to create a winged look.
How To Choose The Right Eyeliner?
The type of eyeliner
Eyeliners come in three forms: liquid, gel, and pencil. These different eyeliners have a different impact on your overall look and result in different thicknesses.
Liquid eyeliner
The liquid eyeliner offers long-lasting results, and it rarely smudges. Its application can be messy before you get used to it, but it is one of the best eyeliners to use.
Pencil eyeliner
Pencil eyeliners are most comfortable to use and apply. They are cheaper, easy to carry, and can be applied on the go. You can also smudge it slightly to get a more natural look.
Gel eyeliner
This is a unique eyeliner that gives you the benefit of the pencil eyeliner's precision and the quality of the liquid eyeliners. There are even the gel pencils that are easy to use, and the formula dries up quickly.
Color
Eyeliners come in different shades, and you need to consider the color you want and one that suits you better. You can match the eyeliner's color with the color of your eyes or choose neutral colors that you can lock every day. If you want to stand out on special occasions, you can select attention-drawing colors too.
Water-proof formula
Smudging eyeliner that is running off your face is irritating. It would help if you choose a water-proof eyeliner. The water-resistant eyeliners do not smudge or flake. If you have watery eyes or live in a rainy, humid area, always go for water-proof eyeliner.
Hours of wear
Some eyeliners stay intact long enough to get you through the day. Always choose a long-lasting eyeliner, and you will go the whole day without redoing it.
Frequently Asked Questions
Which is the best and easiest eyeliner to use?
Pencil eyeliner is the easiest to use and the best for beginners. If your hands are shaky, it is more forgiving than liquid or gel eyeliner. It glides on easily, and it does not tug.
How do you make your eyeliner last long?
By using a water-proof eyeliner, you can be guaranteed that your liner will stay on for a long time.
Should eyeliner go on top or bottom?
Eyeliner should be applied to the top to define and add your lashes' depth and elongate your eyes. You can also use it on your lower lash, depending on your eye shape.
Conclusion
With so many eyeliner brands and types in the market, finding the best one can be an overwhelming task. These are some of the best eyeliners that will not smudge, run, and will stay for a long time. We highly recommend using the NYX PROFESSIONAL MAKEUP Epic Ink Liner from our review of the best eyeliners.
This water-proof liquid eyeliner will help you create the perfect eye look. It is comfortable to use, long-lasting, and dries quickly. This eyeliner is intensely pigmented, and its slender and supple brush tip will help you create the sharpest wing.
Recommended Articles
About Author (Nina J. Erickson)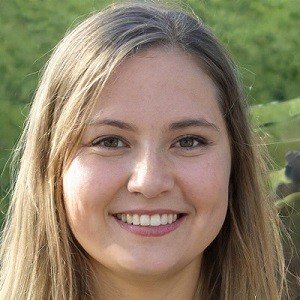 Nina J. Erickson is a makeup blog author who writes about the latest trends and techniques in beauty. With a passion for all things makeup, Nina shares her insights and expertise with her readers, helping them achieve their desired looks and feel confident in their skin. Whether she's reviewing the newest products or offering step-by-step guides, TheApexBeauty's blog is a go-to resource for anyone interested in makeup.