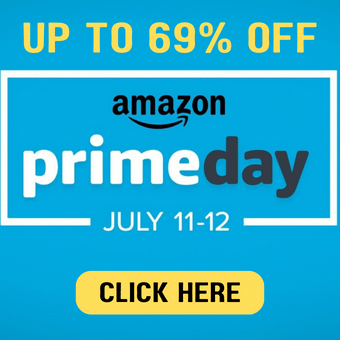 Are you looking to remove hair from your face, body, legs, arms, and bikini area? You can do it in the comfort of your home by using wax strips. This will save you some money instead of making regular trips to the wax center or salon visits. Having wax strips at home can be a savior if you missed your salon appointment for hair removal or wanted to wax before going on a date, and you don't have time to go to the salon. They are an effective alternative when you don't have time and money for salon appointments.
Wax strips are affordable, easy to use, and a mess-free way of achieving a smooth upper lip, silky legs, and a razor-burn-free bikini line. Unlike shaving, using a waxing kit removes hair from the root meaning the results will last longer for 2-3 weeks. Using the best wax strips and following the right technique, you can reduce waxing pain. Here is a list of top wax strips that you can try:
Our Picks
Top 10 Wax Strips In 2023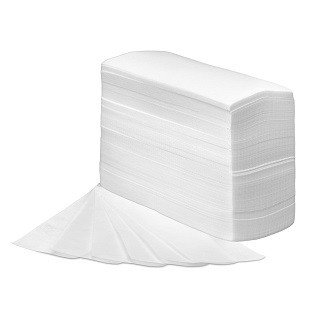 These are high-quality waxing strips that come in a pack of 250 non-woven wax strips. They are designed for removing all soft hairs in your body, face, hands, and legs. These hair removal waxing stripes do not contain any wax. They are used along with soft hair removal wax.
]They come in 3 by 9 inches and are ideal for waxing all areas of the body. These epilating strips are non-woven, very strong, thick, and durable. They do not separate or tear during use.
The good news is a single wax strip can be used numerous times. You can use the strip repeatedly without replacing a new one each time you remove the wax. You can also cut the strip to any size to use in smaller areas.
Key Features:
Non-woven
Durable
Ideal for waxing all areas of the body
Tear-free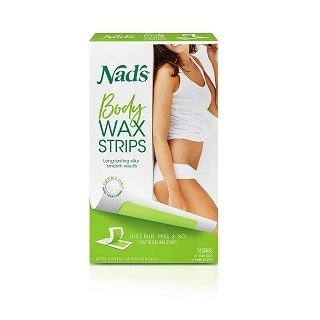 Nad's Body Wax Strips is all you need to remove unwanted hair quickly. This is ready to use a hair removal strip. All you need to do is just rub, peel, and go. It is a perfect kit to use at home, on the go, or while traveling. The wax strips are formulated with natural beeswax for string adherence.
It can remove even the shortest hair by the root. This keeps your skin silky smooth and hair-free for weeks. Nit is a flexible wax strip that is perfect for the legs, arms, back, shoulder, legs, underarms, stomach, and bikini area. The wax strip is suitable for all skin types, and it is gentle on the skin and comes with pre-waxing calming oil wipes.
Key Features:
Ready to use strips with beeswax
Suitable for all skin types
Fragrance-free
Long-lasting silky-smooth results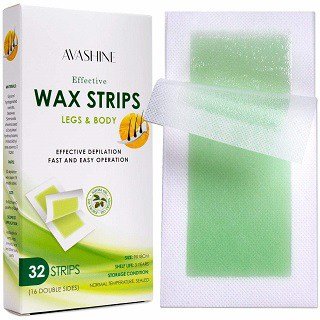 You can remove all the unwanted hair by using Avashine Wax Strips Brazilian Hair Removal in only three seconds. This wax strip removes the hair from the root to get a clean silky-smooth finish. If you are after fast results, mess-free, and effective hair removal, this is the product to use.
This wax strip is made from bee wax essence and jojoba seed oil and is very gentle to the skin and mess-free. Each pack comes with 32 large wax strips that can be cut to match the area you want to wax.
Key Features:
Made with bee wax and jojoba seed oil
Gentle on the skin
Removes hair in only 3 seconds
Clean silky-smooth finish
With Waxkiss Eyebrows Wax Strips Cold Waxing Strip, you can forget about shaving your eyebrows now and then. This is a perfectly designed shape strip for eyebrow waxing hair removal. It easily removes unwanted hair on your eyebrows without using a razor or a trimmer.
This is a convenient and quick way to remove eyebrow hair. A wax warmer is not needed. All you have to do is just rub the strip between your hands for 30 seconds until the strip separates.
Key Features:
Suitable for sensitive skins
Wax warmer is not required
Perfect brows without tweezing
Gentle on the skin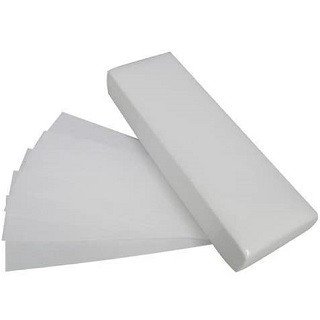 These are high-quality non-woven fabric cloths that help in the depilating waxing process. The pack contains 320 pieces that are a must have for your salon or for using at home. The wax strips come without wax, and you have to use your own hot wax for effective hair removal.
These wax strips are sanitary and disposable, making them a great choice to use on the go or traveling. They come in a large size that can be cut to suit the area you are waxing.
Key Features:
High-quality non-woven fabric
Has 320 pieces
Durable
Ideal for waxing any area of your body
These are large wax strips with a non-woven design that is ideal for soft waxes. These large cloth epilating strips are suitable for waxing large areas like arms, legs, back, and chest.
The pack comes with 100 large strips that make waxing large areas of your body easy and faster. They are a better alternative to Muslim strips and are affordable. The strip comes with post-wax aloe creams.
Key Features:
Ideal for soft waxes
Suitable for waxing large areas like the chest, back, arms, and legs
Come with post-wax aloe creams
Non-woven fabric
For face and bikini hair removals, Nair Hair Remover Wax Ready-Strips is what to use. With these wax strips, you don't need to warm them by rubbing. Just peel them and use the strips directly on the area you want to wax.
The strips will remove short hair in a mess-free manner, and the smooth hair-free finish will last for eight weeks. On the side, the pack is post-wax wipes that clean and soothe the waxed area. The strips are formulated using 100% natural rice bran oil, and the package contains 40 wax strips and four-post wipes.
Key Features:
No need to warm by rubbing
Ready to use strips
Removes short hair
Suitable for all skin types
These are some of the best waxing strips because they come with wax applicator sticks in two sizes to meet your waxing needs. The wax applicator is made with wood material that is smooth and will not hurt your skin. The pack comes with 200 wax strips of two sizes.
One hundred pieces are small wax strips, while the other 100 are large wax strip pieces. Their versatility helps you wax small areas and large areas conveniently without cutting the strips to wax small areas. The strips are made with quality, non-woven material that is thick, durable, and hard to tear.
Key Features:
Quality non-woven material
Come in two different sizes inside one pack
Comes with a smooth wooden wax applicator
Tear-free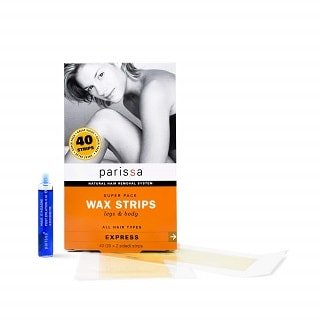 These are salon-quality hair removal wax that gives smooth skin on your body and leg in minutes. The stripes are pre-waxed and come ready to use. They do not require heating or applying warm wax, making it perfect for travel or quick touch ups.
The strips are made with all-natural ingredients, including vegetable oils, bee wax, resin, and plant extracts. The kit has an aftercare oil that soothes the waxed area and prevents irritation.
Key Features:
Has 40 double-sided stripes to use multiple times
Include post-waxing oil to soothe skin
Made with natural ingredients
Convenient and mess-free
Ready to use stripes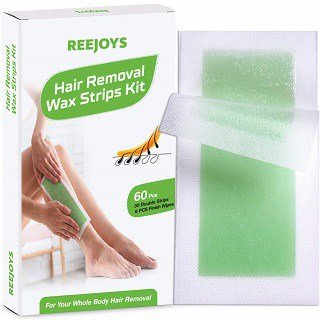 Remove unwanted hair in two seconds with Reejoys Hair Removal Wax Strips. This is a pack that meets all your waxing needs for the arms, legs, hands, underarm, and bikini area. The strips are easy to use and are warmed with hands.
You don't need wax warmers or microwaves and can be carried everywhere. The strips are made with natural ingredients of beeswax essence and jojoba seed oil to protect and nourish your skin. The result lasts up to four weeks.
Key Features:
Easy to use
Long-lasting effect up to 4 weeks
Warmed up by hand
Clean, smooth skin
How To Choose The Right Wax Strip?
Prep Your Skin Before Waxing
You need to prepare your skin by cleaning it and exfoliating using a scrubber. By doing this, you remove all the dead skin cells that may block the hair follicles and result in ingrown hairs. You should exfoliate 24 hours before waxing and not immediately before waxing. If your skin is oily, you can apply some powder to absorb the excess oil.
Follow the step by step guide
All waxing strips come with instructions on how to use them to get maximum results. Please read the instructions and follow them to the letter so the process will be painful and irritating.
Warm the wax stripes
Rub the strips between your hands to warm the wax before using it.
Work on a small area at a time.
For effective results, wax small areas at a time. Since some parts of the body are more sensitive than others, start with the less sensitive areas on the outside and wax your way to the sensitive areas. Using your hands, press the strips firmly on your skin.
When it's time to remove the strip, remove it quickly at one go. Don't let the wax strip stay for long as it will be difficult to remove it. Removing it slowly may be painful, and it may not remove all the hair properly.
Waxing At Home: Aftercare Tips
Apply a post-depilatory lotion- to get rid of wax residue, prevent red bumps and ingrown hairs, and soothe the skin.
Apply soothing and cooling ingredients like aloe vera and tea tree oil to soothe the freshly waxed area. This prevents irritation, redness, and inflammation.
Avoid immediate exposure to the sun after waxing. Wait for five to four hours before going to the sun.
Do not pick ingrown hair. Wait for two to three days to exfoliate the area and follow up with a moisturizer to keep your skin healthy.
Wear loose clothing to avoid friction and irritation that can trigger scratching a freshly waxed skin.
Do not swim right after waxing as it can sensitize your skin and cause red bumps.
Do not apply deodorants, powder, sprays, or lotions on the waxed area other than the recommended products.
Do not go for sports, gym, and other exercises before 48 hours are over.
Avoid hot baths and showers for the next 24 hours after waxing.
Apply antiseptic cream for the next three days on the waxed area to soothe and protect the skin
Frequently Asked Questions
Is it better to wax or shave?
Waxing results in smoother clean skin, and it removes hair right from the root. Also, unlike in shaving, the results of dealing last longer than what you get from shaving. Also, the regrowth you get after waxing is much softer, more delicate, and lighter.
Does waxing stop hair growth?
Waxing makes your skin hair-free for about six weeks, but it does not eventually stop hair growth. What happens is that the hair grows thinners and lighter.
Should I shave the hair left after waxing?
Sometimes waxing may not remove all the hairs as you would wish. This might tempt you to shave the missed hair right after waxing to get clean skin at once. However, it would be best if you did not shave right after waxing as this may result in red bumps and cause irritation.
Conclusion
Waxing is the simplest, easiest, and convenient way to get rid of unwanted hair when you don't have the time and money to book salon appointments. The best waxing strips give smooth, clean, and healthy skin. Your skin will stay hair-free for about six weeks.
Our favorite product is Nad's Body Wax Strips – Hair Removal for Women from our review of the best wax strip. This is ready to use a hair removal strip. The wax strips are formulated with natural beeswax, and it can remove even the shortest hair by the root.
The wax strip is suitable for all skin types, and it is gentle on the skin and comes with pre-waxing calming oil wipes. It delivers long-lasting silky-smooth results.
Recommended Articles:
About Author (Susan R. Orrell)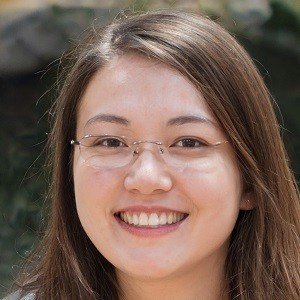 Susan R. Orrell is a well-respected skin care expert and blogger. She has extensive knowledge of skin care products and routines and is dedicated to helping others achieve healthy, radiant skin. Her blog, "The Apex Beauty," is a go-to resource for skincare information, and readers around the world trust her advice. Whether you're looking for tips on how to treat acne, reduce the appearance of fine lines and wrinkles, or maintain healthy skin, the blog has something for everyone.