Do you suffer from frequent headaches, migraine, and chronic pain? It would be best if you tried acupuncture. This ancient Chinese therapeutic method is used to relieve pain and other ailments. Initially, essential herbal medicines were used with sharp stones, bones, or needles to poke in areas where pain needed to be relieved. With modern technology, acupuncture has evolved, and today we have acupuncture pens. This less invasive method helps to relieve pain and stubborn aches in a more natural way. Acupuncture pens are electrically charged and an excellent remedy for pain.
The pens stimulate and soothe tense muscles and relieve pain. You can use acupuncture pens to treat various health conditions like joint pains, shoulder and neck discomfort, muscle and joint pain, and other kinds of stiffness. They offer effective self-treatment options that you can comfortably do at home if you don't want to go to a practitioner.
How does an acupuncture pen work?
For those who are worried about needles, it's good to clarify that acupuncture pens do not use needles. They are small devices that transmit electrical impulses without penetrating your skin. It is a non-invasive and drug-free method of treating pain. Here is a list of the best acupuncture pens that you can try.
Our Picks
10 Best Acupuncture Pen
This 5-in-1 multifunctional acupuncture pen will deal with all your body pains. It comes with 5 different massage heads which offer different types of therapy. There is a dome-type head for superficial therapy for your health care and facial beauty, a scrapping type for acupuncture and blood circulation, a spheroidal type for quickly alleviating pain, a node type for partial body pains, and acupuncture tapping for tapping and rolling massage to relieve body pains. It is one of the best acupuncture pens because it comes with 9 different power levels, which gives you control to select a power level according to the type of treatment required. This pen loosens the frozen muscles relieving pain quickly and relaxing your muscles. The pen is a proven method for treating chronic pain and conditions like arthritis and fibromyalgia.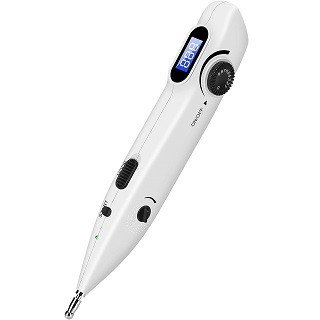 This portable, wireless, and rechargeable acupuncture pen is easy to carry and operate. This pen comes with two probes. One big probe is for use on your body, while the small one is for use on your ear, head, nose, and face. This pen does not work on dry skin, as you may feel numbness or tingling. Apply gel or body lotion on your skin before use for effective treatment. This acupuncture pen comes with a display screen, and you can adjust the intensity level depending on your personal sense of different body parts and according to your comfort. There are 9 levels that you can adjust the sensitivity of detecting acupuncture points.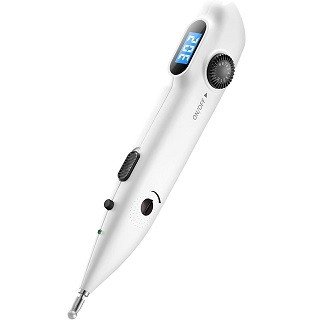 This is one of the easier-to-use acupuncture pens for treating constant pain. You only have to press the acupuncture pen massage tools on the affected areas, and it will release electrical impulses that will alleviate your pain and make you feel comfortable. This pen comes with two massage heads. The big one is for use on your body, while the smaller one is for use on your face, head, and ears. You can adjust the sensitivity and intensity while locating acupuncture points depending on the body part you are treating and your comfort. This pen is compact and lightweight. You can easily carry it in your pocket, handbag, pouch, or backpack while traveling. It is rechargeable and cordless.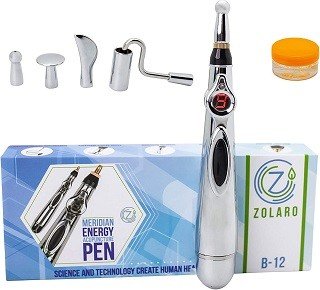 Say goodbye to all your body pains with Techno Zone Acupuncture Pen. It comes with 5 nodes that offer various therapy relief. A spheroidal node helps quickly alleviate pain, a scrapping node for acupuncture and blood circulation, a point-type node for partial body pains, a tapping node for whole body therapy and rolling massage to relieve pain, and a dome node for facial beautification and health care. Frequent use of this acupuncture pen helps reduce pain, prevent premature aging, induce relaxation, improve skin condition, and boosts your mood. This pen promotes blood circulation, prevents the appearance of wrinkles, reduces muscle soreness, and relaxes tight muscles. The pen is ergonomically designed to offer a full hold with all five fingers to reduce electric anesthesia.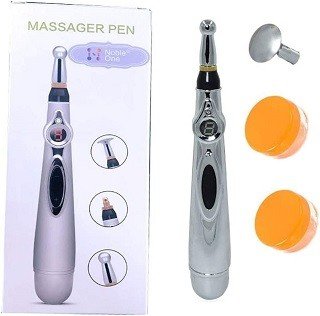 Enjoy the benefits of acupuncture therapy in the comfort of your home without the invasive needles by using N Noble One Lazer Acupuncture Pen. This is the best tool to relieve pain from fatigue, overworking or sedentary postures in the office. This electric acupuncture pen comes with 5 unique head nodes and 9 adjustable intensity levels. Frequent use of this electronic pen will help you relieve pain, improve your skin condition, boost your mood, relax your muscles and prevent premature aging. Unlike most acupuncture pens, this one has the unique feature of automatically turning off to prevent overheating and save energy.
This is a 3-in-1 massager pen that will help you relieve pain and feel comfortable and relaxed. The device has three uses: a dome-type head for facial beautification and health care, a spherical head for alleviating pain quickly, and a node head for partial body pains. This pen is ideal for relieving pain in different areas of your body, relieving stress, and offering relaxation. It comes with 9 gears that can be adjusted freely to suit different people and areas in the body. One is the lowest gear, and 9 is the strongest gear. For initial use of this device, you are advised to use gears 1-3 and adjust accordingly depending on your comfort.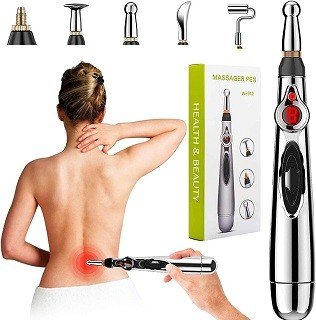 Are you experiencing tight muscles, discomfort, cold feet and legs, anxiety, or poor sleep quality? The Dazzfond acupuncture pen can help you solve all these problems. This acupuncture pen can massage your different acupuncture points depending on your physical condition and offer unprecedented comfort and relief. This electric acupuncture pen is equipped with five different heads to address unique needs in your body. It can be used quickly to relieve pain, enhance blood circulation, and for your beauty and facial care. The pen comes with nine adjustable intensities that can be switched freely to treat different areas in your body.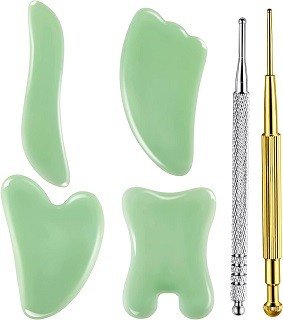 This is a 6-piece massage tool with everything you need to relieve pain and relax your body. In the package, you will get a retractable copper robe for forehead lifting by relieving flaccid skin, eye massage, removing dark circles and wrinkles, and facial muscle pulling. A stainless steel probe is ideal for accurately finding sensitive acupuncture points with four scraping plates in different sizes and shapes for your face, back, arm, and neck. The pen massage tool is sturdy and durable. The handle is textured for safe grip during use, and the scraping plates are made of quality jade, hand-carved, and polished into your desired shape. When using this pen, applying a small amount of contact gel or massage oil, or lotion can help to reduce discomfort.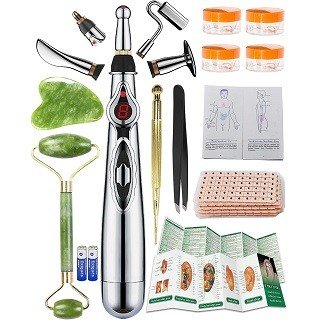 This is a superset with all the necessary acupuncture and Chinese acupressure products. It has an electronic acupuncture pen with 4 additional and replaceable acupuncture heads, tweezers, 4 massaging gels, a jade roller, Guasha, 600 counts of ear seeds, an acupressure chart, and a user manual. The pen has 9 different power levels to reduce pain, boost your mood, improve relaxation, boost your mood, prevent premature aging, and improve your skin condition. The Guasha kit stimulates your immune system and activates sweat glands to excrete toxic waste. It is made with a natural premium jade stone, which increases blood flow and relieves buildup by scraping it up and down your skin. It makes your body feel relaxed and comfortable. The jade roller reduces facial puffiness, relieves tensed muscles, and helps your skin look fresh. Please watch this video for more clarity.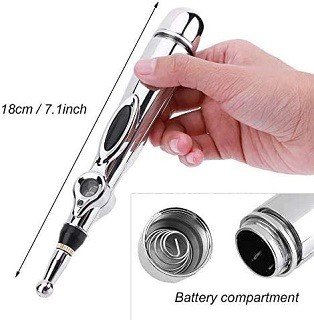 This 3-in-1 electronic acupuncture massage pen comes with 3 unique heads. There is a dome-type head for facial muscle rejuvenation and health care, a node-type head for partial body pains, and a spherical-type head for quickly alleviating pain. The pen comes with nine power levels that can be adjusted freely based on the different treatments needed. The pen is portable, user-friendly, and safe for use with no side effects.
Conclusion
Though ancient acupuncture treatment included needles and Chinese herbal medicine, which was very invasive, the acupuncture pen offers a similar treatment that is non-invasive. It transmits electrical impulses that stimulate the acupressure points without penetrating your skin and offer the same kind of relief. Acupuncture therapy not only treats pain but can also offer body relaxation, prevent premature aging, improve the condition of your skin and help you sleep better. Find one that will handle all your pains from this list of the best acupuncture pens.
About Author (Susan R. Orrell)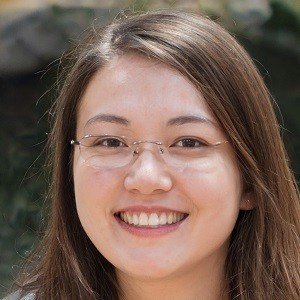 Susan R. Orrell is a well-respected skin care expert and blogger. She has extensive knowledge of skin care products and routines and is dedicated to helping others achieve healthy, radiant skin. Her blog, "The Apex Beauty," is a go-to resource for skincare information, and readers around the world trust her advice. Whether you're looking for tips on how to treat acne, reduce the appearance of fine lines and wrinkles, or maintain healthy skin, the blog has something for everyone.