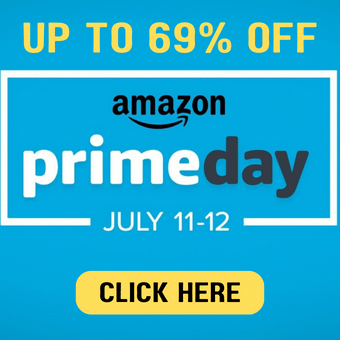 Your eyes remain to be the windows to your soul. That is why you should always invest in eye makeup products that make your eyes look stunning every day. It is no wonder that Korean beauty products have been accepted as a beauty wonder in the world. Korean eyeliner tops are the most popular eyeliner brands in the world. What makes it so unique? Korean eyeliner is formulated with high-quality standards and ingredients. It is long-lasting, waterproof, and smudge-proof. With Korean eyeliners, nailing the best-winged eye is so easy. With the many eyeliner brands in the market, here is our list of the best Korean eyeliners you can try.
Our Top Picks
10 Best Korean Eyeliners
This is one of the best Korean eyeliners formulated to stand out from tears, sweat, water, and oily skin. It is a waterproof liquid formula that keeps your eye makeup beautiful for a long time. It comes with an ultra-fine brush tip, which is only 0.1mm wide, that helps you create smooth strokes for precise lash lines and wing flicks. This eyeliner is water-resistant and smudge-proof. It is also easily washable with warm water despite being a solid, water-resistant formula. It applies smoothly and stays on all day. It is infused with beauty essence ingredients like hyaluronic acid and rosehip extract that hydrates the skin underneath.
Pros
Perfect winged eyeliner
Waterproof
Smudge-proof
Best for easy strokes
Washable
Best for oily skin
Cons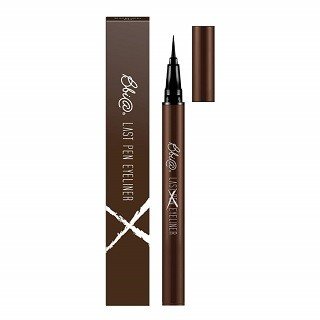 This is a quick-drying eyeliner fit for use anywhere at any time. It will dry instantly, leaving no marks or smudges behind. The eyeliner is an ink-tank type eyeliner, which prevents the eyeliner from cutting off. It comes with a fine, soft brush that makes drawing easy and quick. One stroke of this eyeliner is enough to give you a wild or natural eye look. This eyeliner stays put until the last minute of the day because it has a strong coating layer, which prevents smudges. The eyeliner offers long-lasting, perfect, and neat eye makeup because it has powerful sebum and sweat proof. It is available in 5 shades and is also easy to remove by using lukewarm water.
Pros
Ink tank type eyeline
Drawing easy and fast
Waterproof
Prevents smudges
5color
Long lasting
Easy cleansing
Cons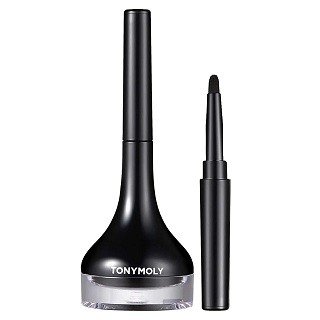 This is one of the best Korean eyeliners with a friendly budget. The eyeliner has a perfect consistency that applies easily, which makes creating a cat eye effortless. The eyeliner is long-lasting and budge-proof. It provides non-smudging lines that stay all day. This eyeliner has a pearl brown color that compliments people with brown eyes. The formula glides on quickly and smoothly and comes with an applicator brush, which is easy to use. The eyeliner dries quickly, and you don't have to waste your time waiting for it to dry. It is also water resistant, and it is easy to remove by using warm water, followed by a makeup remover.
Pros
Patented ingrediets
Provides non-smudging lines
Long-lasting
Budge proof
Iconic packaging
Cons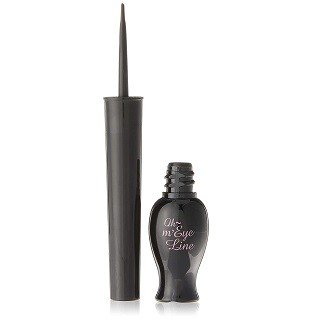 Give your eyes a vibrant look by using this Etude House Waterproof Eyeliner. It is a long-lasting gentle formula with a soft and lightweight texture that is ideal for delicate eyelids. The eyeliner is in a liquid state, and it is highly pigmented. It glides on effortlessly to give a bold, smooth line that is smudge-proof. This eyeliner offers an intense color with highly concentrated pigments giving a perfectly dark black glossy finish. Its fine brush will help you make precise strokes to create a perfect eye look effortlessly. This liquid eyeliner is available in 5 various shades to suit people with different skin tones.
Pros
Highly concentrated pigments
Smoothening
Waterproof
Smudge-proof
Best for sensitive and damaged skin
Easy to use
Cons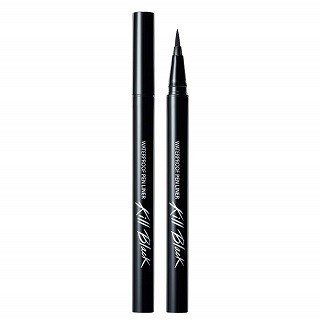 If black eyeliner is your thing, Clio Waterproof Pen Liner will work wonders on your eyes. It is formulated with carbon black, which gives you the deepest black you can imagine. The eyeliner has a spongy felt tip that allows you to create dramatic winged lines or precise lines that will last all day and night. The brush is highly elastic, which makes it easy to draw and adjust the thickness of your lines. This liquid eyeliner is designed for both makeup artists and beginners. It is easy to use and cleanse, smudge-proof, and waterproof. The smooth sliding liquid texture of this eyeliner in ink tank technology allows you to create your eye makeup in one touch.
Pros
Formulated with carbon black
Beauty award winner
Waterproof
Unique felt tip pen
Last all day and night
Smudge-proof
Easy to use and cleanse
Cons
Requires two strokes for intense color
This water-resistant gel eyeliner is gentle for sensitive eyes and lasts all day. It is available in three different finishes: shimmer, satin, and matte. The smudge-resistant formula is infused with botanicals and vitamin E  that help nourish and enhance your lashes and skin. The eyeliner comes with a pencil applicator that glides the gel on smoothly and stays put the whole day. Whether you want to create a more natural look or a bold eye cat, this gel eyeliner will do. This high-tech formula is long-wearing and water-resistant. It is infused with an exclusive lash-boosting complex that nourishes, strengthens, and enhances the appearance of your lashes.
Pros
Infused with botanicals & Vitamin E
Three different finishes
High-tech formula
Water-resistant
Smudge resistant
Best for sensitive skin
Cons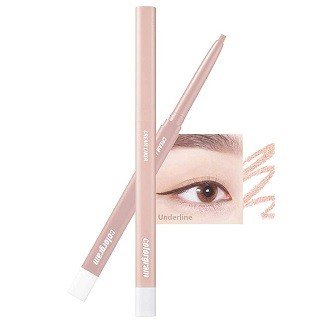 This super creamy and highly pigmented eyeliner draws clearly and smoothly to create a fantastic eye look with an ultra-fine matte finish. The intense color of this eyeliner is water-resistant, smudge-proof, and stays put all day long. The formula offers full coverage that defines your eyes perfectly, and it's available in 10 different shades that are easily buildable to create multiple styles. The creamy texture of this eyeliner pencil slides on with ease, and you can also use it for your eyebrows. This eyeliner is safe to use daily, and because it is long-wearing, you don't need to worry about doing any touchups during the day.
Pros
0.09Inch slim liner optimized
Waterproof
Ultra-pigmented
Long-lasting
Smudge-proof
Easy to use
Cons
Not completely opaque black
K-palette Real Lasting Eyeliner is a film-type eyeliner that is formulated with high water-resistant polymers to keep the look of your eyes intact for 24 hours. This quick-drying liquid eyeliner has a unique brush tip that glides smoothly to create fine, precise lines or bold, dramatic looks. The formula's intense color helps you create remarkable smudge-resistant effects that last. The eyeliner is easy to use and clean off. You only need one coat of this eyeliner because the color does not fade as it dries. It also dries quickly and stays on all day without smudging.
Pros
Waterproof
Intense color
Lightweight
Buildable
Cons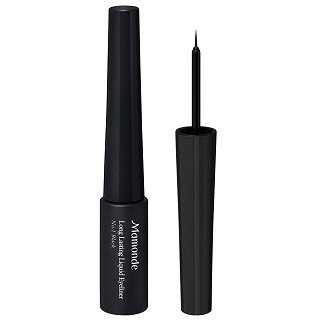 Line your eyes with detailed precision with this Mamonde Long Lasting Liquid Eyeliner. It is lightweight and glides on fast to create sleek and precise detailing. Its slim felt tip helps you to create fine lines because it makes control easy, and the formula is smudge-free and long-lasting. The smooth formula glides on effortlessly to create a defined eye look. This liquid eyeliner is buildable and has a deep rich color that lasts. This liquid eyeliner can create a simple natural look or a sultry effect, and it's ideal for all skin types.
Pros
Creates fine, precise lines
Lightweight
Smudge-free
Long-lasting
Easy to use
All-day perfect wear
Cons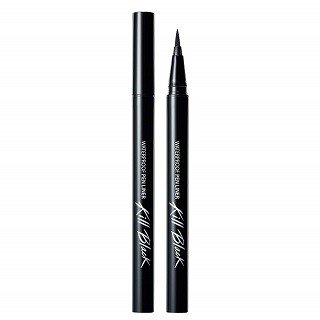 If you have a waterline that messes with your eye makeup, BBIA Last Auto Gel Eyeliner is the solution you need. It is formulated with enhanced multi-proof technology to be water, sweat, and sebum resistant. This eyeliner has a soft sliding soft texture with a delicate touch of fine detail optimized for the hidden zones like mucous membranes and under the eye line. You can create a sharp and clear eye line with one touch with its fine brush that allows you to draw the perfect wing for a cat-eye look. The formula dries quickly, and it is available in 5 shades. It washes off easily with lukewarm water.
Pros
Super smooth gliding texture
Waterproof
Long-lasting
Fast Drying
Wash off easily
10 Color
Cons
Conclusion
Korean eyeliners have unique characteristics, making their quality and the results they offer great. The eyeliners are highly water, smudge, and sweat-proof, making them last all day. With eyeliner that has no worries about any touchups, you are good to go because your eye look will stay intact all day. Most of these eyeliners come in various shades to help you create different styles and suit a variety of skin types and eye colors. From our list of the best Korean eyeliners, which one would you like to try?
About Author (Nina J. Erickson)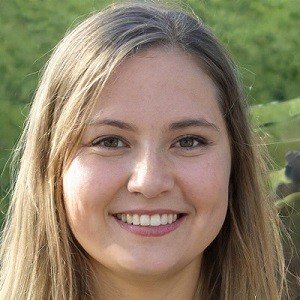 Nina J. Erickson is a makeup blog author who writes about the latest trends and techniques in beauty. With a passion for all things makeup, Nina shares her insights and expertise with her readers, helping them achieve their desired looks and feel confident in their skin. Whether she's reviewing the newest products or offering step-by-step guides, TheApexBeauty's blog is a go-to resource for anyone interested in makeup.