For you to achieve flawless makeup, you need to use the right products and quality brushes. Your makeup brushes can be a game-changer when it comes to applying perfect makeup. Your expensive makeup product may not give you the flawless look you want if you use the wrong brushes. That is why you should invest in quality makeup brushes. After all, you will be using these brushes every day, and they will last for a long time.
Makeup brushes are so many! It would be best to have a setting brush, eye brush, foundation brush, blush brush, loose powder brush, contouring brush, concealer brush, and many more. The good news is that these brushes don't have to be expensive. You can get quality brushes at the drugstore at very affordable prices. Since these makeup brushes come pre-packed and sealed, it can be challenging to test and know which are the best for you. We have done the hard work for you and compiled a list of the best drugstore makeup brushes you can buy. Read on.
Our Picks
10 Best Drugstore Makeup Brushes
This is a set of makeup brushes for your eyeshadow, blush, foundation, and concealer. It has a miracle complexion makeup sponge designed with revolutionary latex-free foam technology. These sponges evenly blend liquid foundation to give you a smooth, engaging finish. These sponges can be used damp or dry. The makeup brushes are lightweight, which makes them easy to use. The brushes are quality, last for a long, and are very easy to clean. These brushes have ultra-soft bristles, and they do not shed.
Key Features:
Easy to use and clean
Durable
A pack of 4 brushes and a sponge to cater to all your makeup needs
Quality lightweight brushes
Ultra-soft bristles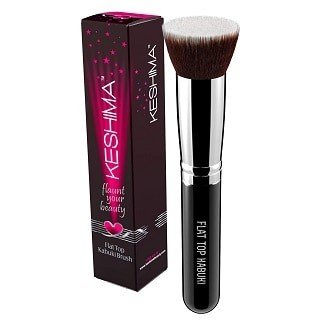 This is a super dense makeup brush suitable for blending and puffing. It has a flat head that allows even streak-free and path-free applications to give you a flawless look every time. The brush is made with the highest quality material made from premium synthetic fibers. Its bristles are super soft and do not absorb foundation in the brush itself, making it easier to clean. This brush does not shed as it goes through a seven-step process during manufacturing which prevents shedding.
Key Features:
No shedding
Ideal for powder, liquid, and cream foundation
Extra dese and super-soft bristles
Offers even, streak-free, and patch-free application
Easy to clean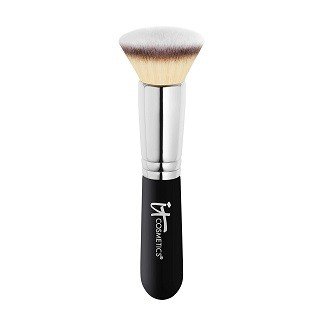 This is a flat top buffing brush that is densely packed to make your foundation application easy. It is ideal for your ideal liquid and powder foundation. Its ultra-plush synthetic hair is designed to pick up the right amount of foundation or makeup to deliver even distribution. This brush allows you to create flawless coverage while buffing and blurring away large pores, fine lines, and wrinkles. It features a soft touch handle that allows easy gripping to create a naturally flawless finish.
Key Features:
Densely packed bristles
Soft-touch handle that allows easy gripping
Ideal for both powder and liquid foundation
Blurs imperfections with an adequate foundation coverage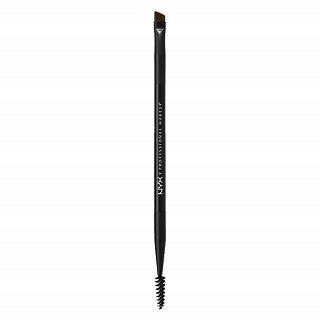 This is a makeup brush for grooming your brows. It features a dual-sided design where one end has an angled brush and a spoolie on the other end. This one tool can give you gorgeous brows. You can use it to tame, line, and fill sparse brows. It is designed to work with all brow formulas, whether using gel, waxes, or pomades. Its angled brush will help you quickly and expertly push brow makeup into your eyebrows, and you can use the spoolie end to comb and tame.
Key Features:
Made with soft synthetic fibers
Dual-sided design with an angled brush for precision application and a spoolie for blending and shaping
Works with all eyebrows formulas
Light brush that is easy to use
This is a high-quality foundation and concealer brush that works well with gel, liquid, powder, and cream products. This brush has flat tapered bristles that help blend your foundation better in tricky areas like the corners of your eyes and nose. The head of this brush allows makeup application to be easy and mess-free. It is made with vegan synthetic bristles that are suitable for all skin types. The bristles are covered with an antibacterial coating to keep the brushes clean and reduce the chances of infections.
Key Features:
Long-lasting brush that lasts up to 100 washes
Suitable for all skin types
Works with all types of foundation and concealers
Works great on hard-to-reach areas with its pointed brush
Does not shed
This is a makeup brush set with 18 quality brushes. Every brush you need to do your makeup is included in this set. There is a brush for your foundation, concealer, blush, eyeshadow, highlighter, eyebrow, pressed or loose powder, and blending. The brushes are made of soft and silky synthetic fiber bristles, and the brushes handles are made of high-end alloy and wood material. Lal the brushes are fine and dense and do not shed. They are suitable to use on all skin types, even the most sensitive.
Key Features:
Easy to carry all the brushes in its case
A set of 18 makeup brushes at an affordable price
High-quality, dense bristles
Ideal for beginners and professionals
This is your ideal blending brush for your foundation and contour. Its bristles are super soft and densely packed to give you even coverage. They are designed to pick the perfect amount of foundation, blush, or bronzer to ensure that your makeup is blended perfectly on your face without creating any visible lines or streaks. The brush is very soft and absorbent, making it suitable for both wet and dry makeup products. This brush is vegan-friendly and cruelty-free.
Key Features:
Easy to clean
Does not shed
Ultra-fine and soft bristles
Ideal for both wet and dry makeup products
Vegan
Cruelty-free
This is a makeup brush perfect for powder, blusher, bronzer, and shimmer applications. It is made with extra soft and high-quality synthetic bristles densely packed to give you effective coverage. This brush delivers powder smoothly and evenly. The bristles are extra-large in size and dese, which makes powder application quickly. This face brush features full, slightly tapered bristles to contour the face and hard-to-reach areas like the nose, lips, and eyes.
Key Features:
Delivers powder smoothly and evenly
Made with high-quality extra soft bristles
It helps to build a gorgeous coverage easily
Ideal for full-face quick touches
This is a set of 12 makeup brushes with everything you need to create flawless makeup. The brushes are made of premium synthetic fiber materials that are soft with a fine texture. The set includes eyeshadow brushes, eyebrow brushes, eyeliner brushes, blending brushes, and concealer brushes. They all come in different shapes and sizes of bristles to create any makeup look you want. These brushes are made of natural wood, and the bristles remain extremely tightened for long life.
Key Features:
A set of 12 makeup brushes
Does not shed
Handles made of natural wood
Brushes made of premium synthetic fiber materials
This is a large powder brush that is vegan. Its bristles are densely packed to pick up, press, or blend powder into your skin. The synthetic bristles are soft on your skin and create a smooth and flawless look without a cakey finish. The brush has a large surface and a plush feel that allows the perfect amount of powder to be lifted.
Key Features:
Best brush for powder application
Densely packed bristles
Easy to clean
long-lasting
How To Choose The Right Drugstore Makeup Brush?
Bristle Material
Makeup brushes are either made of natural or synthetic materials. Brushes made from natural materials are ideal for powder-based makeup. On the other hand, brushes with synthetic material are ideal for liquid or cream-based makeup because you can easily clean and maintain them. The type of makeup you are using will help you select a suitable makeup brush material.
Comfortable Grip
Look for drugstore makeup brushes that have a comfortable grip. These are tools you will be using every day, and you need something you are comfortable holding. A comfortable grip will help you do your makeup flawlessly.
Dense Bristles
Dense bristles help to pick the right amount of product. It is usually great for powders with superfine textures and prevents wastage and messy application.
Size of Bristles
The size of the bristles on your makeup brush will depend on the intended purpose of the brush. Using a makeup brush with large bristles allows for just the right amount of makeup to be picked and used.
Easy to clean
Look for makeup brushes that you can clean easily. This will prevent bacteria from accumulating in your brushes to reduce the chances of infections.
Frequently Asked Questions
How often should you clean your makeup brushes?
If brushes are used for cream and liquid makeup products, clean them after every use to reduce bacteria formation. For makeup brushes used on powder products, clean them about once a week.
Is drugstore makeup brushes good?
If you are on a budget, drugstore makeup brushes are where you should turn to. These brushes serve you just fine and work as effectively as their pricier counterparts.
What can you use to wash makeup brushes?
You can use your shampoo or cleaning household products like dishwashing liquid to clean your makeup brushes. Cleaning your brushes regularly helps to get rid of dirt and oil on your brushes.
Conclusion
Your makeup brushes dictate the final results you get after applying your makeup. That is why you need to invest in quality brushes that will give you a flawless makeup finish. Quality does not mean expensive. You can get excellent makeup brushes at the drugstore at a very affordable price. Use this list of the best drugstore makeup brushes to select quality and long-lasting brushes that will up your makeup game. We highly recommend using the long-lasting Revlon Flat Foundation Face Makeup Brush. It works with all types of foundation and concealers, whether liquid, powder, or gel, and can last up to 100 washes. Its bristles have an antibacterial coating; thus, you're guaranteed no chances of infection.
About Author (Nina J. Erickson)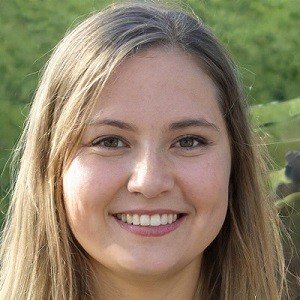 Nina J. Erickson is a makeup blog author who writes about the latest trends and techniques in beauty. With a passion for all things makeup, Nina shares her insights and expertise with her readers, helping them achieve their desired looks and feel confident in their skin. Whether she's reviewing the newest products or offering step-by-step guides, TheApexBeauty's blog is a go-to resource for anyone interested in makeup.