Did you know that drugstore eyeshadow palettes are better than luxury and fancy pallets? Using drugstore eyeshadows will help you create wild looks with their massive color options to match any outfit or mood. Since fancy palettes will cost you a fortune, you can shift to the best drugstore eyeshadow palette. They are moisturizing, highly pigmented, long-lasting, and super affordable too. When it comes to eyeshadows, price is not a determinant of quality. There are incredible low-priced drugstore eyeshadows that perform better than the costly luxury palettes. Here is a list of incredible drugstore eyeshadow pallet options to choose from.
Our Top Picks
Top 10 Drugstore Eyeshadow Palettes Of 2023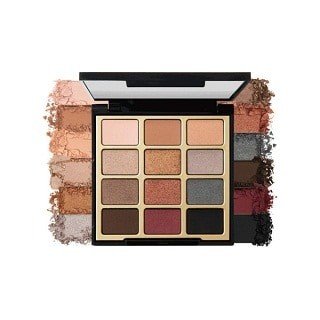 This is a highly -pigmented eyeshadow palette that can help you create bold and subtle looks. The palette comes with twelve universal neutral and highly pigmented colors that ensure you have a look you desire.
The eyeshadow powders are formulated so that they are easily blendable together or can also be worn alone perfectly. The eyeshadows have a velvet-like feel that gives a smooth finishing. The palette comes with a step-by-step instruction guide that helps you to create professional-looking results.
Key Features:
Highly pigmented colors
Blends easily
Can be worn alone
Long-lasting results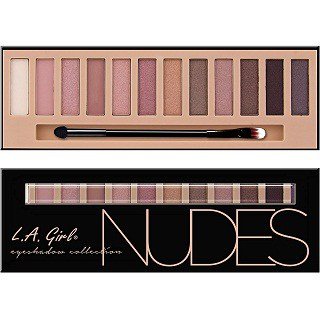 The L.A. Girl beauty brick eyeshadow has more than 6000 Amazon reviews and a rating of 4.4 stars. The pallet costs less than $10 and it's a clear indication that price does not necessarily indicate eyeshadows' quality.
This is a great option for the nude colors with 12 shades ranging from nude to bolder neon's that will help you create stunning looks. The pallet case is magnetic and inside includes a mirror and a double-sided eyeshadow applicator. The brush will help you apply your eyeshadow seamlessly, create lines, highlight, and create subtle looks.
Key Features:
Smooth mattes
Highly pigmented
Super affordable
Long-lasting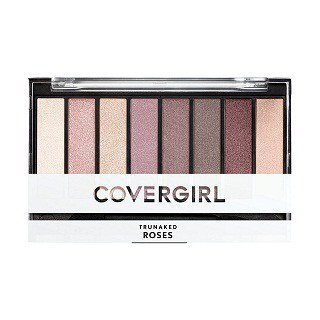 You can now create subtle daytime looks and dramatic smoky eye evening looks with COVERGIRL truNAKED Eyeshadow Palette. The eyeshadow palette has eight highly-pigmented shades that help you create limitless possibilities.
If you love soft pink hues and cool tones, this is your to-go eyeshadow palette. The color features neutral shades in a mixture of mattes and shimmers. They are formulated to blend easily so that you mix and match colors and create a flawless finish.
Key Features:
Intensely pigmented shades
Blends easily
Eight shades including glitter, matte, and shimmer
Smooth and silky texture
NYX PROFESSIONAL MAKEUP Ultimate Shadow Palette features 16 highly-pigmented shadows that will make your eyes pop with stunning colors. The mix of finishes ranges from matte, satin, shimmery, and metallic, which helps you easily match your skin tone.
Each set of shades entails a vivid mix of velvety-rich textures and fascinating finishes. This ultimate shadow palette comes in a mix of varieties. They are; warm neutrals, cool neutrals, brights, ash, phoenix, smokey, and highlight. This gives an option for everyone. Its pigmentation and blendability make it easy to work with.
Key Features:
A silky texture that glides easily
Easy to blend
Very pigmented
Variety of shades in a single palette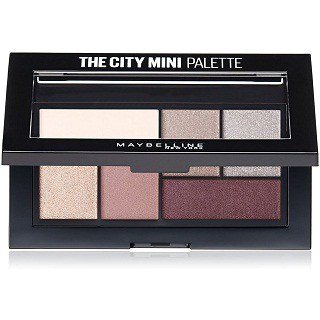 This is a creamy formula that glides smoothly on your eyelids. This palette is a great option for beginners and consists of matte nude shades together with shimmering ones. The palette comes in eight super-saturated shades that accentuate your eyes and have a lasting impression.
With this eye shadow palette, you can create simple natural eye makeup looks to dramatic party looks. On the back of the palette, you will find instructions that will help you apply the eyeshadow effortlessly like a pro.
Key Features:
Highly pigmented shades
Lasting impressions
A creamy formula that glides smoothly
Blends easily
Best Pro Eyeshadow Palette Makeup is formulated using ingredients of the highest quality. The palette consists of waterproof eyeshadow cream formula and every imaginable finish is available in this palette. It has lustrous hues in gold, and dark brown shimmers to create natural and dramatic glamour looks.
This ultra-pigmented powder creates sensuous looks and has a high staying power. With 16 bright pigment naked colors, you can easily find a shade that matches your skin tone. The formula also blends easily and is perfect for wearing every day or on special occasions.
Key Features:
Blends easily
High staying power
Ultra-pigmented powder
16 shades to choose from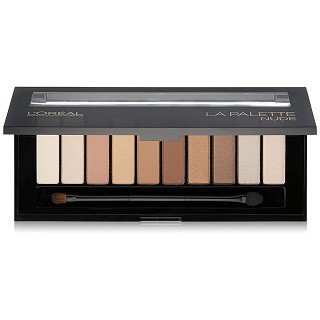 If you are looking for a drugstore eyeshadow palette that will last through anything, L'Oréal Paris Color Riche La Palette Eyeshadow should be your choice. The formula is 100% waterproof and it will last through heat, humidity, water, tears, and sweat.
You can create endless sophisticated eye looks whether it is classic, bold, natural, trendy, or dramatic look. The palette offers everything you need to master when it comes to the art of nude eyeshadow. It comes with 10 highly pigmented shades that range from light to dark shades. Its finishes are buttery matte, lustrous sheen, and shimmery satin.
Key Features:
100% waterproof
Long-lasting
10 highly-pigmented shades
Step-by-step instructions
You can create a sunset eye look with Revlon Illuminance Creme Shadow palette with its shimmer-infused sunset hues. It contains sheer luminous shades that blend easily and smoothly. Its luxurious colors stay up to 16 hours without fading, smudging, or creasing.
The palette comes with a variety of colors and finishes and you can mix and match them to create your preferred color combinations. The palette has four beautiful coordinated shades that you can create endless eye looks.
Key Features:
Ophthalmologist-tested
Available in a variety of shades
Crease-resistant
Does not fade
Glides easily and blends smoothly
Lasts for 16 hours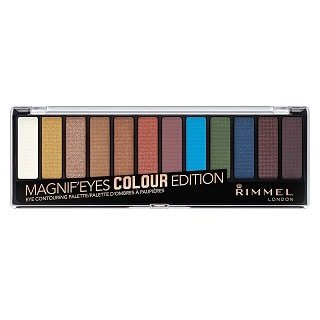 This is a 3-in-1 eyeshadow palette that can also be used as a liner and as a highlighter. The palette is available in 12 shades that range from nude to bold. It is suitable for all skin types with a mixture of matte and shimmery pigments.
You can use the formula for shading, sculpting and defining. Using Rimmel Magnifeye's Eyeshadow Palette can help you create multiple eye looks and eye shapes by playing with its variety of shades. This vibrant intense formula is crease-proof, smudge-proof, and lasts all day.
Key Features:
Highly-pigmented
Has shimmer and matte shadows
Long-wearing
Can be sued for sculpting, shading and defining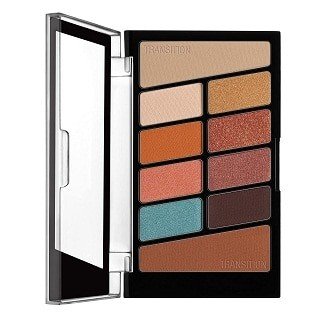 This is a liquid eyeshadow that dries up quickly once applied to your eye areas. The eyeshadow palette features 5 matte shadows and other 5 shimmery shadows. The shadows are enriched with macadamia oil to provide continuous moisture on the delicate areas of the eyes.
Its dynamic and vibrant shades are highly pigmented and blend beautifully into the skin. The eyeshadow is very lightweight and does not cake or crease all day. The eyeshadow is waterproof and its different shades will help you create wild eye looks that last all day and night.
Key Features:
Waterproof formula
Highly-pigmented
Moisturizing effects
Liquid eyeshadow
How To Pick The Right Drugstore Eyeshadow Palette?
Eyeshadow palettes come with a rainbow of shadows that can be confusing. Here is a guide on how to use the eyeshadow palette.
1. Know what color goes where
Eyeshadows come in wild colors but generally, all these shades are divided into three categories: lights, mediums, and dark shades.
Light colors
The light shades are applied on the grand stage of your eyeshadow application. It should be applied on the inner corner of your eyes and the brow bone. These are the areas that will reflect maximum light to make your eyes brighter.
Medium colors
If you want to create a natural makeup look, use medium color shades or a shade that is darker than your skin tone.
Dark colors
Dark shades are used to outline the V in the crease of your eyes to give an illusion of giant eyes.
2. Apply a base eyeshadow
Use a neutral or a shade darker than your skin tone as a base.
3. Define your crease
Along the crease of your lid, use a darker shade to add depth to your eyes.
4. Blend and highlight
Using a smooth brush, blend your base color and crease color until the blending is seamless. Use light or shimmery shades to highlight under your brow bones and inner corners of your eyes.
Frequently Asked Questions
Why should I apply eyeshadow?
Applying eyeshadow makes your eyes look more attractive, younger, and stand out. It can also add depth to your eyes and make your eyes appear larger.
Do I need to use an eyeshadow primer?
Yes. An eyeshadow primer helps to keep oil from the skin to your eyelids. This helps to keep the shadow in place and prevent it from smudging and fading. If you have oily eyelids, it is good to use the primer, especially during hot and humid weather conditions.
Is eyeshadow bad for my eyes?
If your eyes are sensitive, read labels to avoid harmful ingredients that can irritate your eyes.
Conclusion
You can give your eyes a new look by using the best drugstore eyeshadows. Eyeshadows will make your eyes stand out, look more attractive, and give you a younger look by playing with the different shades. The good thing is that drugstore eyeshadows are very affordable and this does not compromise on their quality.
From our review, our top drugstore eyeshadow is the Milani Bold Obsessions Eyeshadow Palette. It has highly pigmented shades that blend easily and smoothly into your skin. The eyeshadow has a variety of shades to choose from and can also be worn alone and has long-lasting results.
Recommended Articles:
About Author (Nina J. Erickson)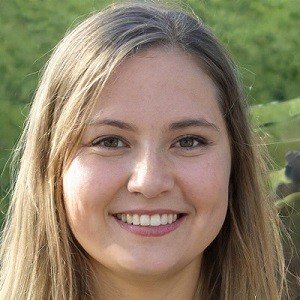 Nina J. Erickson is a makeup blog author who writes about the latest trends and techniques in beauty. With a passion for all things makeup, Nina shares her insights and expertise with her readers, helping them achieve their desired looks and feel confident in their skin. Whether she's reviewing the newest products or offering step-by-step guides, TheApexBeauty's blog is a go-to resource for anyone interested in makeup.