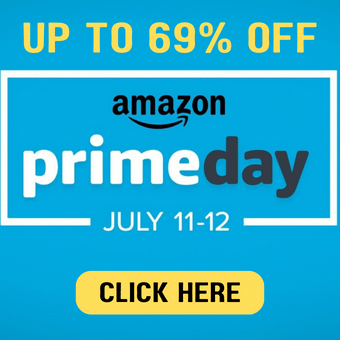 Do you know that Korean face masks are powerful skincare products that can give you better skin in less than an hour? These are sheet masks with a cotton pad that are soaked in powerful skin-rejuvenating ingredients. They moisturize your skin, brighten it, control acne by taking care of your pores, and are full of anti-aging benefits.
Korean face mask sheets are soaked in snail mucin, which delivers nutrients and vitamins needed that promote collagen production and aid in skin healing and regeneration. Using the best Korean face masks keeps your skin glowing, moisturized, and revitalized. Since these Korean face masks differ in material, form, and ingredients, we have gathered a list of the best ones to try depending on your skin type.
Our Top Picks
10 Best Korean Face Masks Of 2023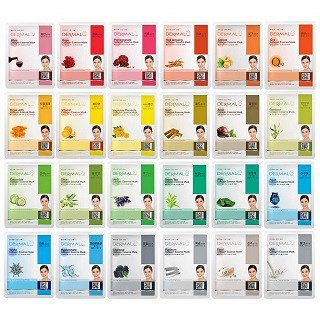 This is a full-face facial mask with 24 different types of masks pack. Its cotton sheets are 100% cotton and are soaked with plant-derived ingredients that instantly hydrate and refresh your skin. These breathable sheets have excellent adherence and enhance rapid absorption that minimizing skin damage.
The key ingredients in DERMAL Collagen Essence Full Face Facial include sodium hyaluronate which moisturizes and revitalizes your skin. Hydrolyzed collagen hydrates and strengthens the skin, and panthenol soothes and relieves skin redness.
Key Features:
Non-stick rich-moisturizing essence
Rapid absorption that instantly hydrates and refreshes the skin
Made of plant-derived ingredients
Has vitamin E and collagen that keep your skin lively and healthy
Related Article: What Is The Best Korean BB Cream?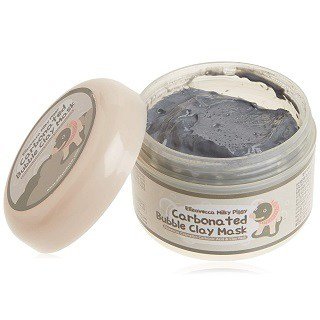 This is a blackhead removal and pore exfoliating pack. It is made of clay and carbonated water and starts to bubble on your skin while purifying and detoxifying your pores and melting away makeup.
It is enriched with ingredients like aloe vera, green tea extracts, and charcoal water to nourish your skin. After 5 minutes of tingly foaming, you should massage the face mask all over your face to melt off dirt and sebum to clean your pores effectively.
Key Features:
Removes dirt from pores effectively
Enriched with ingredients that reduce inflammation
Prevents cane from forming
Blackhead removal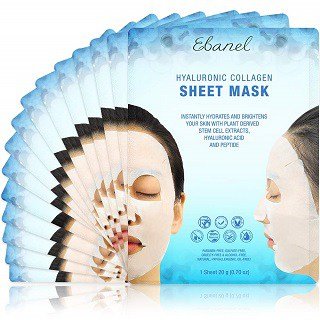 This is a 15-pack collagen face mask that offers instant brightening and hydration to your face. The sheets are infused with hyaluronic acid, aloe vera, vitamin C and E, purslane extracts, and tomato. It is a moisturizing and hydrating face mask that leaves your skin smoother, softer, and healthier.
It is infused with collagen peptides that boost skin cell regeneration to achieve firmer skin that fights aging signs and a youthful look. These face sheets also have a soothing and anti-inflammatory effect. They are infused with chamomile extract, ascorbic acid, and aloe vera that help to reduce redness and blemishes while relieving acne and other skin irritations.
Key Features:
Suitable for all skin types
Soothing and anti-inflammatory effects
Instant hydration and brightening of the skin
Firms the skin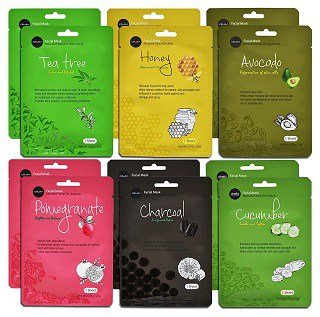 This is Korean skincare moisturizing 12 pack paper sheet. Regular use of face masks can help diminish signs of dark spots, hyperpigmentation, dark circles, and puffiness.
The masks are infused with anti-aging antioxidants, honey, tea tree, and collagen to create firmer, healthier, and radiant balanced skin. The sheets are infused with natural botanical moisturizing ingredients like cucumber, honey, charcoal, and avocado that offer hydration to your skin.
Key Features:
Packed with minerals, antioxidants, and vitamins
Diminish signs of dark spots and pigmentation
Firms the skin by moisturizing and hydrating it
Age-reversing formula with anti-aging ingredients
This is a hydrating sheet mask for both men and women. Unlike other Korean face masks, it has the highest amount of snail secretion filtrate with 7000ppm. This means it is packed with more filtrate to repair and rejuvenate your skin.
Hence you experience faster and fuller results. These snail mucin filtrate masks are infused with natural minerals, vitamins, and enzymes that prevent premature aging, reduce inflammation, and rehydrates your skin.
Key Features:
100% cotton face masks with no parabens to prevent skin irritation
Skin regeneration mask with snail secretion filtrate
Reduces the appearance of wrinkles
Prevents premature skin aging
Minimize and reduce the appearance of pores
Reduce inflammation
Moisturizes and rehydrates dry skin
Firm your skin for a youthful glow with Elixir Premium Lab Korean 24K Gold Moisturizing Face Mask. This is one of the best Asian face masks,a spa-quality treatment known to offer effective dermal therapy by penetrating deep into your skin to restore moisture.
It activates your skin's basal cells, which helps to reduce fine lines and the appearance of pores and firms your skin. This face mask will also slow down the reduction of collagen that comes with age so that your skin can look younger for longer.
The Tencel gel layer is soaked with anti-aging ingredients and moisturizing collagen and vitamin E that exfoliates and hydrates your skin.
Key Features:
Evens skin tone
Firms your skin and smooth fine lines
Boost restorative collagen production
Hydrates nod exfoliates your skin
This is an anti-aging Korean face mask formulated with vitamin C and Jeju citrus extract that moisturizes your skin. This face mask helps to fight signs of aging and repairs sun-damaged skin and dryness. It is suitable for oily skin, acne-prone skin, and sensitive skin.
The mask is made from a plant-based material that prevents damage to your skin. It contains a blend of adenosine and plant-derived anti-inflammatory ingredients like aloe vera, green tea, and sea kelp fighting skin aging signs.
Key Features:
Suitable for all skin types
Fights signs of aging and repairs sun-damaged skin
Contains exfoliating ingredients to remove dead skin cells
Made from plant-based material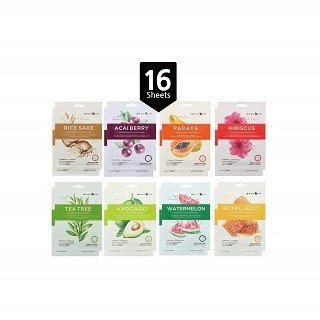 Get a 2 set of 8 different types of facial masks from BeauKON Korean Facial Sheet Mask for your everyday use. Depending on your skin condition, you can either choose a soothing, brightening nourishing, age-defying, purifying hydrating, and lifting face mask.
The masks are infused with safe ingredients that help your skin to rejuvenate, relax and glow. No artificial fragrance is used on these masks, which makes them ideal for people with sensitive skin.
Key Features:
Helps your skin to relax and remain healthy
No fragrances added
8 different types of masks to choose from for your skin condition
Made with safe ingredients that will not irritate your skin
This is a hydrating face mask designed for dry skin. It is formulated with hyaluronic acid that penetrates deeply into your skin layers to moisturize your skin. It is powder form and clears acne scars, blemishes, and keeps your skin super soft.
It works great and leaves your skin looking great instantly and feeling smooth. When you peel off the mask, it reveals younger-looking and better-looking skin.
Key Features:
Keeps your skin hydrated
Clears acne scars and blemishes
Keeps your skin smooth soft, and youthful
Suitable for dry skin
U-NEED 100 pcs Korean Face Sheet Mask offers ultra-hydration with an abundant serum that moisturizes your face. Its Tencel sheet is made from an eco-friendly material that is extracted from eucalyptus trees.
It has a silky-smooth soft texture with low friction that can be used safely for sensitive skin. The sheets are of various types, and you can choose one that suits your skin needs. We have aloe, collagen, avocado, green tea, tea tree, cucumber, vitamin, blueberry, charcoal, and pomegranate.
Key Features:
Suitable for all skin types
Available in 10 different fruit and vegetable ingredients
Keeps your face moisturized
Make your skin soft and brighter
What To Look For In A Korean Face Mask – Buying Guide?
Ingredients Used
The ingredients used in any face mask will determine its effectiveness. When buying Korean face masks, always go for the masks with ingredients like snail mucin and vitamin C.
They help speed up the healing process of wounds and acne scars and promote collagen production that helps in skin healing and regeneration. Also, go for face masks that are infused with plant-derived ingredients that will not irritate your skin.
Your Skin Type
Korean face masks are formulated for various skin types. Before choosing one, consider your skin type to buy a face mask that will cater to your skin needs.
For dry skin, go for a face mask with hyaluronic acid as it helps to hydrate and moisturize your skin deeply.
If your skin is acne-prone, any face mask with salicylic acid, vitamin C, or tea tree oil ensures that your pores are not clogged. Also, avoid face sheets with added fragrances as they can aggravate the sensitivity of your skin.
For oily skin, look for face masks that absorb excess sebum and balance your skin's PH to prevent excess oil production.
If you want to fight premature aging signs, face masks with ceramides and green tea, they are great antioxidants that help fight the free radicals that cause skin damage.
Frequently Asked Questions
Why should you use a Korean face mask?
Korea is arguably the beauty capital when it comes to skincare products. Their products are made with pure and rare ingredients like snail mucin extract known to boost collagen production and aids in skin healing and rejuvenation.
Their face masks are the best and safe to use where you can easily find one that matches your skin type.
How often should you use a Korean face mask?
For effective results, use a Korean face mask three times a week. But it all depends on your budget and what you want to achieve with your skin.
How do you put on a Korean face mask?
1. Start with a properly cleaned face
2. Open the package and remove the mask
3. Unfold the sheet and place it on your face ensuring the holes for your eyes, nose, and mouth are properly aligned.
4. Let it sit there for 15-25 minutes
5. Peel off the mask and discard the sheet
6. Rub the essence left on your face gently for maximum absorption
7. Clean your face
Conclusion
Using face masks is part of a skincare routine that can give you better-looking skin in less time. The masks are infused with nourishing ingredients that help moisturize your skin, control acne, detoxify pores and brighten your skin.
Our top pick is the Ebanel Instant Brightening & Hydrating Korean Face Mask from our list of the best Korean face masks. We like it because it offers instant hydration and brightening of your skin.
It is infused with hyaluronic acid, aloe vera, vitamin C and E, purslane extracts, and tomato that hydrates and leaves your skin firmer. It has collagen peptides that boost skin cell regeneration to fight aging signs for a youthful look.
Recommended Articles:
About Author (Susan R. Orrell)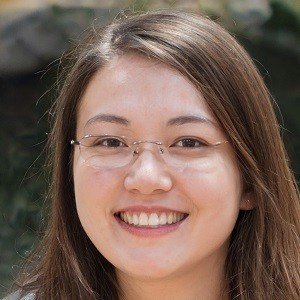 Susan R. Orrell is a well-respected skin care expert and blogger. She has extensive knowledge of skin care products and routines and is dedicated to helping others achieve healthy, radiant skin. Her blog, "The Apex Beauty," is a go-to resource for skincare information, and readers around the world trust her advice. Whether you're looking for tips on how to treat acne, reduce the appearance of fine lines and wrinkles, or maintain healthy skin, the blog has something for everyone.